There is no accounting for the tastes of the 'dark side' of the boating fraternity and by that I mean the owners of 'stink pots' – motor boats. To be fair, I have learnt from a sailing friend of mine (Dave Cooke) who is THE most able sailing crew and was a Merchant Navy Captain that they used to refer to sailors as 'Wafi' which apparently stands for 'Wind assisted f*****g idiots'. Given that, there is surely no excuse for owning either of these two horribly ugly boats spotted today!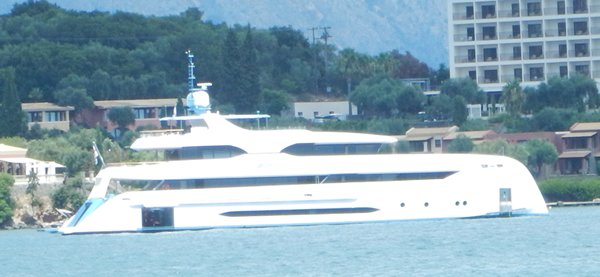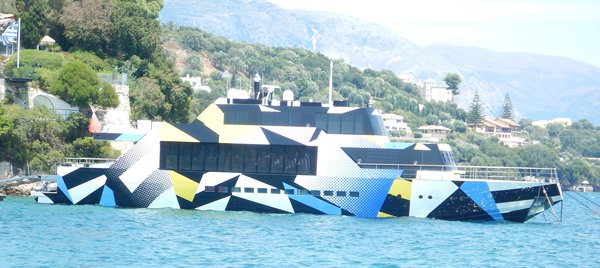 As I get older, I do identify that my level of patience is diminishing, particularly with officialdom. Today having moored in Gouvia marina on the east coast of Corfu, there were 4 ladies behind reception desks in the marina office but only one of them was actually checking yachts in. Of the other three, two were looking at their phones and the other doing her nails despite a queue of frustrated yacht skippers. When I asked one of them if they were serving she replied "I have finish", then, after another nail had been manicured, she suggested I take a seat. Reading up on the formalities for entering Greek waters, it seems that, rather like Croatia, they have decided that the sailing fraternity are easy pickings and can help with their balance of payments deficit. A sailing permit called a DEKPA is required, costs about 50 Euros and has to be purchased from the Police Station. On top of that you have to pay a new tax according to the size of the boat and how long you are staying. Because of the weather forecasts, we are likely to only stay 4 days before heading off to Sicily but the minimum period is a month and this costs another 120 Euros. You should be able to do this online but the system seems to be 'down' so it may require a bus journey into Corfu Town to make the payment consuming one of our 4 days. Failure to comply may induce being chased down, fined or even having the yacht impounded – all for a brief 4 day visit…….
There is, it seems, a peculiar trait that is shared by Dave and Bob who preceded him crewing Hejira with me. They both find it impossible to resist a seductively labelled, strangely shaped, loosely corked and obscure bottle of dodgy liqueur. When I baulk at the purchase, they insist it is not being paid for from the whip but is a special personal 'gift' – really? More often than not, they have no idea what is actually the basis of the drink and we inevitably end up sampling it very late and often with disgust so that it then festers, leaking into my drinks store taking up space until I subsequently confirm its unpalatable nature and chuck it away. There have been exceptions to this general rule and Bob's fig brandy was definitely a winner.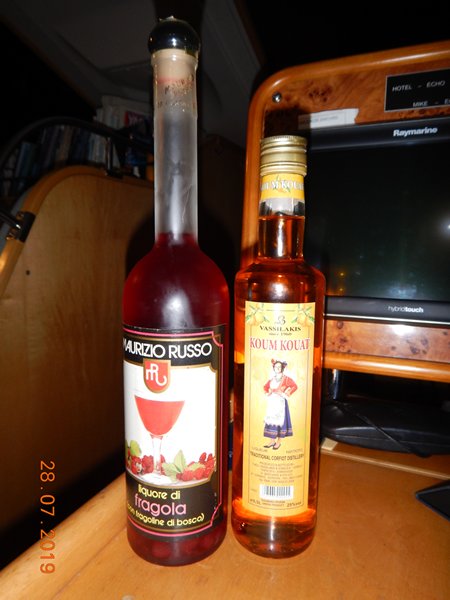 I have been taken to task about the account in Dave's blog contribution yesterday. He suggested I 'terrorised' a young lad in a small Optimist dinghy and was responsible for his falling in. Not only that, he suggested I enjoyed the experience. Let me say that the lad looked over his shoulder at our approach, lost concentration, gybed by mistake and was knocked over the side by the boom. Anyway, I missed him! But where would the blog be without a little playful exaggeration!
Dave Wright rites:-
Motoring on and on and ON we arrived in Gouvia in North East Corfu. Having found a berth the mooring was executed seamlessly and efficiently by the experienced crew. The trip to the Marina office proved frustrating and desperately inefficient and whilst some of this no doubt reflects that it was a Sunday one does not have to wonder too hard how the Greeks got into the mess they did / have still got.
We set off ashore and located a dirty beer (which was v. good) on the way to the Marina office. After that I left Nick to grapple with the ladies in the Marina office and set off to find somewhere where we could watch the German Grand Prix. Fortunately (for me) I was able to locate a bar showing the Grand Prix next door to the Marina office. At some point Nick showed up and we had a very good burger whilst watching the Grand Prix.
Nick's defence (above) of the attack on the small child in the Optimist is quite frankly pathetic. Given he had about 50 metres to change course I am convinced it was premeditated and carefully executed – still on the bright side the child did sail on although no doubt traumatised with a lifelong fear of large boats flying  a defaced Red Ensign.
We were both thrilled to find some interesting digestifs at the local Supermarket  (Nick just won't own up to how excited and pleased he was with our purchases – I think his exact words were " Gosh I'm over the moon Dave – I cannot wait to get back to the boat and put the shot glasses through their paces!")