Torrential rain, thunder and lightning, lumpy sea and semi darkness did not augur well for the day as we were forced to motor to try to beat the storm into Horta. We had spotted the threatening weather system on our long term weather forecast nearly a week ago but it has only just shown on the shorter Emailed forecasts. With our self-imposed limited use of the Satellite communication system, we are relying on these Emailed forecasts but would prefer the grib files we used to download. The day actually soon brightened and with the wind and sea dropping we had a fairly languid day under engine.
The fleet seems to be strung out and the warnings about the impending storm carry the advice to head south if it's not possible to make Horta by Monday evening. Looking at the speed of some of the stragglers and the light wind conditions, it would appear that they are motoring conservatively, if at all to save their stock of diesel. AWOL is happily not suffering from such a constraint as they power along in our wake. They have asked for another 60 litres to be floated down to them again today which should mean we can both motor into Horta by the storm imposed deadline.
It is frustrating that we have been unable (or rather reluctant) to post photos since our satellite data hiatus but I will be illustrating the blogs with some pictures once we connect to the mobile data network in the Azores.
Our frugal use of water means that we have only just switched over to our full second tank so we should be fragrant when we arrive in Horta on Monday. We will have to find a laundry to have a thorough wash as everything is caked in salt and dirty. Ollie has run out of clean shirts and is wearing mine – no cred in that!
Ollie writes:-
Well my night watch was quite dramatic yesterday.
When I took over from Barry, there was frequent lightning on the horizon, which looked all gothic and exciting.
Though over the next hour we moved from the side-lines to the centre of the action – that's when it became unnerving.
The yacht was engulfed in torrential rain and enormous flashes of lightning, almost in unison with the accompanying thunder.
There I sat, trying to focus on my audiobook, but couldn't help contemplating what would happen if we got struck.
We've got a mast after all.
And while I don't know much about meteorology, I'm pretty sure it's un-ideal to be attached to a forty foot metal pole that pokes up into a thunder storm.
We've got lightning conductors and that sort of clobber, but despite all that, I kept returning to the memory of seeing a tree that had been struck by lightning near my school.
The tree had literally exploded.
Still, we emerged unscathed and it was another dry sunny day – though tragically windless.
In the afternoon the skipper unravelled a special treat on the foredeck – our very own hammock.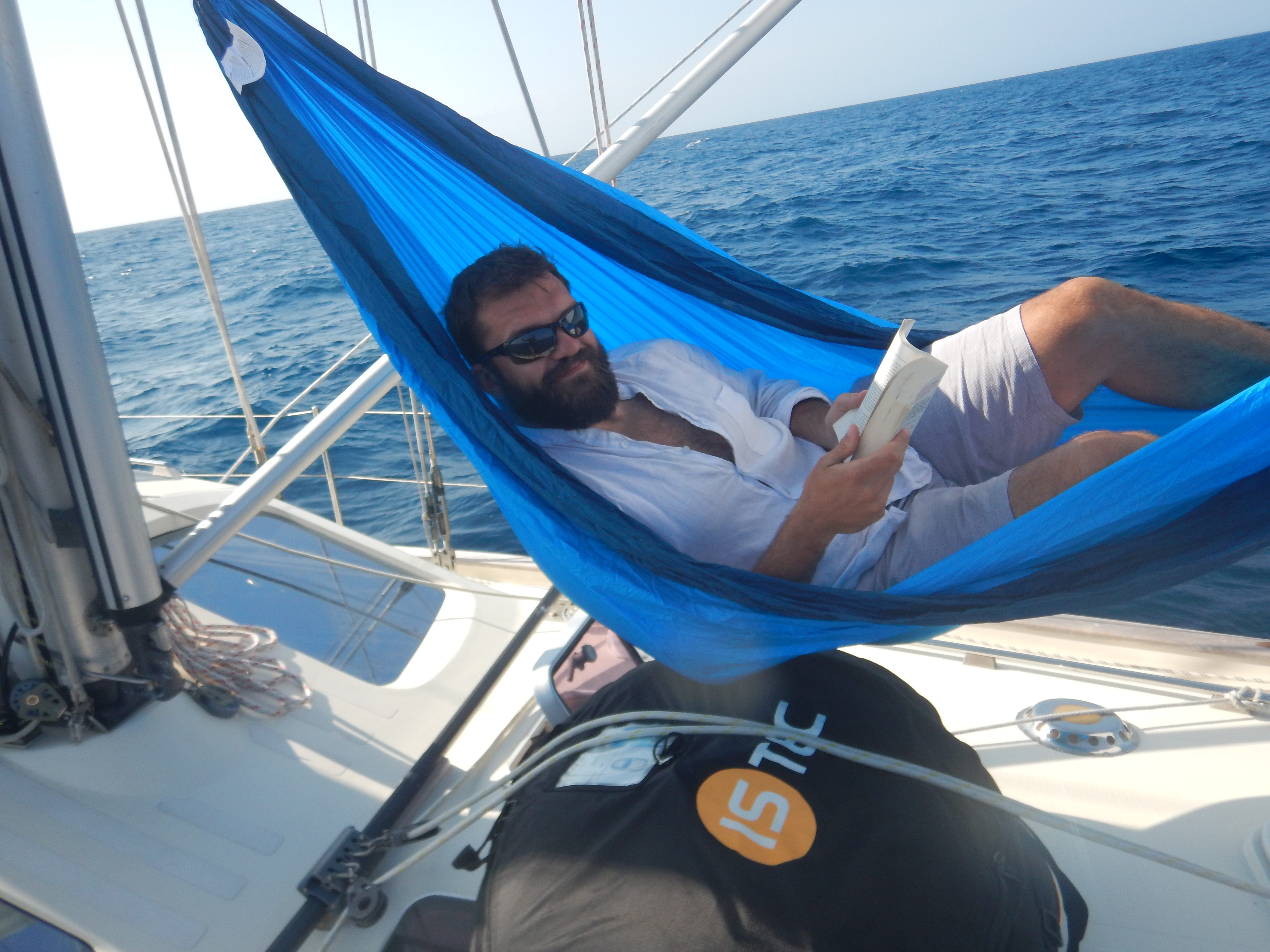 I think it must be designed for backpackers because it fits down into a cagoule-style bag and is made from similar material.
That's great for easy stowage, and it strings nicely between the baby stay and the mast.
However it was still quite choppy today; and I did wonder if this 'cagoule hammock' was designed to have an 18 stone bloke getting violently swung back and forth whenever a particularly big wave came along.
But just as in the lightning storm, my anxiety was happily unfounded.
Just before dinner we were visited by another pod of dolphins, and they spent some time playing around the bow.
The skipper and I stood in the pulpit to watch them.
We both agreed it doesn't get much better, especially when a dolphin turns its head round to look at you.
And it may be anthropomorphising, but we also felt that they tried to put on a performance for us: jumping out of the water, quickly changing direction and sweeping from one side to the other.
Perhaps they're worried that since Flipper was taken off the air, their star is diminishing.
And their routines are an attempt to recapture the limelight, a bit like going on 'I'm a Celebrity…' or doing panto in Guildford with Les Dennis.