Light winds have persisted and this has not favoured heavy old Hejira. We did very well against the lightweight production yachts in the big winds and our sail plan is well suited to the point of sail but they are now 'reeling us in' so from a heady 6th in class, we expect to tumble down the rankings. There is consolation from the fact that we have not run our engine and this will be a factor in calculating final positions as we suspect that others have been liberally burning diesel. We were miles in front of Lea, a Norwegian Bavaria 44 crewed by ladies but over the course of yesterday, she closed in on us and as I write this, she is alongside (well, 4 miles away) and the only other yacht showing either visually or on AIS – this is 'Automatic Identification System' and all ARC yachts have to be fitted with it, it displays and identifies vessels on the plotter screen showing speed, course and how close they will pass, very useful, the range is limited for yachts but about 50 miles for ships.
The only crisis today involved the Parasailor. We found it to be horribly twisted when we raised it first thing in the morning. The twists had run right up to the top, within the snuffer (a sort of long sock which pulls down over the sail to collapse it and make it manageable by a small crew) and the only course of action was to drop it, run it out along the deck, withdraw the snuffer then untwist it, while pulling the snuffer back over the sail ensuring that one side of the snuffer followed a corresponding side of the sail. What a palaver which seemed to take ages but did the trick as when we hoisted it, we withdrew the snuffer to a perfectly rigged 'big (but naughty) boy'. You can imagine that we took special care dropping and stowing the sail at dusk as this is where I think the twists were induced.
While it has been warm, the sky has been overcast and with no moon or light pollution, the nights have been very dark. We change the instruments to red displays at night and have only red lights below to protect our night vision but even with this, there are no features, just blackness and the sounds of the sea.
Barry's confidence with the water maker apart, I have been reviewing the prospect of it not working for the nearly 3 week crossing from Cape Verde to St. Lucia. I have some unpopular contingency plans (like salt water showers) but it is interesting to note that with fairly flagrant use of our fresh water supply, we have only just emptied one of our two tanks after 5 days.
Conversation has been far ranging but yesterday we focussed on what improvements (a surprisingly short list when you discount microwave, resident chef and dishwasher) could benefit Hejira. We decided that a convenience and safety improvement would be achieved by the installation of supplementary grab bars on the raised section of the aft deck allowing, while at sea, safer movement between the cockpit and the pushpit seating area. It would also afford an opportunity to stow additional diesel cans which is a precaution advised in case of dead calms on our way back via Bermuda next spring. We have now made drawings and taken pictures, briefing a stainless steel fabricator back in the UK who may be able to finish them by the time Paula leaves for St. Lucia. No doubt she will be delighted to take them in her luggage…………………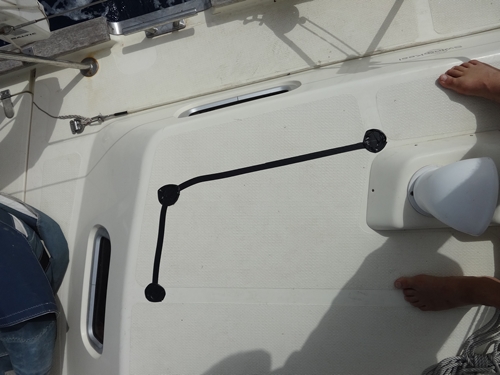 Last night, Bob presented us with a very tasty dish of spicy meatballs with rice. Bob's culinary confidence has leapt forward, from an early slavish adherence to a recipe, he now throws meals together with gay abandon using whatever is at hand. This has been very successful – so far……
Stephen writes:-
After the excitement of the twisted Parasailor at dawn we all settled to a quiet day`s sailing in low winds. Our day was enhanced greatly by a visitation of a pod of Atlantic Spotted Dolphins (Stenella frontalis) who demonstrated their sublime swimming skills in our bow wave for 15 minutes, and if you will forgive my flight of fancy, they seemed to be having great fun. It was a privilege to see them. Other wildlife encountered (bar the Skipper) included further flights of flying fish and some Northern Gannets (Sula bassana).On the fishing front it was an unsuccessful day but you should have seen the size of the one that got away, huge and leviathan are words that would not be needed. The night watch was again uneventful with only Lea's mast light to keep us company and not a white walker or wildling in sight, until the appearance of the Skipper (Blighus maximus) at 4 am to relieve us. I returned to my bunk with the Skipper`s words ringing in my ears "we fly the Parasailor at dawn".zzzzzzzzzzzz
Crew morale high and all shipshape.
Bob writes:-
Although 'The Doc' confirms to our dear reader every day that the crew is all fit and well, he is only able to do this as Barry continues to remain silent about 'the old trouble'! None of us is sure what this ailment actually is, nor have we dared to ask, but suffice it to say that Barry continues to bear this burden with extreme stoicism. There was a moment of great excitement this morning as 'Blighus Maximus' berated us into action to deploy the Parasailor. All hands on deck (much grumbling from Barry, claiming that he had been promised a glass of Buck's Fizz in bed this morning; (I think that is the correct spelling, or maybe Barry is prone to spoonerism?) only to find that the wind speed had suddenly risen to the point where caution overcame enthusiasm and we continue under twin Yankees in a 20 knot breeze. Very sensible in view of the fact that we have over 2000 miles to go!
Barry is now gazing into the firmament contemplating the meaning of life.