Lynn has complained that writing after my contribution undermines her entry so today, Lynn writes first:-
Left Wallilabou this morning and said goodbye to this small bay which has been an eye opener…poverty forces people to be creative and they are! It is with a certain amount of guilt that I look back, yes we are very very lucky!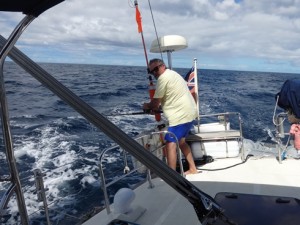 We had a lovely sail today, Paula spotted some dolphins which is always a highlight! It was a relatively smooth sail ….and after some deliberation the decision was made, we would head for Bequia's Admiralty Bay. Well that is all we have to worry about at the moment, one beautiful bay or another! A much busier bay but still extremely beautiful, shallow water but so clear….many restaurants  to choose from, lovely sandy beach. We took the dinghy ashore….not before I nearly fell in …one foot on the ladder and the other on the dinghy as it moved away slowly….I recovered in time to avoid major embarrassment! A very elegant boarding! We explored the shoreline and settled for a pre-dinner drink in a beach side bar….followed by dinner in another beach side bar/restaurant…food was hit and miss…the usual Caribbean laid back service, yes it takes forever…but we had all the time in the world and it nearly took all the time in the world…
We headed back to the boat and we will try to make 9PM before we go to bed tonight!!!
Night night all…..
Paula writes:-
Live in the sunshine
Swim in the sea
Drink the wild air.   Or more appropriately drink the gin and tonic and rum and coke not necessarily in that order!!!!
A super day full of laughs particularly Lynn nearly doing the splits, unfortunately we didn't have a camera to hand. I may try and see whether she will replicate the pose tomorrow!!!
Oh well another sunny day to look forward too. Hope all well at home and not too cold!!!!!
Back to me for the boring stuff:-
Our departure from Wallillabou Bay was inevitably less than straightforward with our webbing line ashore (to a derelict jetty) pinched and stuck necessitating a trip in the dinghy to release it. Unfortunately, my new, pristine webbing was damaged and can damaged webbing be trusted…..? Another lesson learned again here as it is clearly best to have a length of warp on the end of the webbing so that the chafe (on a long slip) occurs near the end and can be sacrificed without losing too much length.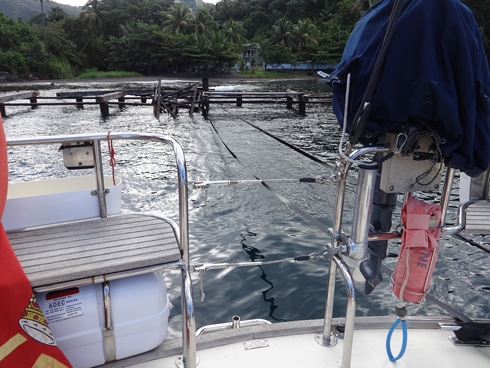 Our original intention to run down to 'Blue Lagoon' at the south of St. Vincent was adjusted to Admiralty Bay in Bequia as the angle on the wind was perfect and we had a wonderful sail!
Neville has declined the opportunity to be a part of the 'blog fest' – he says this may change if he is lucky with the rod!
Nick