For the next phase of my summer sailing adventure I am accompanied by Dave Wright who has sailed with me regularly since 1999 when 5 fathers and their young sons from the rugby club had a memorable holiday on my previous yacht in Mallorca. Dave also crewed last year on the long leg from the Algarve to Barcelona so he should take the overnights on this trip to Malta in his stride.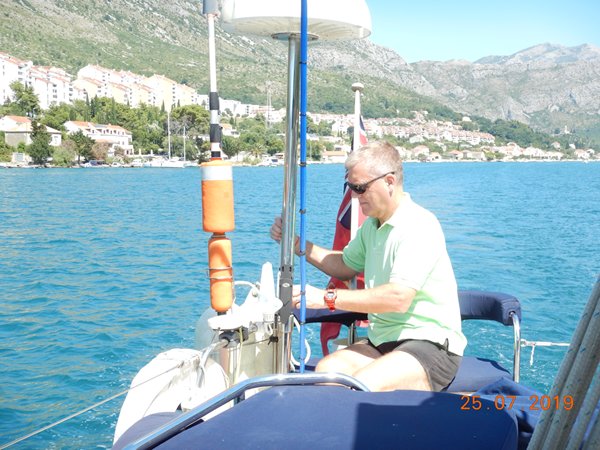 Dubrovnik marina office had held a set of keys and insisted that, while I was away, the shore power was left disconnected which is actually fair enough (a friend of mine lost his yacht to a fire caused by a faulty battery charger) but it did mean that I had to dispose of the perishable contents of the fridge before I left and only leave the Ultrasonic Anti Fouling and automatic bilge pump switched on running off the batteries. It was therefore a pleasant discovery to find that the photo voltaic panels had kept the batteries topped up nicely.
Having cleaned the decks with Bob before we returned to the UK, it was disappointing to find that birds had clearly been roosting in the rigging as the deck was covered in their deposits. Having to leave the marina by 2pm so as not to be charged for another day, we left the mess to be addressed at sea with the deck wash pump and a scrubbing brush. We did however find the time to victual and spend the last of our Croatian Kuna in the bar.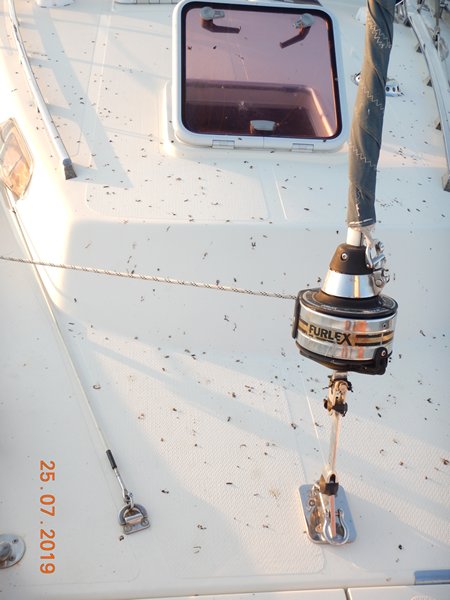 Montenegro and Albania were the next two countries on our route south to the Ionian islands and rumours about their bureaucracy suggested it would be prudent to avoid them. We could just by-pass them offshore but listening to the zealousness of their officials over the VHF calling up and grilling the passing vessels, we chose to dog-leg overnight across to Italy instead. Brindisi was the obvious choice of destination with a modern marina but the pilot book suggested it was very industrial giving the landmarks as a refinery, chemical plant and power station. The other candidate, 40 miles further south is Otranto with the following description in the pilot book "The unspoilt medieval town of Otranto, still partially walled, stands on a rocky outcrop overlooking the harbour". It goes on to say "Unfortunately it is not always easy to find a berth". The Cruising Association 'Captains Mate' app provides information updated by members and an entry from earlier this month suggests that new facilities have been installed but that the harbour is shallow. This should not be a problem for us with our variable draft as we can raise the keel to draw only 1 metre. So we have decided that Otranto will be our target, if we can't get a berth, we will anchor and blow up the dinghy.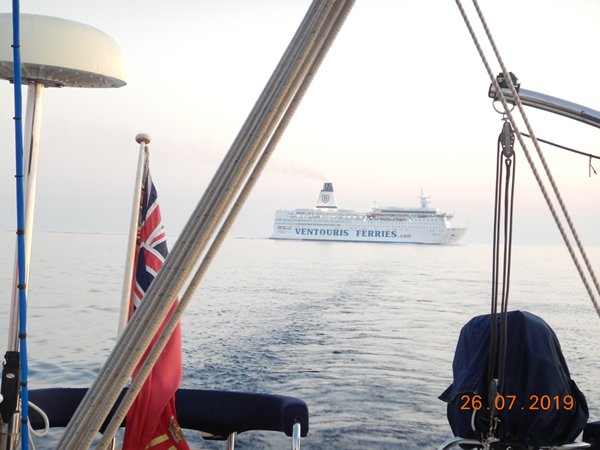 Dave writes:-
So, here we are again – trapped with Nick Mines on a boat with sea all around and no prospect of getting off until Otranto.
Still, Nick did welcome me warmly saying how pleased he was to have my skills on board. The previous occupant of my bunk was Bob ("Old Bob") and he really tries, but as Nick said "It's time to take the crewmate to a whole new level!" He didn't say in which direction that movement would be………..
The journey from Nick's gaff to Gatwick and then through security and the lounge for breakfast was super-efficient with no queuing (although Just in Time almost became Just too Late when it came to boarding the plane) and there was no queue for taxis at Dubrovnik. Our taxi driver was "Old School" Croatian and with a little encouragement from Nick (not from me – I was just trying to catch up on my sleep) he was pleased to talk about his country, revealing amongst other things (some of which were extremely non PC) that Bosnia had been part of Croatia 500 years ago and clearly that is where he thought it should still be.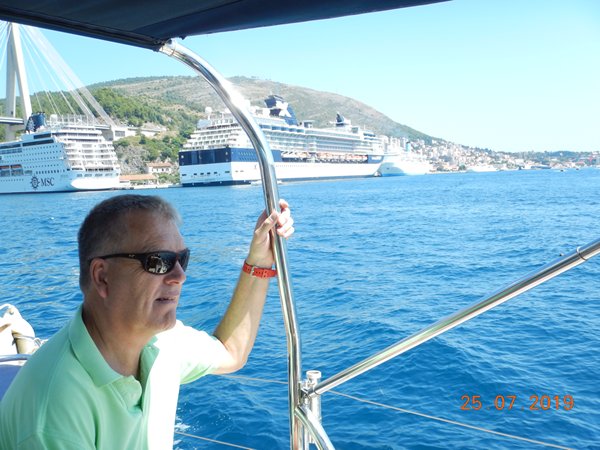 We have formed a pact to "take it easy" on the number and size of meals on this trip and dinnerlast night, on passage, was a tuna/onion/garlic/mayonnaise mix on toast – very abstemious – fortunately this policy does not extend to the gin and wine which both complimented the food superbly.
Anyway, following our 4am start I was keen to catch up on sleep and so made sure my bunk was made up in good time (thank you Bob ("Old Bob") for the laundered sheets – almost all of the stains had washed out) and after the first watch on our overnight to Otranto I slept for 10 hours. I always sleep well on board – is it the gentle rocking of the boat or the effects of the gin?
Looking forward to exploring Otranto which sounds delightful.