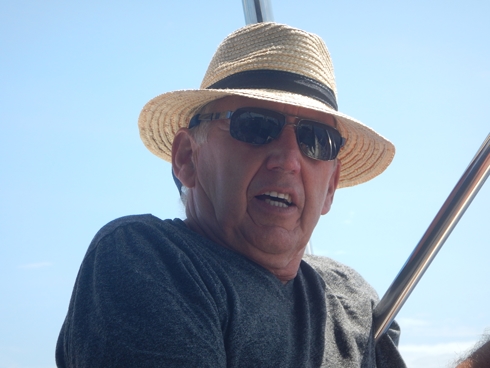 We continue to motor across a glassy sea and expect to arrive in Bermuda around 1300 today.
Soon after leaving the BVI, we witnessed a spectacular patch of 'boiling' water as the surface briefly erupted with quite sizeable jumping fish. It has been notable since then that we have not seen much in the way of wildlife with few birds or flying fish. The water temperature continues to drop, from 25.5 degrees in the Caribbean to a current 20 degrees. The advice for the passage from Bermuda to the Azores is to go north before heading east to optimise the wind but they caution not to go too far north because of ice bergs!!! The 'upside' to travelling north however at this time of the year is that the nights are becoming significantly shorter.
Rather than carry lots of plastic bottles of soft drinks, we have a 'Soda Stream' with a stock of concentrate to make Slimline Tonic and Diet Coke. We have a number of the special bottles and prepare the drinks in batches using filtered water from the tanks. We have been unable to replenish our gas cylinders in the Caribbean and we are now down to our last cylinder of the 3 we started with. If we can't recharge in Bermuda, we will run the risk of running out on our way back – disaster.
The VHF radio communication that we use at sea has a limited range as it transmits and receives in straight lines from aerial to aerial so, because of the curvature of the earth, between yachts with aerials at the top of masts, the range is approximately 25 miles. Coast stations tend to have tall aerials mounted in high locations and their range to a yacht is typically 60 miles. With Bermuda being an Archipelago of low lying islands, imagine our wonder at hearing clear communications from 'Bermuda Radio' at a distance of 123 miles, how do they do it? In fact we listened to Bermuda Radio calling all yachts as they approach the islands and we were told to expect a call when 50 miles out. Listening to other calls they check the yacht details, crew, registrations and EPIRB (Emergency Position Indicating Radio Beacon) identification numbers. They understandably require a call back on approach for clearance to enter St. George's Harbour through the 'Cut' as it is very narrow and often used by cruise ships. With 58 miles to go, we await our 'grilling' !
Nick