Our passage to Corfu was just a slog under engine. We ran the main up and it may have helped in the very light winds but they dropped away so that just our making way under the engine resulted in the sail flogging uselessly.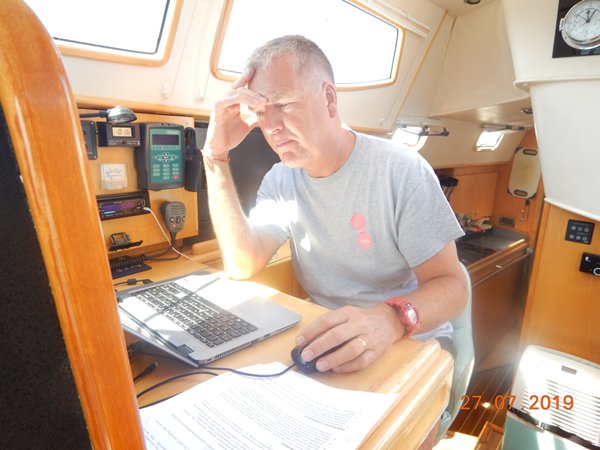 Our decision as to our destination was a little more interesting (really? I hear you say) as the wind is due to pick up in the night from the South East so some of the obvious anchorages are probably vulnerable in the potential conditions. We considered some promising bays on the islands to the NW of Corfu but the holding or a questionably rocky bottom was less than compelling so we have focussed on a wide open shallow bay on the north coast of Corfu near the village of Rodha with a sandy bottom (wheyhey). There should not be the seasonal swell from the north as the wind has been from the south for some days and despite being open, it should be sheltered from the SE blow forecast for tonight. It would appear that there are Tavernas ashore….! No doubt I will report in due course – best laid plans and all that……..
So we anchored in 2.7m with the keel raised and I went for a swim. Happy to report that the prop anode is still well and in attendance.  It was novel to stand on the sandy bottom with my arms up and hands out of the water. The hull has a bit of a 'fur' so, next time we anchor, we will give her bottom a wipe.
Launching the dinghy and rowing ashore for libation, I can report that there are indeed very welcoming establishments which were so convivial that we eschewed the prospect of an on board chicken pasta for a BBQ pork and chips meal ashore. We couldn't understand where all the people had come from but it was actually quite busy with tables reserved and people later being turned away. There were a lot of British holidaymakers and they seemed almost universally to have twatoos.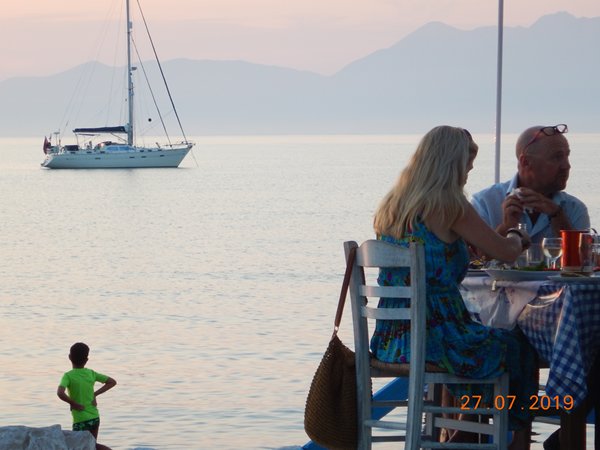 Dave Wright Wrights:-
Time passes so slowly as we continue our motoring vacation that I almost forgot about the "Incident of the child who Screamed in the Dingy". We were coming into Otranto and looked for a berth, to be waved away rather imperiously, and were off to find somewhere to drop the anchor when we headed directly for a small child in a dingy (Optimist) who was DIRECTLY in our way. So obviously we just kept motoring forward until the child (with terror in his eyes ) attempted a manoeuvre to avoid us and promptly gybed and was knocked in the sea by the boom. "Job done" said the skipper chuckling ("heah, heah, heah") and we moved away whilst a rib with important looking people in life jackets roared up to rescue the child.
Last night in Rodha we finished the Fig brandy – thank you Bob ("old Bob" ) for the fig brandy and replaced  it with the only thing Rodha supermarket had to offer – Limoncello – the skipper said he does not like it but I have a feeling he will be consuming it……….
Rodha is a small bay with very little by way of hotels and accommodation but the restaurants were clearly geared up for tourists and  it became quite busy by 9pm – time to be getting back to the boat – that Fig Brandy is not going to drink itself.