Lynn and Paula make an un-edited contribution:-
A Perfect Storm what a brilliant film!!!! However, what we went through this morning puts that film to shame!!!! Waves were three times the size that good old George had to endure. More importantly we survived, but it was an adventure, which apparently according to skip we have to experience again for longer in a few days' time.  The 20 foot swell (at least) smashed the bow and water gushed onto deck leaving us drenched and hanging on for dear life.  The heroic crew took this in their stride!! You may think that Lynn and I are exaggerating; the lack of any photos proves that the bare knuckle ride was pretty scary.  We made it!!! Blue Lagoon was a welcome haven to the now battered crew. We were greeted by an amazing toothless local who guided us to a safe place in the marina. After kissing the ground we ventured to the bar for a dirty beer. The marina is lovely except for the cold showers a small price to pay for terra firma.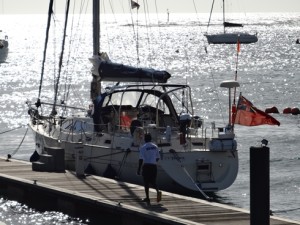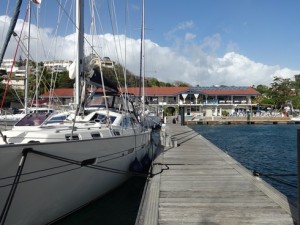 Tonight we are eating in the Marina restaurant to celebrate our survival!  We might even have a pina colada and a rum punch, this will be topped off with air conditioning on board.
What a life of excitement and luxury.