You may, or may not (more likely) be wondering why there has been no mention of the Watt & Sea hydrogenerator. Well I have been putting this off and it pains me…………
Yes Bob and Barry, you were right!
The single central bolt with rubber pad is not enough to stop the bracket turning under load – there, I have said it now !
So, I have been looking forward (not) to drilling a substantial hole through a fixed 8mm thick stainless steel plate, near the waterline with a battery hand drill –  great !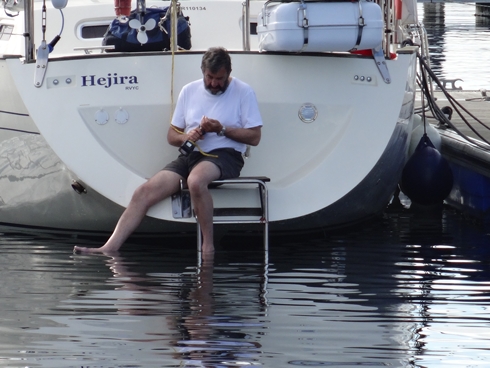 When it was in the water, the unit charged very well and we even saw some positive readings but another shortfall soon surfaced and that was that the downhaul slipped out of the jamming cleat so that the leg rose and the propeller skipped along the surface. This will require another modification so, on Monday morning we will be shopping for a cleat to hold the downhaul into the jammer and some longer machine screws to bolt the cleat onto the plate.
In this second instalment to today's story, I can report that after an hour with my feet in the water, I needed to thaw, de-wrinkle and rest. Sometime later, encouraged by spectator Dave, I reached the other side and opened the hole up to 8mm to take a clevis pin, this being stronger than a bolt.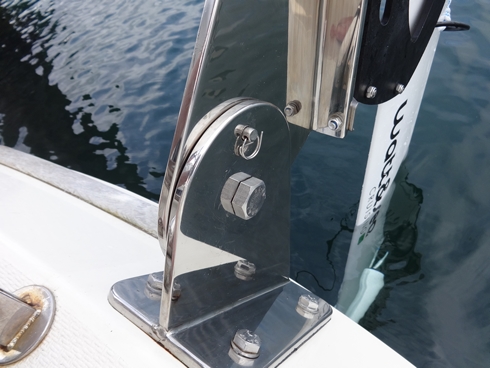 Not expecting to use the Parasailor next week, we needed to stow the 'monster' but it had become wet, bagged on the foredeck so it was necessary to dry it before stuffing under the forecabin berth. The sail is so big and the sock so long, we could not just hang it onto the deck so, in the absence of neighbours, we came up with a novel way of stretching it out to dry.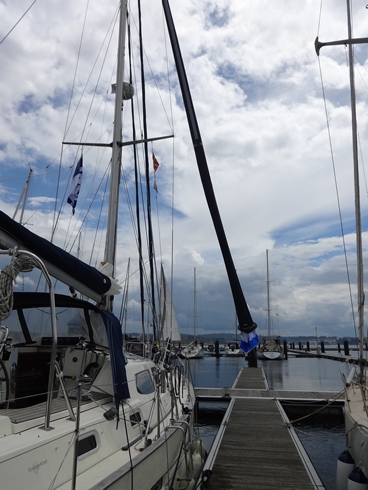 Rewarding ourselves with a can of beer for jobs well done, it is off into town for a recce and something to eat, our stocks being depleted, only having eaten ashore on  3 occasions so far.