Sailing along this coast is quite challenging with a capricious wind which can be blowing a gale one minute and dead calm the next. On passage to Bayona we put reefs in, shook reefs out and ended up ghosting along but we were relaxed and pleased to be just sailing on the level for a change.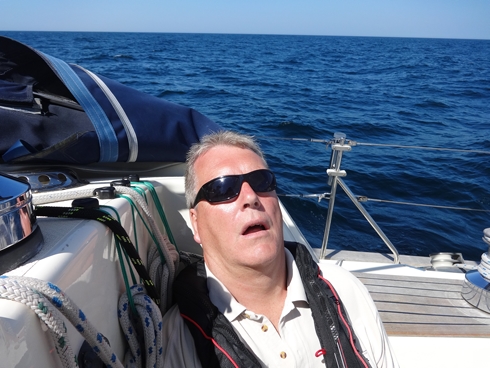 An exchange of Emails with the 'Monte Real Club de Yates' in Bayona secured a berth and our ARC participation qualified us for a 25% discount.  The Clubhouse was a very plush facility and was a welcome venue for our 'dirty beer'. This was followed by a sortie around the town where we discovered that the old town has some charm about it and the locals thronged the beaches. Being berthed at the end of a long pontoon, the volt drop meant that the saloon AC would not operate reliably which was a disappointment in the blistering afternoon heat.
Determined to get to the bottom of the wind gen saga, it was time to inspect the external plug and socket for any issues. I now kick myself for not having taken this line of investigation from the beginning but, the plug was meant to be IP68 rated which means it should have been watertight at a depth of 10 metres for a period of 2 weeks – adequate you would have thought for the deck of Hejira. Well, it would have been had the correct size seal been used – grrrrrr, that little bit of sloppiness has cost so much time and quite possibly b——d the Air Breeze wind generator which is an expensive bit of kit.
You can see the extent of the corrosion, what a mess!
Anyway, we are within striking distance of Porto where Dave (suitably rested as you can see) is due to catch a flight home. A 32 miler to Viana do Castelo tomorrow followed by a 38 miler to Porto should do it.