Our departure timing for the crossing to Sicily was inspired as once we had cleared the islands, we enjoyed a fabulous reach in over 15 knots of wind with full main and jib, cracking along at over 7 knots for 24 hours apart from a lull for a couple of hours in the night which required the engine. At one stage our speed was such that our arrival time in Marzamemi was predicted as the day before our lunch time planned arrival. It did however present some challenges, bowling along on our ear, when it came to preparing the evening Chilli but it turned out okay (nicely hot Bob) with most of it in the bowls.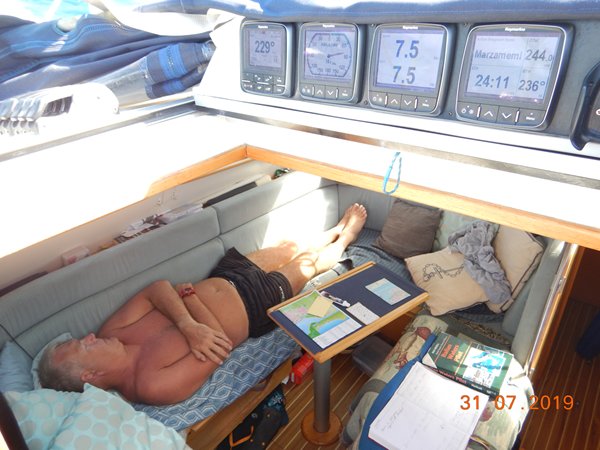 While off watch at about midnight, Dave called me up with some concerns about a vessel whose lights were visible but had only just 'popped up' on AIS and it was looking like a close encounter. As I emerged and started to take stock of the situation, an American voice came over the radio calling us and asking our intentions. We were motoring by this stage and had no preferential rights. It was the superyacht 'Lady E'. She was 230ft long motoring along at 13 knots and towing a tender. I agreed to change course and pointed out that his AIS data stated that he was anchored. He thanked me and steamed on correcting his status immediately. This punctuation prompted a review of the wind and we were soon sailing again.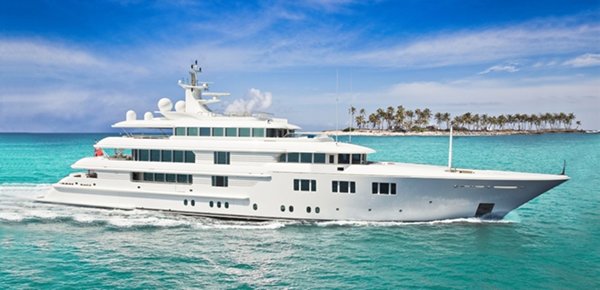 In the early hours, the nearest land was over 75 miles away and the horizon was completely free of any light pollution. The clear sky was an absolute carpet of millions of faint stars; a sight denied us in our urban environment and an awe inspiring treat.
All night there had only been one sailing vessel visible on AIS. It was converging from the south clearly heading for the Strait of Messina and she was the legendary 131 foot long Velsheda, bound for Palma de Mallorca. She must be the most famous yacht sailing today. She is the elegant 'J' class Americas Cup yacht from the 1930's, still active in the classic regattas. Unfortunately, she had passed in front of us, out of sight by the time dawn arrived and we were denied a memorable sight of a 'J' class under sail.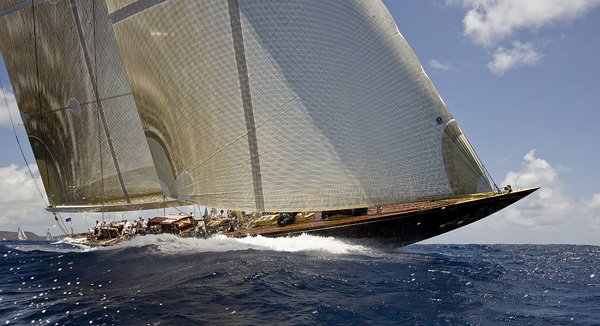 How can you lose a pair of glasses on a small yacht? Well I have. They are the rather ugly black rimmed prescription reactive pair that are quite old (and out of date in more ways than one) but they do a job and I feel lost without them. I have a habit of pushing them onto the top of my head when doing something close up and I wonder if I left them there and despite the retaining cord at the back of my neck, they blew off and overboard in the wind without me realising as I moved around the yacht. Hopefully, they will turn up.
As expected, on our second day at sea, the wind died away at midday and the engine had to help our progress, we gave up on the sails at 1700 when they began to 'slat'. We had enjoyed 24 hours of great sailing and made excellent speed ahead of our schedule. We can now potter through the night arriving at Marzamemi as the marina staff start their day. We have booked a berth which is reassuring although the marina in Valletta would not take a booking and we are advised to contact them the day before our arrival in Malta. Given our Greek and Croatian experiences, it may be prudent to time our arrival for after the Charter fleets have dispersed.
We expect the water supply in Sicily to be of a better quality and greater abundance than in the Greek islands but we continued to put the water maker through its paces and, not having filled since Dubrovnik with Bob, we approach with 1 ¾ full tanks of water. I may replace this old unit before the next trans-At as at 5 litres an hour it is painfully slow and I believe that more modern units can be a lot more productive – and probably more reliable.
The conical Etna volcano was visible from a distance of 60 miles which just shows how massive it is and how good visibility was.