Having taken a long walk through the village and chatted to the locals, we never at any stage felt uncomfortable. This after being advised on the yachting forums to avoid Canouan because of security issues. Chatting to Albert, the proprietor of the Mangrove Bar who is the local business co-ordinator, it seems to be an issue of great frustration that the island is being avoided by the cruising community. When pressed he conceded that there had been a spate of robberies from yachts but the culprit is now incarcerated and serving 5 years. I gave him the addresses of the web sites peddling the negative impressions and, hopefully he can do something about the negativity because the island needs business and it is a wonderful destination.
The ever helpful Marcus came alongside with his water bowser as promised and, assured that the water came from the hotel, we filled our tanks rather than 'de-pickle' the watermaker and at one Eastern Caribbean Dollar for a gallon, it seemed good value although it would appear that our tanks have grown by about 25%………….. So, we were robbed but not in a bad way.
We took a detour to take a look at the new Marina under construction next to the Airport and they must be keen to finish by the Christmas deadline as they were working on a Sunday!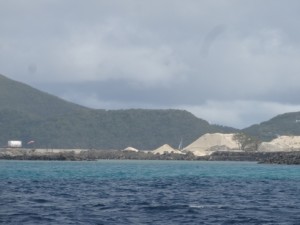 A short sail took us to Tobago Cays and we picked up a mooring buoy in this fabulous Marine Reserve next to the island of Mayreau.  I will let Paula and Lynn eulogise about the experiences but having motored hard astern against the mooring buoy, I feel secure to stay overnight with the breeze expected to pick up.
Paula & Lynn's contribution:-
Whilst we had a bit of rain en-route it cannot ruin the view this amazing area offers…un-spoilt beaches and clear water and yes just to greet you, a turtle surfaces….we could not wait to get the snorkelling equipment out .

Off we went to spot turtles and any other marine creatures! We saw turtles, giant starfish loads of sea urchins and many fish…although we did not think Neville would make it! Facial hair is not conducive to snorkelling! He managed in spite of only seeing through a third of his mask.
We returned to the yacht …greeted by Rasta, the lobster peddler! We had to buy some lobsters for the paella. Paula hid downstairs while the live lobsters roamed the deck! Eventually a bucket appeared to contain dinner!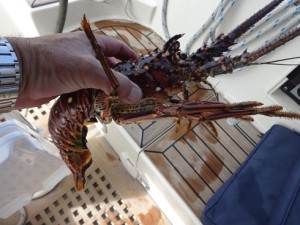 They were promptly dispatched to a boiling pan…no screams were heard as the lid was secured to prevent their escape!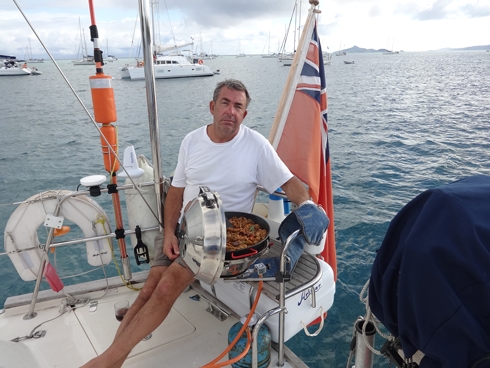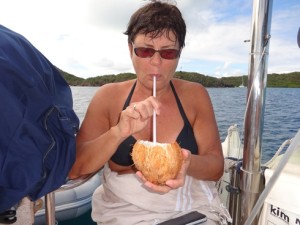 We enjoyed a great meal in an idyllic setting ….now settling down to G & T's and perhaps a game of scrabble (Neville not keen!!)….He would prefer Twister!!!