Slipping the mooring buoy off Yarmouth, we motored sedately eastwards with the tide under our keel making good time in the early sunshine. We took the time to rig the courtesy flags of the countries visited over our yearlong cruise and they spanned from the starboard cross trees to the deck. The ARC flags and the Canaries flag also looked impressive on the port side.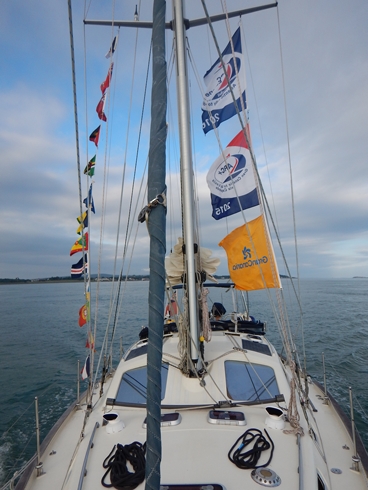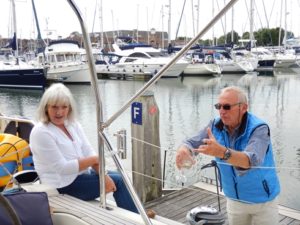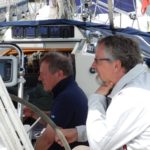 Barry's wife Helen, Paula and Stephen formed our 'reception committee' and a pause on the waiting pontoon enabled them all to board for our transit through the lock and onto our berth, ideally positioned on the hammerhead of F pontoon.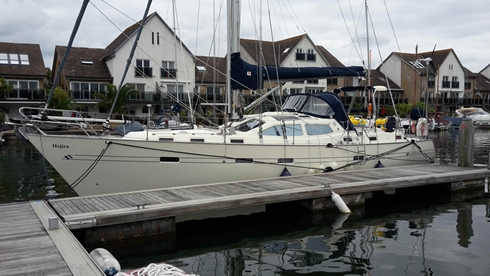 With a long list of improvements and repairs it is significant to note that there is nothing of great significance or urgency that needs to be done and we should be able to have a full summer season of rather more modest sailing from our new base in Port Solent.
As a retrospect on the year-long Atlantic circuit, I would like to acknowledge a number of people without whose support and assistance, the adventure would not have been possible. My wife, Paula has been a brick, never once whinged about my extensive absence and tolerated my probably obsessive preoccupation with the 'mission'. This has been at the expense of domestic chores which now deserve (and will receive) my attention. Likewise, Helen has been incredibly tolerant of Barry's absences during a period where they have moved house when his presence will have been desperately missed.
From a crewing point of view, I would like to thank the various people who joined the adventure along the way. Dave Cooke who stood in at the last minute for the first leg to A Coruna while we wrestled with a few residual problems like the faulty wind instruments. Dave Wright who crewed to Porto and Mike Watson who stayed on to the Algarve. Bob Haywood who had helped me from the outset while Hejira was prepared for the challenge and crewed all the way from the Algarve through to St. Lucia. Stephen Williams who was a welcome member of the trans–Atlantic crew, not only for his 'Doctoring' but for his enthusiasm and sense of humour. Neville and Lynn who, with Paula helped make our cruise of the Grenadines, one the most memorable and enjoyable holidays ever. John Coe who stepped in at the last minute and very ably crewed from St. Lucia through the islands to Antigua. My son Ollie who, despite a painful back injury, smiled through the passage from Bermuda to the Azores, lifting the blog entries temporarily above the mundane with his insights and humour. Peter Hoade who endured what was a pretty 'gutty' passage home from the Azores redeemed thankfully by some blissful sailing in the last couple of days.
And then there is Barry ! I am so indebted to Barry ! His input into the planning, equipping and preparing of Hejira has been invaluable and I can't think how it might have been without his calm and competent presence on all the major legs of the Atlantic circuit. We have never exchanged any cross words and Barry has always been the absolutely perfect person to sail with. I sincerely hope that he will be involved in any future adventure that I might 'hatch' once the dust settles and we get on top of our outstanding domestic responsibilities.
The final mention must go to Hejira, my 45 foot 2004 raised saloon Southerly 135 with three rudders. I cannot deny that the amount of preparation involving repairs and upgrades has been extensive and expensive. I was not going to embark on this 10000 mile Ocean odyssey without being absolutely confident in the yacht. What became clear as I explored every inch of Hejira was that I was building on a very substantial foundation, unlike the experiences with my previous, production built 44 foot Jeanneau. It is gratifying to know that efforts to equip and upgrade are not just window dressing and are genuinely improving what is now a fantastic yacht. The 135 is a brilliant sea boat taking everything the elements have thrown at her in her capable stride, never slamming, steering easily and showing a fair amount of pace in a blow. She is cavernous down below and swallowed up all of the stores, sails, spares and equipment which are extensive when you consider diesel generator, two AC systems, watermaker, dinghy, freezer and lots more. I am gratified that the planning that Barry, Bob and I put into the preparation has largely shown through to have been well placed. The charging regime using the photo voltaic panels, Watt and Sea hydrogenerator and Air breeze wind generator coped well with the demands of the auto pilot, refrigeration, instruments, watermaker and radar when we were sailing at sufficient speed. The back-up of the diesel generator was used only to top up and to heat the water through the immersion heater. The water maker gave us problems right up until the final passage when we seem to have overcome the main issues (predominantly air ingress) and although only of low output, its modest power consumption meant that we could just leave it producing which maintained full water tanks. Our trade-wind downwind sail configuration needs some refinement but fundamentally, the twin poled out yankee jib arrangement is ideal (with the vent between the two sails) as it tends to pull the yacht along easing the strain on the auto pilot. The deck saloon layout of Hejira is brilliant. We have a variety of saloon table sizes so the seating is readily accessed and used on passage and the 'all round' visibility afforded is wonderful when moored or anchored but really comes into its own when on ocean passages allowing watches (with a clear foredeck) from below in inclement weather. We sailed long passages with two, three and four on board and they were all fine. Two puts a little more pressure on watch keeping but is OK if both totally competent and we tended to do one man watches in all configurations with certain rules applying and with a sailplan that can be easily reefed without leaving the cockpit. Our tankage capacity of 500l of water and 500l of diesel in 250l tanks is very adequate for most ocean passages, in fact with a little discipline, with three on board on the 1850mile Bermuda to the Azores passage, without the watermaker, we finished with nearly a whole tank of water to spare. The bars that we 'hatched up' on the first crossing, had manufactured remotely in the UK and fitted after Christmas are a real boon and the extra handy grab point makes moving out of the cockpit so much easier and safer. The webbing spools that they accommodate have proved to be really helpful allowing the taking of long lines ashore when using deeply shelving anchorages so that they can be slipped without necessarily going back ashore. The strap retaining points have allowed a number of extra fuel containers to be stowed out of the way in perfect safety.
Enough said I think but wouldn't it be a shame if all the preparation for ocean crossing were only to be utilised on the one adventure…………