The early promise at dawn soon condensed into heavy cloud and with lightning and thunder came torrential rain. I couldn't understand why a yacht in front we had been tracking on AIS, turned left and ran at 90 degrees to its previous course but this soon became clear with the massive wind shift that accompanied the rain.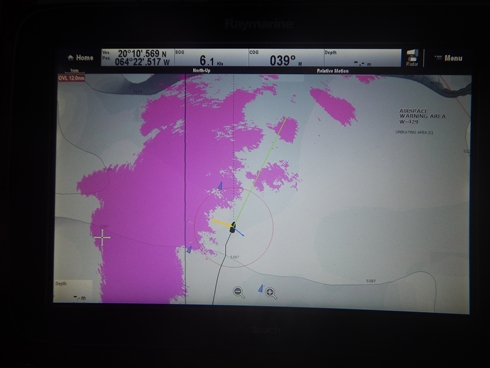 Poor Barry when he emerged had had a terrible time trying to sleep in his cabin in the fore peak, already dubbed 'the washing machine', every lurch in the heavy swells put pressure on his recently broken nose and he swears it had been further dislodged. He did look as though he had recently applied mascara but he refused suggestions to use a different cabin – he must be a masochist.
Light winds throughout the day meant that we used the engine to maintain our pace. The recently fitted 'Bruntons Autoprop' is supposed to be 20% more efficient when motor sailing as it uniquely adjusts the pitch to the load. It is a weird piece of kit, how anyone designed it is beyond me but it seems to work well and feathers when sailing.
We tried another Costco 'boil in the bag' concoction for lunch. It was 'pulled pork' and after 20 minutes of boiling, you pour off the liquid, shred it, mix in a sauce and it is actually not bad at all and was so filling, neither of us had much of an appetite for anything more than a snack later.
Our spray hood has been suffering from age and UV degradation. It has required regular re-stitching to keep it together. The process is almost therapeutic and when sewing from one side of the canopy to the other, it provides considerable exercise as it is necessary to go back and forth, up and down to retrieve and re-insert the needle in the right place.
Approaching dusk, almighty thunder clouds clearly dispensing torrential rain appeared on our starboard beam. They were tracking across diagonally and, choosing to try to outrun what looked like the mother of storms, we angled our track and picked up our speed. Thankfully we managed to avoid them but we had a VHF conversation with Dexter, another British yacht showing on our AIS as it looked as though they were smack in line to collect a soaking if not worse.
Our cockpit VHF handset seems to have fallen victim to one of our soakings and ceased to work. This is one of the few 'bits of kit' that I don't have a spare for. It is not absolutely essential as the VHF can be operated from below and I have an independent handheld but it is very convenient. So, an Email has been sent to our Raymarine supplier who I am hoping will be able to get a replacement to Ollie in time for him to bring out to Bermuda.
Barry had an interesting watch as the wind picked up sufficiently for full sail and no engine. In fact he had to put reefs in and out as the wind picked up with even more squall activity. He handed over to me at 0200 with a calm sea, full sail and making 6 knots in 12 knots of breeze on the beam – lovely!
Our noon to noon mileage had been 146 but this was with a considerable amount of engine assistance which we will declare. The organisers then apply a correction factor which will probably mean our adjusted finishing time is after we have left on the next leg! It really doesn't matter in the overall scheme of things and looking at other yachts in AIS range, they have also been reaching for the engine switch which is only prudent in the circumstances.
Nick