Yes, it's true, from yesterday I qualify for my state pension and an old person bus pass. The pension had only been pushed back by 6 months but I know close contemporaries who received their bus pass at 60. I am lucky as there is a bus stop outside my house with a bus that goes into Windsor via Windsor Great Park which is a delightful journey so I look forward to using that in future – for free.
We shed no tears at leaving Marina Dalmacija and our passage was how we had pictured Croatia to be, a mass of islands and villages.
We secured a place in another ACI Marina in Vodice for the night but, it being full of rows of charter boats, we have been placed on the opposite side of the marina which we fear might be adjacent to an all night disco. We had witnessed how booming the bass can be carried over water as, while on a windless passage we had heard the bass of a tripper boat even when it was over a mile away.
Bob and I have now been cruising for a week and I have to say that the 'boaty stuff' is getting slick. We came into our berth today with barely an instruction and the operation was faultless. He knows where everything goes, when it has to be deployed (with the right knot) which rope to pull and all this with no prompting. Sadly this teamwork will be lost this week and I will have to start all over again with Dave Wright.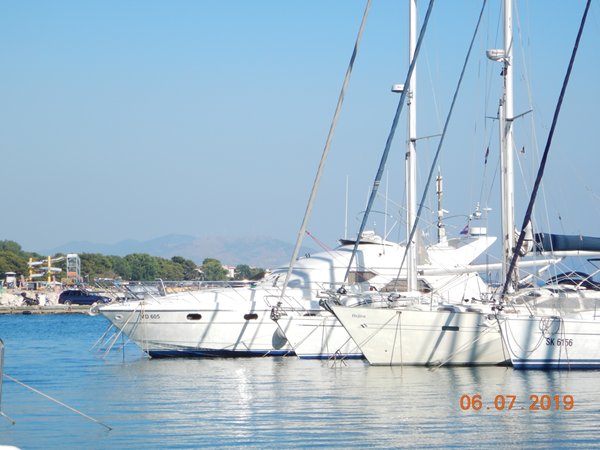 Again we suffered the curse of the charter boat as most of them had not left their berths with the new crews forming queues in the supermarkets with trolleys brimming with provisions.
Mindful that in less than a week, I need to leave Hejira and fly home for a holiday (that is somehow perverse  – that when holidaying away is so continuous, going home is perceived as a holiday) I am conscious that I need to book somewhere convenient for Dubrovnik Airport.
There is only one marina in Dubrovnik and even that is not really near the city or the airport. An enquiry for a quote for the 15 days between arriving and leaving again resulted in an eye watering quotation. The daily rate is only exceeded in my experience by Porto Cervo on the Costa Smerelda in Sardinia. Not only that, it inflates by over an extra 50% on Fridays and Saturdays when the charter boats arrive for their swap over. Unfortunately, there is no choice !
Touching on the '90's troubles again, the caption on this memorial makes for an interesting read and that is why I have included it.
Bob writes:-
It seems a shame, but it appears that the closer we get to larger conurbations, the more 'touristy' they become.
Vodice, for example, possesses a very good and well run marina, but it is located in an area teeming with establishments selling tourist tat, such as 'kiss-me-quick' hats, flip-flops, (thongs to our antipodean friends; they probably sell those as well by the look of the bevies of young scantily clad young females disporting themselves), tee shirts and other such beach attire that I suspect you might wear once and then discard hastily.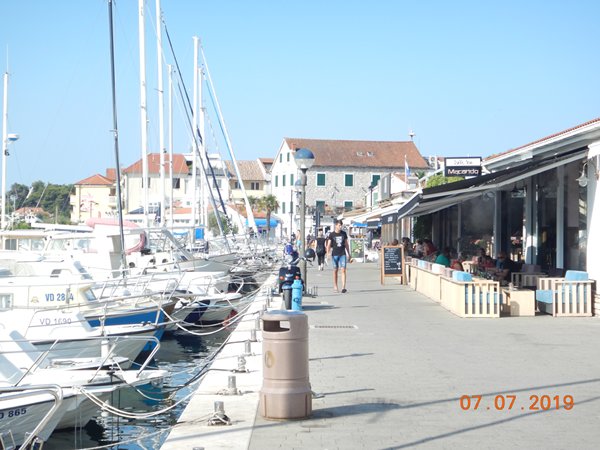 There continues to be the blight caused by past communist bloc planners who have allowed entirely incongruous blocks of flats and tower blocks to poke up amongst the predominantly white and terracotta dwellings, which are themselves quite in keeping with the climate and surroundings, in my opinion.
In addition to the change in characteristics of the locations, there also appears to be a commensurate increase in the prices of most things! The Skipper has taken to muttering quite darkly about this and when the cost of his parking on a patch of water in Dubrovnik for 15 days was disclosed, there was an expulsion of, 'I don't want to effing buy the place'!