While France was quite relaxed about paperwork (in contrast to 15 years ago), Spain and Portugal have been excessively bureaucratic, demanding ships details and copying the passports of the crew members – in every port. It has been conceded by several marina managers, when challenged, that it is an exercise in 'jobs for the boys'. It has certainly been an inconvenience. This was exemplified when, after an exchange offshore with Coastguard boat number 42, we were then challenged to produce our documents again by Coastguard boat number 21 – in the same day! This was our third 'brush' with the authorities, having been boarded by the Customs in La Coruna.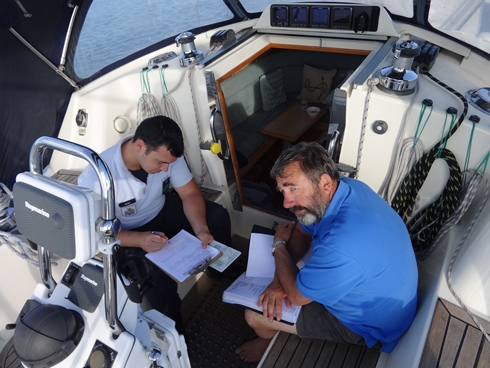 The passage from Peniche to Cascais was unremarkable. We derived a little help from the jib for a while until the lack of wind led to it's collapse and we had to give up our vain attempt to sail. What masqueraded as a breeze was northerly and chilly but the sun shone and the coastline was of more interest with hills and what looked like pretty coastal villages. We were entertained by a lone dolphin which accompanied us all the way until just short of Cascais, she or he seemed to delight in showing us some fancy 'moves' from time to time and for Mike, for whom this was his first 'dolphin experience', he was enraptured.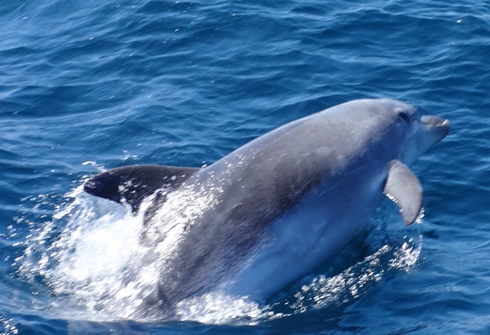 Cascais is a large, swish and expensive marina but for the purposes of having a 'lay day' and visiting Lisbon, it was ideal. With a bar at the top of the pontoon ramp and plugged into the mains with our AC working, it ticked all the boxes. Mike even paid a visit to the laundry and experienced another example of the endemic excessive paperwork. Before he could buy a token for the washing machine he had to give the name of the yacht, our mooring location and wait for a two part receipt to be printed !