With France regressing into more stringent Covid restrictions, there is no imminent prospect of paying Hejira a visit and she remains as I left her, halfway through preparations for The Atlantic Project. I have however managed to secure a more formal 'babysitting' regime which should provide some comfort and help smooth my sleep patterns.
I have been lucky in that I have several friends with yachts, and they have kindly humoured me with various sailing trips. I have been out with John Coe on his Sadler 26 'Selkie', a couple of times with Richard Cracknell on his Halberg Rassey 31 'Esmeralda', a West Country cruise with Peter Hoade on his Vancouver 32 'Firebird' and with Nick Bullen on the sister Southerly 135 'Sea Spine'. They have all been very much enjoyed and I am very grateful for their kindness and indulgence.
On Monday however, I sailed with John Goodall and his son Cyrus on their Series 2 Southerly 135 'Istana' out of the Hamble. We enjoyed a spirited sail on passage to Ryde and John recounted his experience in Ryde Marina a few weeks ago when Storm Alex blew up overnight. The wind was easterly off the sands and he woke in the morning, slid open the hatch and was confronted by this incredible scene.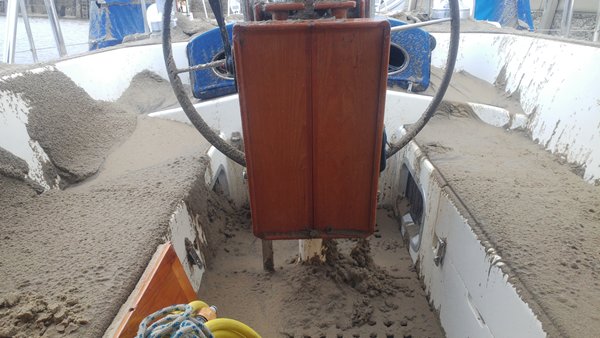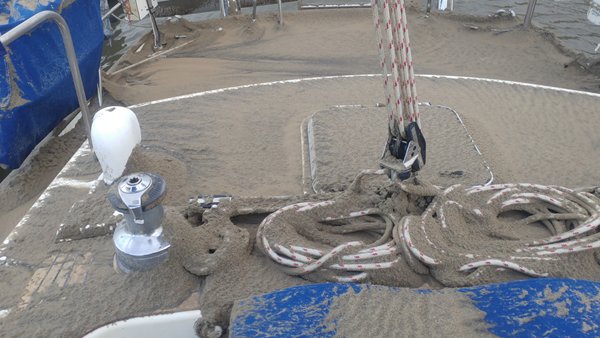 I have never seen anything like it and the sand had permeated every conceivable nook, cranny, and most of the equipment. We struggled to deploy the sails as the tracks had filled with sand and it was like smoke as it was shifted under extreme tension. The winches sounded very gritty and the deck was treacherous as it was recoated with sand dust displaced from elsewhere.
I guess the moral of this story is to always be mindful of one's surroundings and the possible implications of changing conditions.
I know this is not strictly about Hejira, but I thought it worthy of a post and it was about the experiences of another Southerly 135.
I have previously 'banged on' about a '3 men in a boat' type of river trip on a friend's boat in the absence of any of the planned adventures on Hejira. Unfortunately, extraneous issues have repeatedly scuppered embryonic plans. I can now disclose that I have purchased my own, very elegant, 12-foot dinghy for just this purpose and I am in the process of preparing it for an adventure in November, camping alongside the Wey Navigation.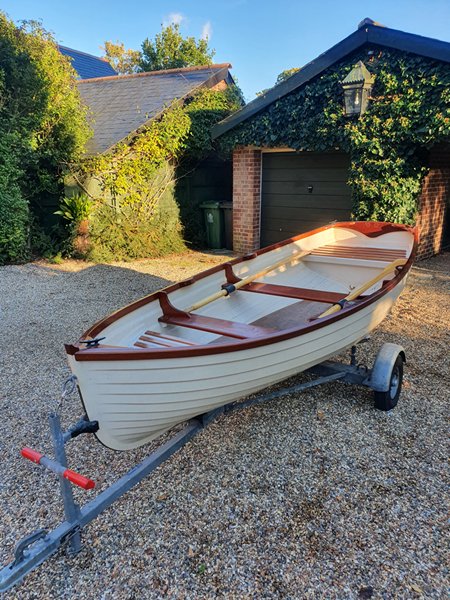 To maintain the theme (and with good reason) she will be named 'T/T Hejira' (Tender To Hejira) so I feel comfortable blogging about it on this website. The writing (which should be embellished by my two crew – warts and all) may have to wait for the circulation to return to our fingers!