Our 'lay day' in Cascais was very welcome after relentless daily passages down the Iberian coastline. An unhurried reveille was followed by an amble through the pretty streets to the train station. There is a feeling of affluence to the town which appears to have an active fishing fleet while being a destination for the residents of Lisbon. The tacky ephemera that is usually associated with a seaside holiday resort is largely absent.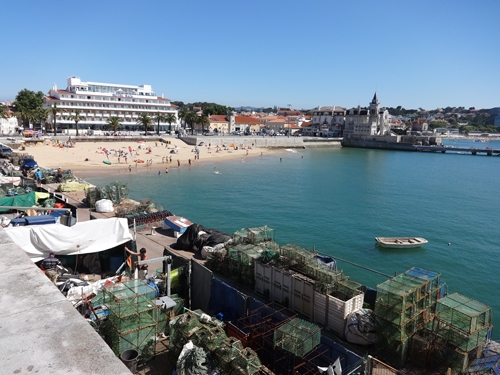 The trains into Lisbon are frequent and the journey is interesting, running along the coastline through the villages that line the Tagus estuary. I remembered driving to Lisbon on business and it wasn't until we had taken the tour bus and I began to recognise familiar locations that I remembered visiting with my wife, Paula and her father only about 6 years before to watch England Students play the Portuguese National rugby team. It is probably my age but I have put it down to the arrival by sea being sort of 'out of context' and dis-orientating…………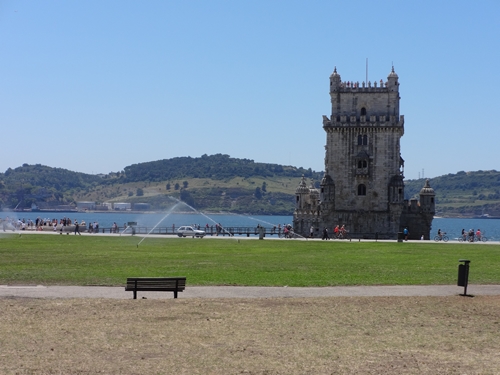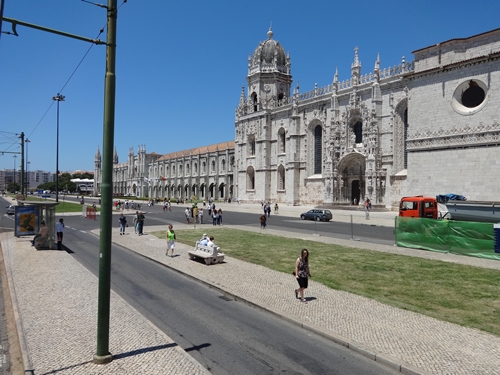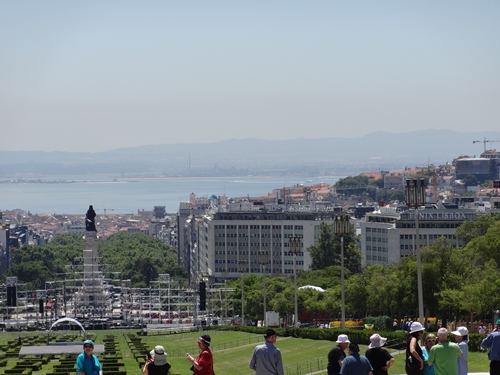 We made an early start on the 55 mile passage to Sines and, once again we have lacked wind.
It has been essential to keep a good look out all along this coast and the style of markers for the nets has evolved from the tiny corks further north to a string of water bottles in a line along the surface. Thankfully Mike has keen eyes and is happy to keep watch while I write this – and read the first newspaper for nearly a month.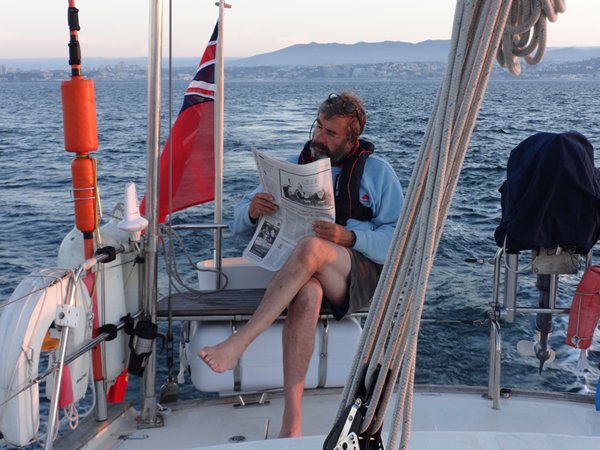 It may be worth recording (for fellow anoraks) some of the 'Nickisms' which are mods that I have made to improve (or not) the yacht, particularly with the Ocean passages that I have in mind.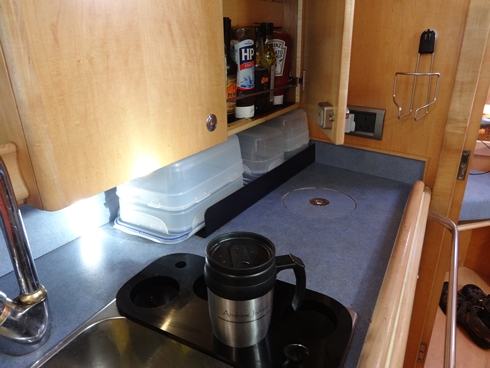 In this picture there are several visible. The insert into the small sink holds 4 thermos 'cups' (each laser engraved with crew's initials) and a spoon – very helpful when pitching about. The black strip retaining the 'rough rations' lidded Tupperware is cut from square plastic downpipe and stuck in place using double sided tape. There is a stainless steel retaining rod in the cupboard (and in all similar cupboards) so that the contents don't all crash out when heeled. A proprietary bottle holder (there are can holders and other 'holders') is shown stowed on a turned 'button' and elsewhere the standard 1" stanchion fitting has been supplemented by unique fittings for the binnacle grab handle and the 'goalpost' behind the helm so that drinks can be safely to hand around the yacht – see photo of me reading the Telegraph. Thanks for many of my 'isms' must go to the ATOM 'marine division' (non-profit making charity) which has helped with the development and manufacture of a large number of 'improvements'.