Being rafted three out has its drawbacks especially when you have used a dozen lines to secure the yacht in the big winds.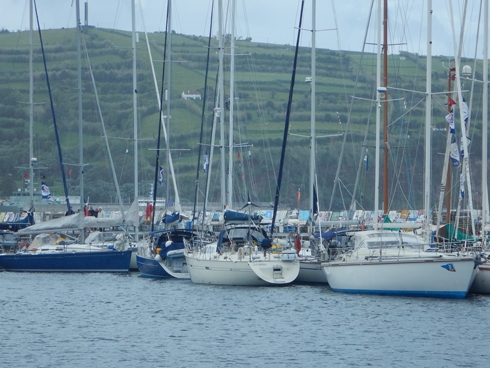 So we really didn't want to hear that the Finnish yacht inside of us wanted to leave. In the event, slipping and 'standing off' while the Fins extricated themselves was fairly painless and so we are now only the second yacht from the dock with a Dutch yacht outside of us.
We busied ourselves with jobs while Ollie went off to buy some paint and he has now laid the foundation for our artistic contribution which will modestly nestle between two recent additions on the main wall.
The ARC organised social function last night enabled us to catch up with the crew from 'Slipper 1' who arrived about 30 hours after us and caught the full brunt of the storm while still well offshore. Their tales were actually quite sobering with 59 knots of wind recorded and seas to match. The expression 'sobering' was out of place as the evening wore on and they ended up back on Hejira for a few more drinks which were not really required…
As I write this, the rain once again lashes down and the other side of the harbour is lost in the resulting mist. We continue to download weather forecasts and our latest 8 day projection reveals yet another threatening low approaching so we may just find a window to dash the 70 miles to Terceira but the 1300 miles back to the UK may have to wait.
Ollie writes:-
Yesterday we had a visit from Helen, the Yachting World journalist.
As you can imagine, she just wanted to ask the skipper a few questions and brought along a notepad.
But unsurprisingly she left carrying a 16 gigabyte memory stick containing every word the Skipper has ever written, and every photo he has ever taken.
I was on the foredeck with Barry while she was on-board, so we're not sure whether she asked for it, or whether it was forced on her.
I put a few more base coats on my quay painting in the afternoon, tomorrow's the day for actual artwork.
Then the three of us decided to find the local supermarket.
We walked for about an hour, across some seriously hilly roads, only to find that the supermarket is actually tucked around a corner about two hundred yards from the boat.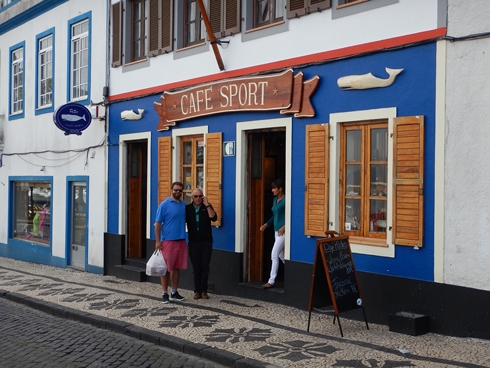 So it was with appetites suitably built-up that we left for dinner with the crew of Slipper 1.
The restaurant looked after us extraordinarily well.
It was a set-menu affair, but I think we must've eaten at least double our food quota.
And our glasses weren't allowed to sit empty for more than five seconds all night, despite the fact we must've gone through our wine quota in the first five minutes.
So I'm sure you can understand we're feeling a little delicate this morning, but the Skipper is adamant that the best cure will be to do some cleaning.
And I'm willing to give it a try.