With no wind, we had to accept that the passage to Viana do Castelo would be made under engine alone. Crossing into Portuguese waters, we changed the Spanish courtesy flag for the Portuguese flag and, perversely, changed the clocks back an hour to Portuguese time.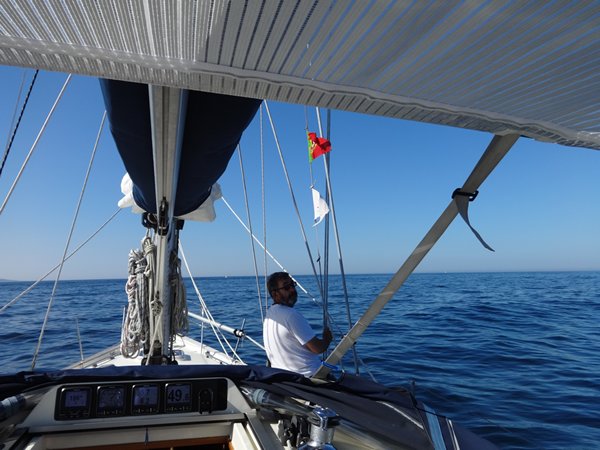 With no (obvious) offshore hazards, we could just run down parallel to the coast and it was disconcerting to see semi submerged floats with a line of small brown corks between them. We were already committed to passing through by the time we spotted them so we took the engine out of gear and hoped for the best. The net must have been on the bottom with the corks to keep it in place as we passed through with no mishap. With Mike stationed in the bow, we managed to identify other situations and steer well clear.
Taking a berth in the river outside the Marina, the very affable Harbour Master told us that it was a festival day when the town celebrates its history from the 16th century with stalls in keeping with the period and the stallholders dressed accordingly. There were lots of straw bales strewn around the place which we guess is supposed to generate a medieval  atmosphere.
It would not be a typical day aboard Hejira if something didn't break or go wrong. Today the forward heads blocked and the pipework had to be dismantled to clear out wads of paper and other stuff – not a pleasant job. It is something of a rule that what goes on board stays on board so no naming and shaming – on this occasion. It would have been even more unpleasant without the AC as it was 37 degrees outside!
Returning to the quaint old town in the evening for a meal, the festival was certainly 'hotting up'. What had been quiet streets were now thronged with people and it was clear that we were party to a special day in the calendar of Viana do Castelo.
It may be interesting to note that while not exactly medieval prices, our beers cost less than a quarter of those in Royan.