Having 'cleared out' of St. Vincent and the Grenadines at Blue Lagoon, south of Kingstown, we have 24 hours grace to leave their jurisdiction and we have anchored in Cumberland Bay with our famous (?) 'webbing' around a palm tree ashore and back – on a 'slip', cleated back on board.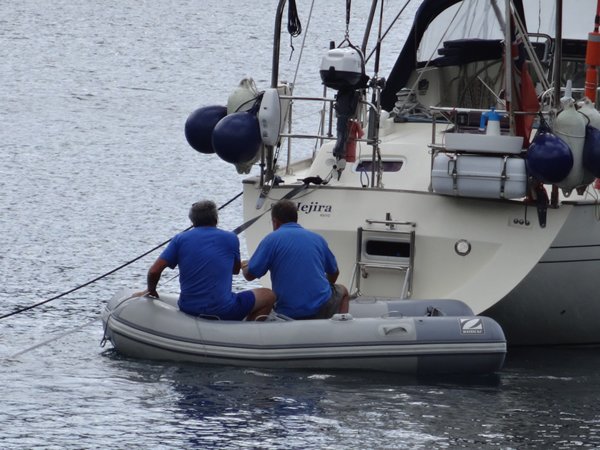 We will make the passage to St. Lucia, tomorrow, starting early so we can just slip our palm tree purchase at first light.
Cumberland Bay is very pretty but it has been an experience as we had four 'boat boys' alongside, clamouring for our attention as we tried to sort ourselves out. We managed to appease most of them with a can of beer, paying off with cash those that actually took our line (webbing) ashore. Later a couple of young lads trying to sell jewellery complained that the beers we offered in compensation for not purchasing were not cold enough!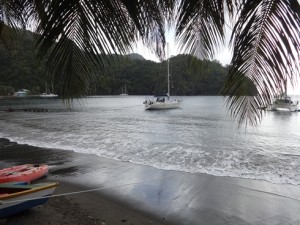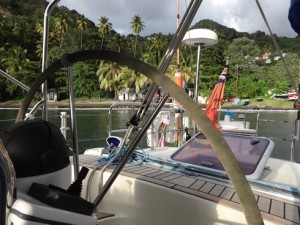 We  felt obliged to use the nearest 'Mohito's' bar but we were a little surprised when the proprietor, surreptitiously sent out for orange juice and the rum content in the punches seemed to be non-existent. Paula was dead downwind from the 'ganja' smokers so probably didn't miss the rum!
Feeling more comfortable on board, we returned to adjust our mooring arrangement but although close to the shore, we have good anchor holding and with the keel raised, I am sufficiently comfortable for the night ahead.
Lynn is delighted with some news:-
Today we received the news we have been hoping for…..the little dog on Petit Nevis has been rescued….she is a lovely little female. The team from Mustique sent a video clip of their greeting….their words were 'she seemed to be saying thank you!' She has now been examined, the vet said her heart is fine…good start…no more fleas, no more tics…she is now being fed…So, so happy! She will be very well looked after now. She deserves it! The gentleman who organised the rescue was telling me how yesterday they lost an old dog through road negligence….so somehow this little dog will hopefully bring some solace…..His team are trying to educate local people on how animals also deserve a bit of paradise….education is everything! People here are not bad, they have a lot to deal with. When all is said and done, it is soooo nice to know this little dog will undoubtedly bring a lot of happiness. She was meant to be….I look forward to receiving news of her wellbeing.
On a different note Nick has had his challenges today…mooring is not simple. We are anchored as well as 'strapped' to a palm tree! We seem to be secured both ends of the boat…as nice as the bay is…we will not be indulging in our usual swim. Water seems a bit dark and uninviting. Skipper says early to bed and early departure tomorrow….we all agree….Locals are very nice but also very stoned! Hey! Ho! We expect the journey to be a bit 'choppy' as forewarned by our skipper. But what must be, must be, we will survive!
Neville is still throwing the fishing line into the sea expecting a biting whale…a fortune spent in St.Vincent on fishing tackle hoping to catch Moby Dick! Watch this space……We find it quite entertaining! He is a bit desperate having seen locals landing tuna, barracuda etc with no more than a hand-line!