Ribadeo proved to be a very sociable place. After squaring up for our berth we put a wash on in the laundry room where we met Steve and Fae. We were on our way to our long anticipated 'dirty pint', it being our first since leaving France and they joined us for a drink. The marina bar proved to be very cheap and the company was so good that our best intentions of taking a walk into the town to shop, drifted into the background. Steve and Fae are on a gentle and relaxed sail along the coast in their Jeanneau 35. We yarned about sailing and places and it transpired that, back in time, Fae had dated one of my fellow 505 sailors at Brancaster Staithe Sailing Club ! The intended walk into town was unavoidably delayed by an afternoon nap but we did make it in the evening when it proved that we hadn't missed much although the meal of chiperones  (taken with mineral water) was worth waiting for.
Communications gremlins delayed our departure as we tried to secure a forecast to help plan for the next week and my mid-week crew change. It is disconcerting to receive a 'High Usage Alert' Email from the satellite system provider so I was keen to get my Wifi back up and running.
With the winds looking favourable after the crew change next Tuesday, there seems little point in trying to press on beyond La Coruna which should have all of the facilities for the jobs that need to be done and it is the closest point to the Airport at Santiago de Compostela. With La Coruna being 87 miles from Ribadeo , we were looking to break the passage into two and settled on what promised to be an ideal anchorage in the forecast wind conditions, off the beach just outside Puerto de Carino.

Our passage along the spectacular Galician coast provided us with stunning views but as the wind backed, we were headed and had to motor the last few miles into the anchorage.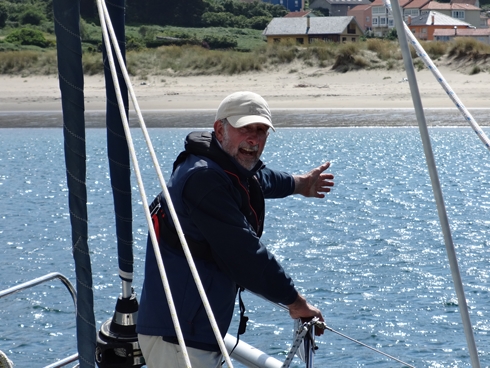 What a good choice, a gradually sloping deserted beach with good holding, sheltered from the forecast wind and completely on our own – perfect.