One of the jobs before leaving on our passage to Malta was to check the strainers on the sea intakes following the weed build up scare after leaving Venice. Thankfully they were all relatively clear with the exception of the Generator intake which didn't have weed in it but a piece of plastic! The exercise was not seamless however as I forgot to reopen the engine cooling sea cock which could have been disastrous had I not spotted my error – after starting the engine!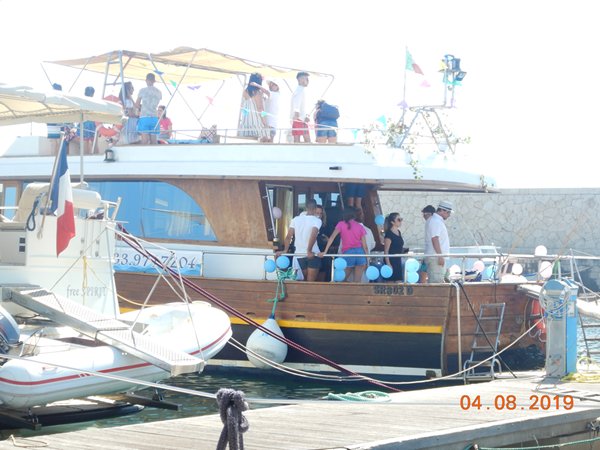 Our marina berth 'tenancy' in Marzamemi expired at 14.00. The F1 Grand Prix started at 15.10 – problem. We had arranged to watch the TV coverage in a bar in the village but could we stay? There was pressure on the marina berths and the marina staff would not confirm that we could hang on for the few extra hours as their few visitor places were fully booked. Even our offer to pay for an extra night didn't help. In the heat of negotiation, I was asked who I wanted to win the Grand Prix, Mercedes or Ferrari – I answered Ferrari and I think it did the trick and we watched the Grand Prix before leaving and it was worth it.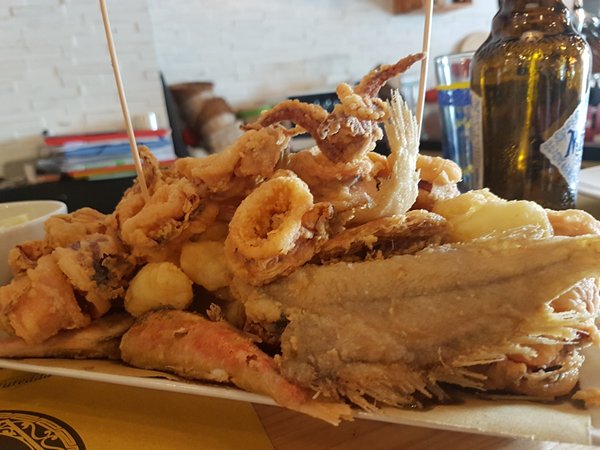 We had tried to book a berth in Creek/Msida Marina in Valletta by Email but had the response that they do not take advance bookings in this busy season and we should phone on the day before our arrival. So I phoned only to discover that the office is closed on a Sunday. A call to the 24 hour number suggested that there might be a berth available so, with fingers crossed, we set off.

On our crossing from Greece, we were sailing in depths of over 2000 metres so it is notable that our crossing to Malta will experience depths of no more than 135 metres. In fact it is so shallow that there is a patch on the Malta Plateau ten miles East of the Island called the Hurd Bank that has a depth of 50 metres and there are over 30 ships anchored there. For the sailing anoraks among the readership, they will know that there is a trench north of Alderney that is called the Hurd Deep (where a load of munitions are dumped!) and that is the deepest part of the Channel – isn't that a strange co-incidence and who was Hurd……?
Having mentioned the English Channel, it is difficult not to draw other parallels with this stretch of water as it has a similar density of shipping but here, there doesn't seem to be shipping lanes or separation zones. We were constantly entertained through the night by ships calling to agree (or argue) their passing strategies. English was clearly not the first language of most of those calling. We had to alter course to avoid an uncomfortably close encounter with the 'Highland Navigator' as we were the 'give way' vessel and better safe than sorry. With AIS, it is so much easier to monitor the situation, calling vessels over the VHF by name, what a boon to marine safety.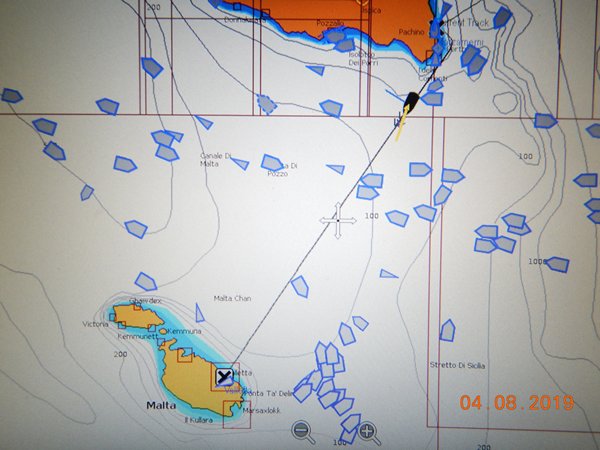 There was the showing of the new moon and soon after we shed the lights of Sicily, the lights of Malta loomed on the horizon so we were unfortunately denied the awesome star show afforded by complete darkness and clear skies.
Not wanting to arrive in Valletta before 08.00, we had a very restful 'bimble' across at 4 knots under engine in a flat sea and very light wind. With the engine running at a mere 1500rpm, it was very quiet, more noise coming from the watermaker and engine bay fan than the idling engine.
Dave write rites:-
Some of you may remember the saga of the missing spectacles as Nick made a spectacle of himself searching high and low for his spectacles before finding them where he left them – why are they always in the last place you look? Well now we can add the tale of the missing key…
Nick asked me for the key to the  toilets in Marzamemi marina so he could return it and when I said I did not have it accused me of losing it (the key not the plot) and we had a right old search high and low. Then Nick said "oh of course it might be in my pocket…….. Poor old chap is losing it clearly. But all is well that ends well.
Nick's note: Merhba is welcome in Maltese.