After the grandeur of the Pyrenees, the French coast becomes rather uninteresting with few natural harbours or anchorages. Our mission was therefore to eat up the miles and seek overnight shelter in suitable marinas.
Although this coast is renowned for high winds – in fact I have never previously crossed the Gulf Du Lion without there being something of a blow, the pattern continued with little wind and what there was directly in our faces. We grabbed a couple of periods under sail but our passages were made predominantly  with the drone of the engine in the background. We stopped in St. Cyprien and Cap D'Agde which although a vast marina, was convenient with an alongside visitor berth outside the Capitainerie.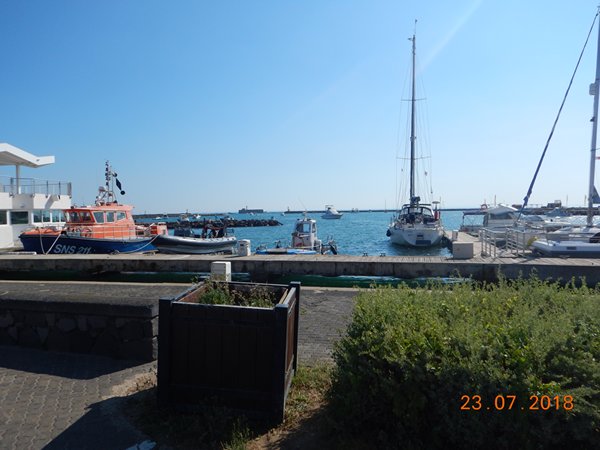 Pretty Port Gardian (Saintes Maries) was memorable for the thick mist on passage and the box berthing exercise which seems popular along this coast presumably because of the often strong Mistral winds.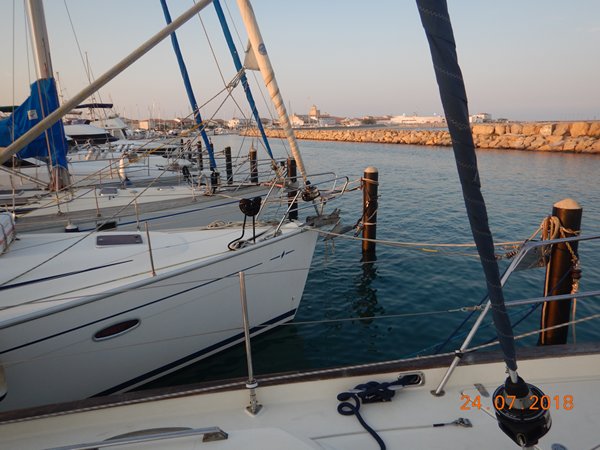 A full range of the berthing options on offer in the Med was ticked off in Carry-le-Rouet with the necessity to pick up a buoy on the bow and moor stern to the dock. My super dooper 'Hook and Moor' contraption unfortunately failed to deploy which caused some consternation and reinforced the lazily ignored adage of 'always have a back-up plan'. I have a hook spliced onto a line and arranged to mount onto a boat hook stowed in the anchor locker which I could have easily had ready in reserve and it will now be the preferred option in this scenario so, another lesson learned.
Carry le Rouet was selected as it is only 10 miles short of Marseille so we were able to enter the Vieux Port at midday and stand-off awaiting the allocation of our booked berth.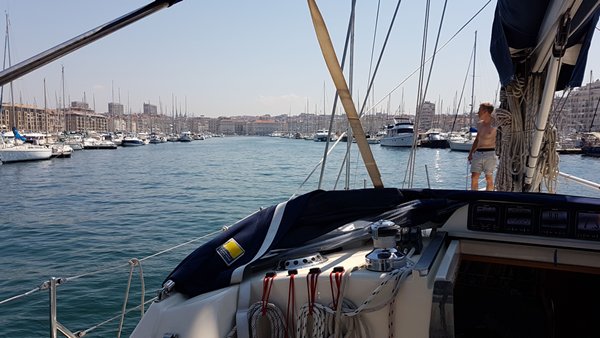 The Vieux Port would once have been the main commercial dock for the City but, as in so many old ports it is now an attractive marina in its central position surrounded by charming buildings and a charismatic network of lanes and alleys.
Contrary to the general perception of Marseille as being a crime ridden gangland focus of the drug trade, our experience was one of relaxed vibrant ambience with a good selection of bars and restaurants, even in the streets behind the tourist frontage.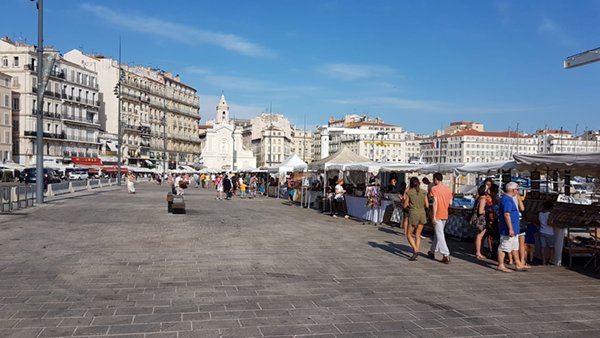 Seeking out a chandler to replace our spent gas bottle I used the 50 cent passenger ferry across the Vieux Port to save the long walk around. This was impressive in that it was solar powered and presumably accounts for the cheap fare.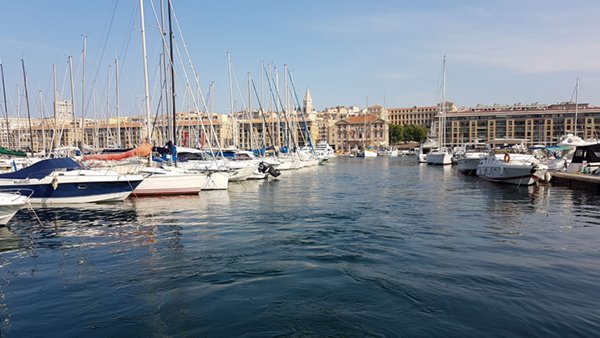 A day spent cleaning and visiting the laundry was finally rewarded by an excellent moules et frites at the nearest restaurant about 40 metres from our mooring. This was only the second meal ashore in the 11 days since Carl's arrival, the first being a full English breakfast in the Fastnet bar in Barcelona before our departure. Carl had cooked every other meal and excellent they all were. He even prepared all the coffee and drinks and washed up all the crockery – what a star !!!!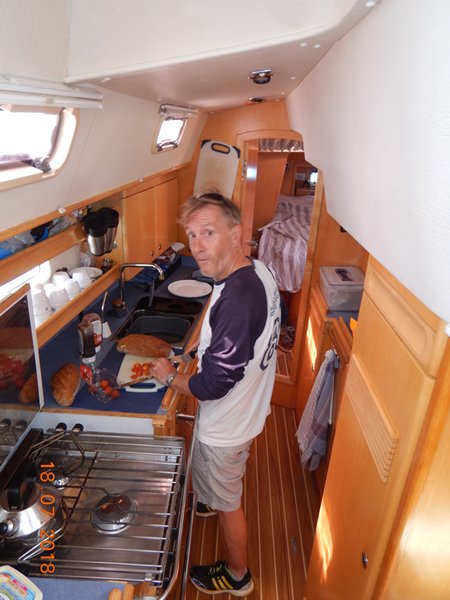 Marseille had been selected to leave Hejira for a 2 week trip home as it is sheltered and the International Airport is only a tube and bus journey away. I will be returning with my wife and Dr. Stephen and his wife Mary for the passage to Baie des Anges just west of Nice where Hejira will reside for the Winter and the unfortunate jobs. This final leg is less than 120 miles and has some compelling destinations en-route so, with over a week to indulge and relaxed distances involved, we only need the weather to behave to sign off the adventure with positive domestic memories…
Carl writes:-
Perhaps the view from the galley wasn't quite as impressive as that from Nick's elevated position on deck but I thought the charming views of France's southern shores perfectly complemented our final days together: calm, rolling and untroubled. Until that is, mooring-time approached… Even my final mastery of the ubiquitous clove-hitch didn't prevent Nick's blood-pressure from rising a notch or two, and all I can say wrt Carry le Roux is that the mere mention of "Captain Bouncy' to the Capitainerie will undoubtedly elicit a rueful nod and the raising of fenders.
Notwithstanding this, all must have gone well enough as, on several occasions Nick was kind enough to reward me with further duties outside of the galley. Twice I was allowed to sponge out the diesel from the bilges before mopping-out with warm soapy water, and three times I was given complete responsibility of the hose when washing down both masts, deck & hull. Thankfully, taking into account his recent experience with the seams of his fuel tank, I was ultimately promoted to assume authority for the daily filling of Hejira's water tanks. Cannes-based 'Banjo' can stand-down and expel a sigh of relief. Probably.
Seriously, as a complete novice, the whole trip was ace and as far as my galley efforts were concerned: always a pleasure, never a chore. Ta, Carl.
PS Many of you will already appreciate that Nick's modern-jazz music taste can become a bit "too-tooty" on board but do persevere as 1982's 'Papa's Got A Brand New Pigbag' saw us walk-off with the marina's legendary disco-dancing competition trophy, hands-down. If their early demise at this year's World Cup wasn't enough, those German long-faces three boats down said it all…