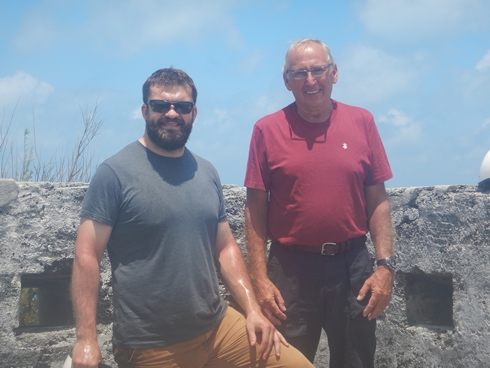 The second half of our 24 hour scooter hire enabled us to access the town for some chores more easily than on foot. We paid the whopping $375 docking fee for our 4 night stay and we managed to do a final shop. Making the most of the scooters, we explored St.George's island, swam in Clearwater Bay and visited several forts along the coast.
We 'cleared out' conveniently as the officials visited the marina and we attended the skippers briefing. The start line will be within the harbour and we will all have to thread our way through the Town Cut before exiting down the channel out to sea. This is supposed to provide a spectacle for the locals who apparently line the shores. The ARC USA fleet were encouraged to set off last night rather than joining the start today as there is some bad weather expected off the US coast. The forecast for us, heading East, is for a light wind start and a rhumb line route is favoured instead of the usual advice to arc north for better wind. This is because the Azores High is centred further south than usual. The passage is likely to take in excess of 14 days so the weather towards the end is beyond any forecast data. We do, however, expect to do quite a lot of motoring to keep our speed up as portly old Hejira needs a 'bit of a blow' to get her going, particularly with all the stores, spares and diesel she is carrying.
For our 'final meal' last night we took the advice of a semi resident Dane we met in town who recommended 'Tempest Bistro' and it turned into a rather special experience with excellent food and service in an old waterside building.
Ollie writes:-
The last full day in Bermuda was another treat.
We turned in the scooters, happily unscathed – and did a final shop.
After that my superior officers settled down for a beer or three in a local bar, while I visited the St George Town Museum.
All very interesting.
Apparently St George flourished economically when the British supplied guns to the Confederacy in exchange for cotton during the American Civil War.
Makes you proud to be British!
(If you don't know much about the American Civil War, or you do – that last sentence was steeped in irony)
After the museum it was my job to book a restaurant for our final meal.
On recommendation from the Dane (see above) – I wandered to the Tempest Bistro.
It's within an old colonial building.
A posh place too, you know the sort; table cloths; cutlery; carpet.
The problem was; I needed to book a table, but there was no one about.
The door was wide open, but the place was deserted.
So I thought I'd improvise, and just write my reservation in the Maître' Dee's book.
I didn't even bother to disguise my handwriting.
As we approached later I had a whole conversation rehearsed in my head.
"I know it's presumptuous and a flagrant breach of restaurant decorum…but there was no one here!"
I didn't need any of it.
Happily the Maître' Dee just scanned his page with his pen and stopped on my scribble.
"Ah yes, Mines for three. This way gentlemen."
Hurrah! I might start doing that at home.
It was a marvellous meal too.
King prawns; scallops; Vinho Verde; the works.
A fittingly sumptuous end to the time in Bermuda, which seems to be everyone's favourite destination so far.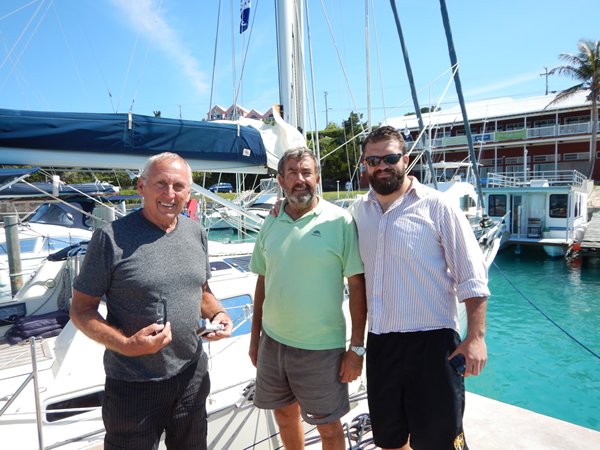 Now it's all-systems-go for the push off at 11am this morning.
There's over two weeks of solid sailing ahead of us.
(You might like to view Ollie's video of the passage in the 'Video' section.)