Having anchored in the most idyllic Chatham Bay on Union Island, the only downside, (or possibly upside) is that there is no internet signal so no blog update – I hear the sighs of relief!
After slipping our overnight mooring in the wonderful Tobago Cays Nature Reserve, we cleared out of the Grenadines at the buzzing and attractive port of Clifton where we anchored. We found ourselves next to 'Moonshine' who crossed the Atlantic with the ARC+ and had suffered a broken forestay in the first leg. Thankfully they seem to be in good shape now and heading for the Panama Canal on their circumnavigation. It was great to catch up, albeit briefly but we wish them well and fair winds.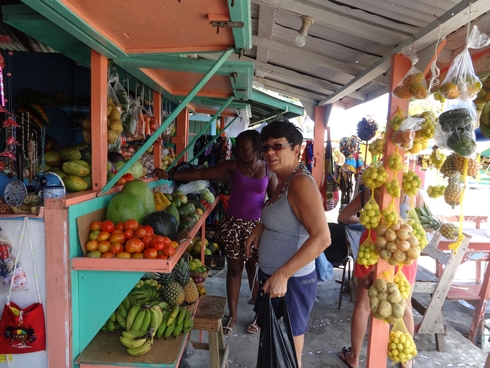 The officials gave us leave to spend the night in Chatham Bay before continuing to Carriacou which is in the jurisdiction of Grenada and will necessitate another 'clear in' procedure.
Photographs never seem to do justice to the breath taking beauty of our surroundings and this has never been more pertinent than here in Chatham Bay. I will let the 'ladies' add to the eulogies.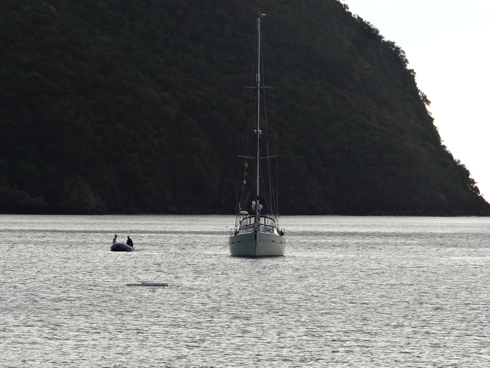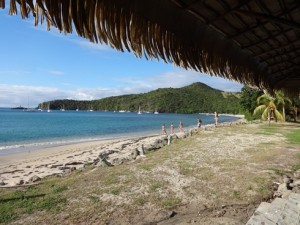 Lynn and Paula write an interim contribution:-
We have anchored in Chatham bay, how lovely it is? Lynn and I snorkelled to the beach: and saw lots of star fish and tiny silver fish in their hundreds.  We both settled for a Pina Colada in one bar followed by another drink in a local bar along the beach. I had a Pain Killer!!!!! which I have to say completely threw me and my balance completely off kilter!!!! Can't understand why???
Both Lynn and I think this particular bay is idyllic and hope to come back here on our return journey, just for the drink!!!  The conversation we had with the owner at the local bar really endorsed our pleasure and faith in humanity. Such lovely people who would do anything for you and if they couldn't they knew someone who could!!!
As for the wildlife we both saw some rather large pelicans diving into the sea for food and collecting those fish we had seen earlier we are not sure to be glad the pelican or sad for the fish?
Off to another bay tomorrow life is so hard!!!!!
A poor internet signal has appeared so I am sending while I can  – Nick