Mindful that the time is passing and with the prospect of being headed by the wind later in the week, we are keen to get as far west as possible along the Spanish coast before the wind turns against us. We planned to get away at first light Tuesday morning to catch the last of the favourable ebb out of the Gironde estuary but we needed to fill up with diesel before embarking on the 300 mile crossing.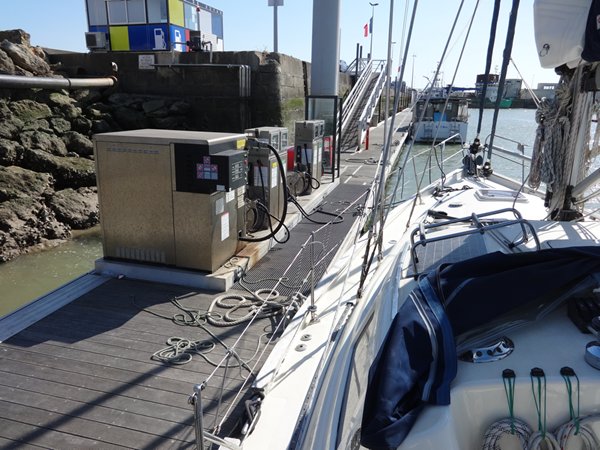 A call to the Royan marina office brought the news that the fuelling dock closed at 5pm and we would miss it although they said that the pumps took a 'carte bleu'. Given that this was our only option, we moored at the dock and tried 4 credit cards with no success assuming that a 'carte bleu' is a special fuel card. When we returned at 9am the next morning, the attendant put my card into the machine and it worked. It seems that the previous evening I had selected the tax free pump which is not dispensed without special documentation and had I selected another pump, it would have worked and we could have made our preferred departure time. The only distinction between the pumps was some obscure faded felt tip so although I felt foolish, I had an excuse.
We had had a great sail to Royan and were visited by our first dolphins, always a special experience.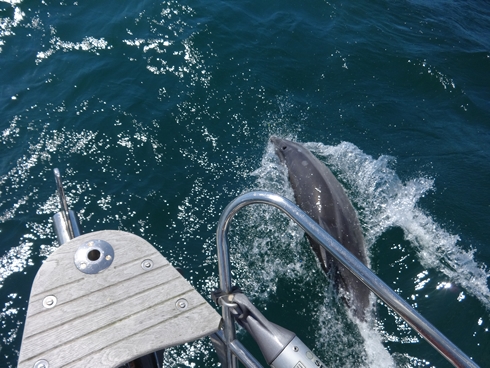 We managed to victual for the crossing in a supermarket in Royan but we were not impressed with paying 17 Euros for two half litre glasses of beer in a bar on the front our way back – we dined on board!
As I write this piece, we are 'creaming' along at over 7.5 knots under the Parasailor. We are not able to go in quite the right direction but with 3 days to go on this passage, we have taken speed over direction for the time being.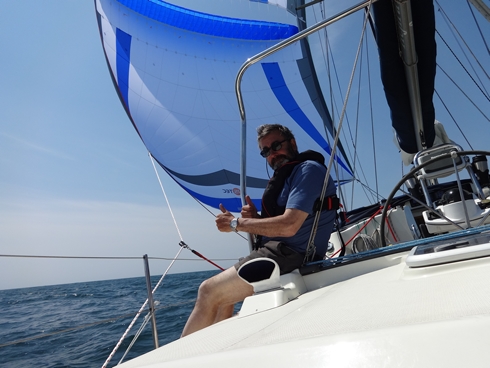 Our Parasailor experience has not been seamless as when I first settled down to write this, Dave spotted the bow sprit at a drunken angle and closer inspection revealed that the drop nose pin securing it to the bow roller cheeks had worked itself out so it was only purchasing on one side and jammed.  We had to drop the sail and tackle the issue with an array of tools, resisting the suggested angle grinder, finally managing to withdraw what was now a bent nose pin and replace it. The lesson here is to check that the nose on a drop nose pin is truly dropped!