Well, it was quite a baptism for my first solo night.
Having motored all day with only minimal assistance from a 'floppy jib', the wind picked up off Cap Course after dark.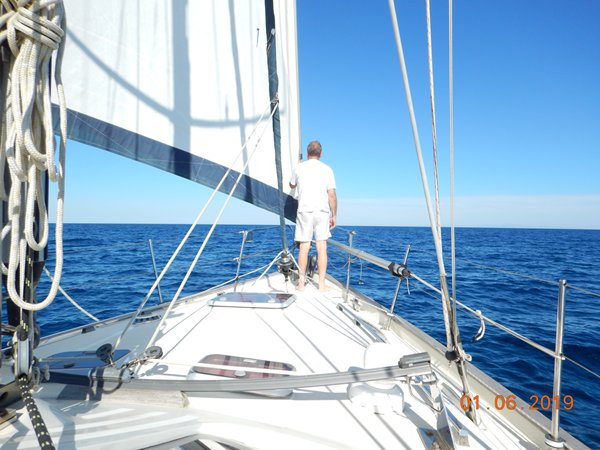 It is quite usual for the wind to be stronger as it funnels around headlands and it was not unexpected.  There are shipping lanes between the tip of Corsica and Isola di Capraia and they were busy with the authorities calling the vessels on VHF and there was also a chatter between the ships to agree their respective manoeuvres. This was all in the dead of night and I was unable to relax as I threaded my way across the motorway to pick up my route between the islands of Elbe, Pianosa and Montecristo towards Giglio. Consequently, I was only able to take a couple of 20 minute cat naps with the aid of a timer towards dawn.
The experience was not made any easier by a fault with the Radar which refused to be activated by the instrument system. I had intended to set up guard zones with collision avoidance settings on the Radar and AIS so, with the radar out of commission I will have to rely on the AIS alone. The AIS (Automatic Identification System) shows on my plotter system and is mandatory on all ships. It has also been adopted by most larger leisure craft. It is brilliant! It shows the name, size, speed, course, destination of all ships and even shows their track, how close they will get and how soon. I have set up alarms on the AIS so that I can focus on the vessels most likely to be a danger – very re-assuring.
I got really excited soon after dawn off the tip of Elbe when the wind piped up to a good F4 on the beam. Up went the main, off went the engine and we (me and Hejira) had a great sail until just past the headland when it died away to next to nothing. So it was back on with the engine but I left the main up in the vain hope that things might pick up although the forecast is for the wind to die away completely tonight.
My course is to pass on the Italian mainland side of Giglio (where the Costa Concordia sank) then run down the  Italian coast to just beyond Naples. Giglio has one of the most charming villages perched on the island summit. It is walled and the story is that the islanders who were mostly fishermen, living on the coast, would flee  inland to seek refuge in the village when  pirates raided. The dwellings are all tiny and built into the rocks, it is a most charismatic place.