It would appear that the Email notifications have been intermittent and you may have missed some missives – I bet you are mortified and desperate to check to see what you have missed……
The prospect of the morning manoeuvres didn't help my sleep and it was soon after 6 that Bob and I emerged to take stock of the situation.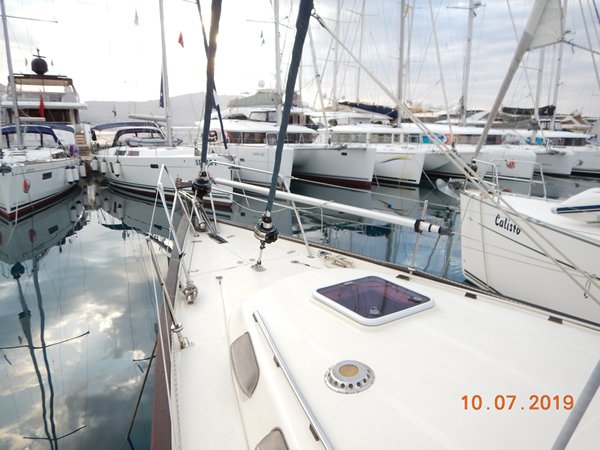 I had ruled out trying to extricate ourselves if there was any breeze as it was going to be necessary to raise the keel to avoid the mooring lines and this would have left me with little grip in a lateral wind particularly at the slow speed that would be necessary.
Fortunately the wind was very light and I briefed Bob and equipped him with a roving fender just in case. There was insufficient width between the boats for a normal turn so my plan was to put the bow between the bows of two yachts diagonally opposite, swing the stern out and leave astern. The bow thruster enabled me to place the bow where I needed to and the third rudder behind the prop gave me control of the stern. The operation was conducted at tick over and only the bursts of the bow thruster disturbed the silence.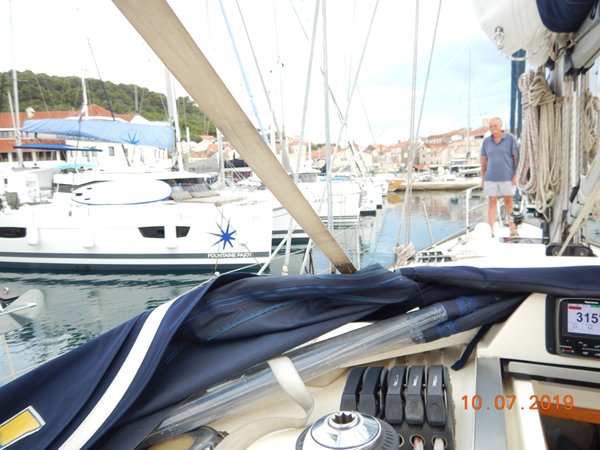 Bob was merely a spectator as the plan worked perfectly and we managed to creep out with no 'twanging' mooring lines or contact with other boats.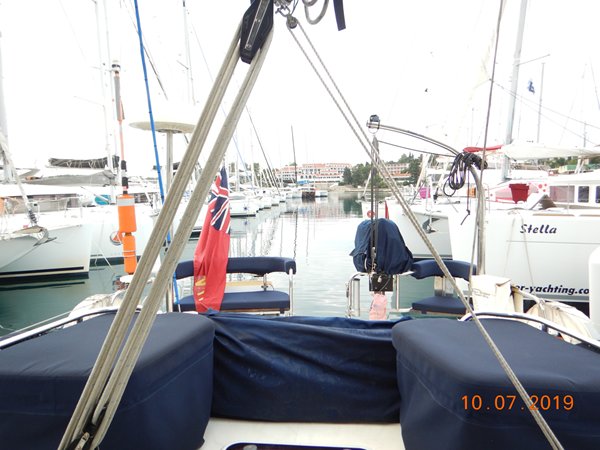 It being 06.40, there was no audience and as we left, we passed a catamaran with someone sleeping between the hulls.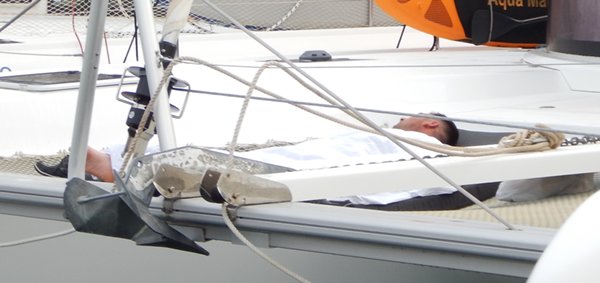 What a great start to the day and it got better! Just before 9, the wind piped up and with an adequate angle, it was full mainsail and jib and we were creaming along occasionally touching 8 knots. In fact the wind increased so as to necessitate a reef and we continued having the best sail of the trip so far.
So often we have deployed the sails at the first sign of a breeze only to have to give up after only a few minutes. This breeze however was sustained and will at least give us something positive to remember and justify calling Hejira a sailing yacht.
The marina dubbed 'Dubrovnik Marina' is in fact quite a long way up an inlet to the North of Dubrovnik. Having secured a berth we made our way up the channel to refuel. We experienced a very strong contrary stream of at least 4 knots as we approached the fuel berth so we had to adjust our preparation to take this into account. Having refuelled and no more than 20 minutes later, we experienced the same fierce current but in the opposite direction. It seems that this is an inexplicable local phenomenon and the water levels just fluctuate by a metre or more very rapidly and frequently. Having adjusted the passerelle to float just above the dock when we went for our 'dirty beer', the raised water level presented something of a challenge for Bob on his return.
The impression that we have had from the offshore islands particularly is that the post war communist era froze progress and preserved the villages and communities in a slightly bygone age. As a result they escaped much of the 'blight building' which is so prevalent in the holiday centred Mediterranean destinations. As a result the islands retain a character and charm which is really very pleasant. This appeal is being exploited by the sailing charter industry and the authorities have been quick to provide the necessary facilities in the form of marinas which are actually well run and pristine, if on the expensive side. We have found that, as we have headed south, the waters have become busier, presumably nearer the travel hubs of Split and Dubrovnik but still, the island communities, although popular and busy retain their charm.
This will be the last blog from a very enjoyable cruise from Venice to Dubrovnik with Bob. He has been a great companion as I knew he would be and we have had a lot of fun. We have travelled (I wish I could have said sailed but I can't) 408 miles visiting Rovinj, Pula, Cres, Punat, Simuni, Dalmacija. Vodice, Trogir, Milna and Korcula, plugging into shore power every night! We had a great sail yesterday and this has left a good if unrepresentative memory.
We will book a 40 Euro taxi to the Airport for Saturday and I return for some family time, business meetings, a visit to the Palace of Westminster, secret Cinema, a game or two of squash and a rugby lunch before returning on the 25th with Dave Wright to resume with crew changes in Malta and Corsica.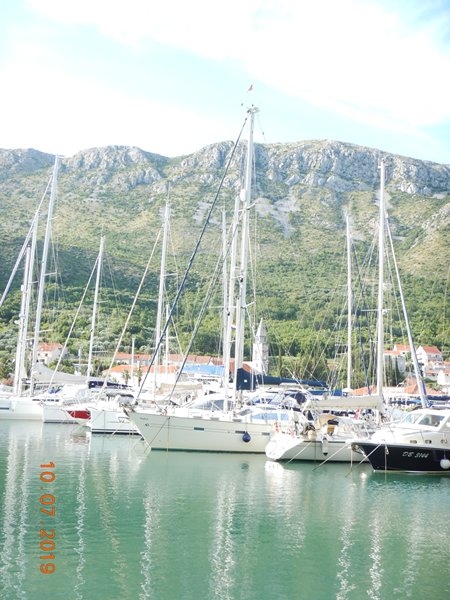 Bob writes:-
Clearly, the Skipper had spent a fitful night, unable to stop thinking about how best to extricate Hejira from the almost impossibly tight parking spot in which we had been placed. At least, that's what I put his appearance down to this first  thing this morning. It could have been the number of shots of fig brandy et al, of course. Anyway, the resulting apparition that presented itself in the saloon today was something akin to a bear's a**e!
The appearance was not at all representative of the inspired performance that was to follow, however! With a masterful display of boat handling skills, we left the berth without drama or hitch at all. Had I been a crew on an adjacent boat and witnessed the adroit manoeuvrings, I would probably have broken into applause!
(At this juncture, I would like to place on record that I have not been coerced in any way into committing the above observations to the blog, nor have I received any inducements.)
I have thoroughly enjoyed my nearly two weeks on board and it has been good to pick up the banter that Nick and I have always enjoyed. I should like the reader to know that for the final berthing my age and infirmity were taken into account by the Skipper and the full complement of passerelle equipment deployed, including the hand rail! I was clearly honoured, although, secretly, I think that the Skipper was just showing off his equipment to the adjacent boats!
Mind you, deployment of the passerelle, complete or not, was something of an obstacle course on our return from the dirty beer, when the damned thing was about a metre and a half up in the air! I have on this trip proved to myself that I can no longer trust myself to long jump very far and yesterday I quite satisfactorily justified my not being selected by the English athletics team to form part of their hurdling number!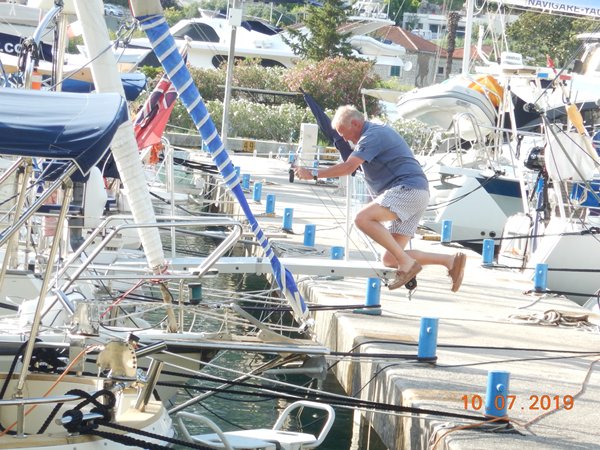 I have really enjoyed my last two weeks and wish Nick and Dave all the best for the continuing adventure. Many thanks to Nick!