The hired Fiat Bravo promised so much and at the price, we could not complain when a pretty tired vehicle that had done over 150,000 kilometres turned up. It did successfully negotiate nearly 150 miles for us and I was very relieved to return it in the same shape as we received it given our experiences on the Sicilian roads. We drove to a small but ethnic town called 'Noto' which looked promising perched on a hill. It was clearly old but not remarkable or memorable as it was dirty, decaying and stuffed with vehicles.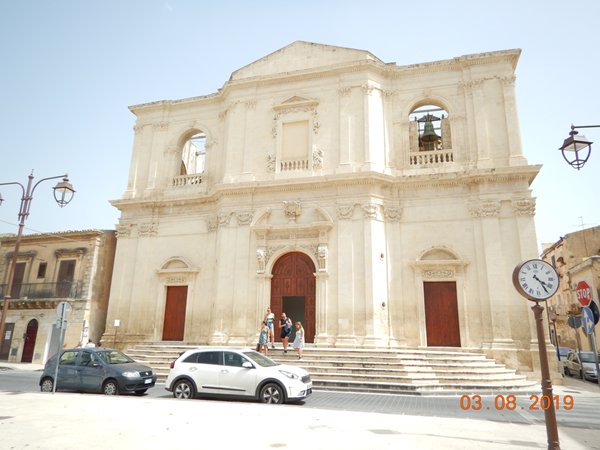 Despite poor visibility, Mount Etna, could be seen in the distance and it became our target so we followed intermittent signs and climbed the switchback roads up the east face. The roads were curious to say the least. Finely marked, well surfaced and wide delights gave way to pot holed, unmarked and narrow switchback nightmares – not helped by getting lost. When they finally opened into the 'resort' it was a complete surprise to find so many people and vehicles appear all of a sudden around a final turn in the road. We were at what in the winter was the southern ski resort but which was now the mecca for people wishing to gain some experience of the highest and one of the most active volcanoes in Europe.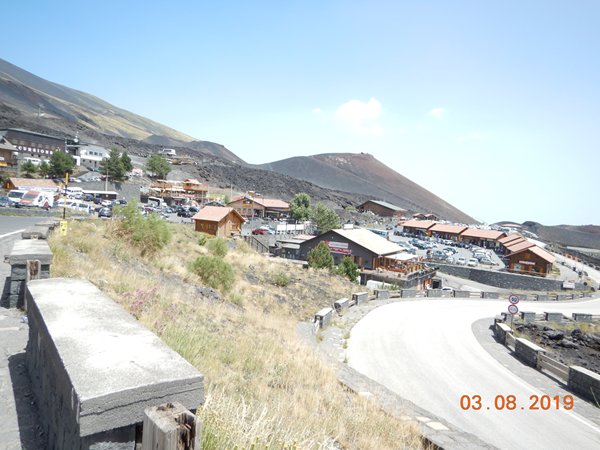 At 3,350 metres, the summit is impressive but with a 15 hour eruption 6 days ago, it was out of bounds and the 2002 craters at 2,900 metres were the highest on offer. The visit entailed taking a cable car followed by a large 4 wheel drive off road bus and a tour with a guide.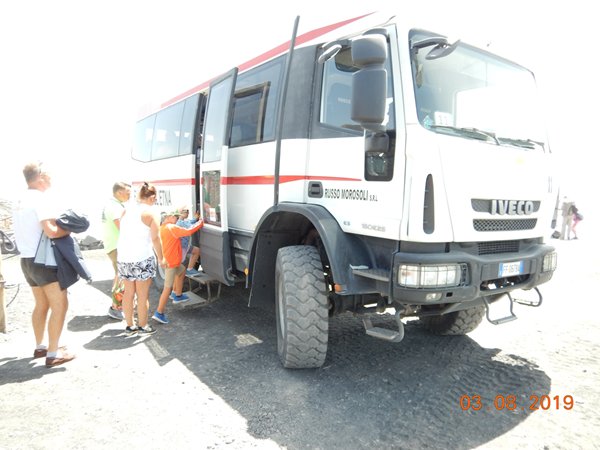 This was at a price of 65 Euros each with a 4 Euro supplement for a warm jacket. We learnt that there are 200 craters on the slopes of Etna as each eruption finds a new 'weak point' and the eruption in 2002 which we were perusing built up the surface by 50 metres.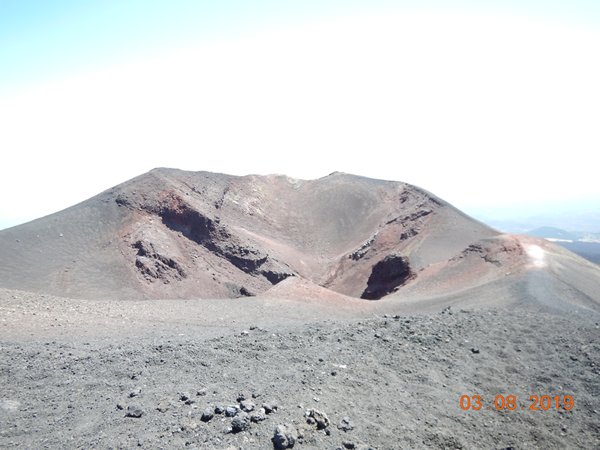 In 1983 and 1985, the resort and ski lift were destroyed despite volcanologists trying to divert the lava flow with the use of explosives.
We descended in the car on the fertile west side and it was significant that the verdant forest gave way to periods of laver scree from the recent eruptions.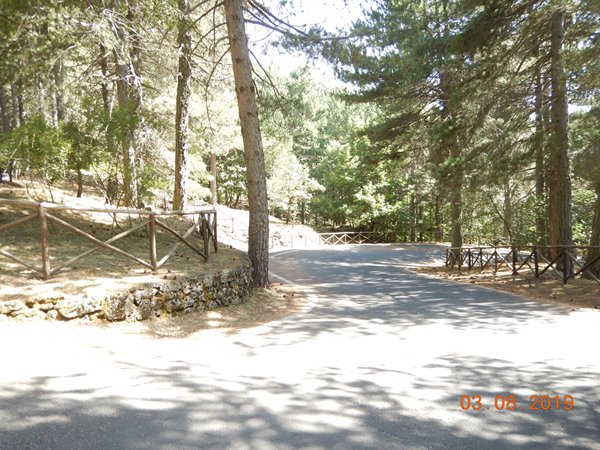 The other significant and really disappointing feature of our drive back was the prevalence of litter. At times it really felt as though we were driving through a land fill site, such was the intensity of discarded rubbish. I nearly took pictures of the depressing sights but that is not what you want to see.
Returning to the marina, we noticed hordes of people making their way to the village centre with hundreds of cars being parked in a designated field for a fee. Having settled up for the car and our extra night berthing, we rode what remained of the gratis bikes into the village and what a contrast. The place was alive. Maybe it was because it was a Saturday night but the place was heaving with a great family atmosphere.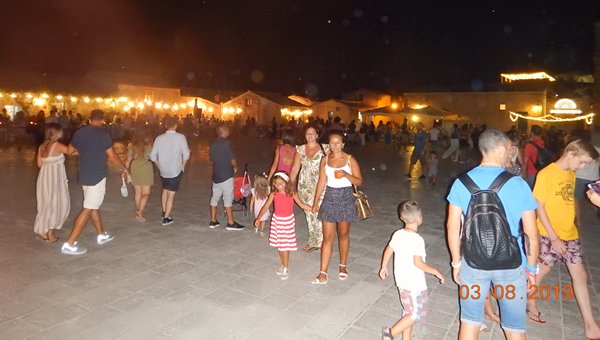 These seemingly random off the radar destinations have been such surprises and invariably, they all have something memorable to offer!
Finally, just to let you know that there is a 30 second video clip of the sailing on our crossing from Greece in the 'Videos' section of the Home page – just in case you might be interested.
Dave Rite rites:-
OK – this Etna thing – I am taking full credit here – Mines may have organised the car and driven 150 miles BUT whose Waze navigation got us there eh? Without the aid of internet navigation systems it would have been impossible to find the route up to Etna base camp in Rifugio Sapienza  (where the cable car leaves from). We had asked the car hire firm for a map and they gave us the Marzamemi street map so we assume that the Sicilians either think that we all have some form of internet/satellite navigation or they didn't think we were going far.
Anyway, as reported by Nick we headed to Rifugio Sapienza by winding our way upwards through about 20 miles of small roads and hair pin turns included one which we had to back up to get round) and then quite suddenly rounded a bend to see about 1000 parked cars, hotels and people milling about everywhere. It was truly both weird and amazing. We mooched over to the tourist friendly excursions booth and were persuaded to part with 65 euros each for the cable car followed by off-road bus to the summit of a lower Etna crater (which is not active) but from where we could see above us the active Etna smoking away.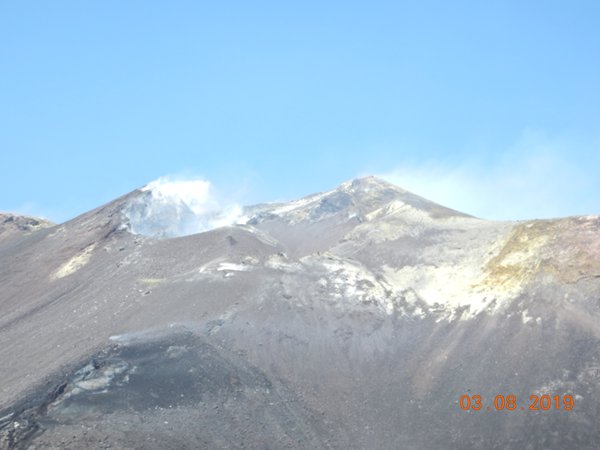 Our guide then took us on a walking tour over pebble and rock strewn steep slopes and pathways to a crater created in 2002 when there was an eruption. There were no hand rails and no safety briefing or disclaimer forms to fill in – marvellous. Our guide was, annoyingly, good looking and spoke at least 3 languages fluently ( English, Italian and French. He was knowledgeable and friendly and I am sure he would have been a ski instructor in the winter (" just a moment I am going  to ski backwards down this black slope – for fun").
To return we drove back on a different route down from Etna which was at times picturesque and beautiful and at other times a disgusting tribute to the more raw and selfish actions of modern society as deposits of landfill waste (general rubbish and mattresses etc) were deposited by the side of the road – if they can drive half way up a mountain to leave it in the middle of nowhere – why can't they drive to a landfall site?
On our journey back we only had one key objective – to get fuel and to fill up the fuel tank and leave it as we had found it. This was a spectacular failure on the part of the driver (Nick) who had responsibility for this. On the roads as we left Etna there were more petrol stations than you could shake a stick at and I suggested we stopped but we pressed on and we both watched as we whistled past another petrol station about 20 kilometres from Marsamemi – which was in fact the last petrol station we would see before Marsamemi. In the end we got back to the marina and had to make a special trip out to get fuel.
Dinner in Marsamemi was a delight. We saw a car park marked up in a fied for about a thousand cars on our way into Marsamemi which apparently it is a normal Saturday night round here. The locals piled in and we were surprised at the transformation of the previously rather dowdy town by the locals dressed to kill on a Saturday night.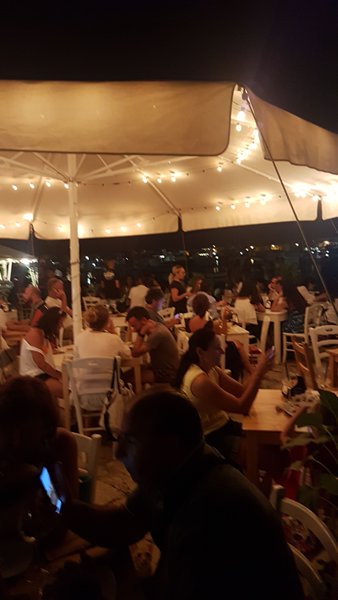 For dinner my modest meat and cheese platter – see below – was complimented by a gelato and we retired quite early to the boat to write this sodding blog.