Dawn revealed the conditions experienced through the night with big breaking swells running. An unfortunate flying fish must have taken off out of a swell and concluded his flight and life on the deck of Hejira. Stephen was not allowed to claim it as a 'catch'.
The water maker saga has reached a hiatus having done all we can, it runs for a period then stops with air in the intake. Having weighted the end of the pipe, we are concluding that this is due to the Hozelock joints and that a new, shorter, dedicated length of pipe on the pick-up side will do the trick and Barry (note) is confident we can get everything sorted in Mindelo and there is nothing now to worry about…………… Worst case on the crossing will be washing (dishes and bodies) in sea water and rationing the fresh mainly for drinking. Even with the air ingress, judicious purging still produces a quantity before air spoils the party.
Monitoring the VHF it became clear that 'Moonshine' who had been alongside us in Las Palmas had a problem, it seems they have suffered a broken forestay but managed to save the rig. They are now gingerly making way to Mindelo shepherded by a couple of other yachts. They were some way behind us so we were not able to offer any practical assistance so we just sent a message of support and offered to do what we can for them in Mindelo.
The ARC+ organisers have circulated the following update for the fleet:-
Adventure – Retired from ARC+ and will join the ARC.
Belafonte – Retired from ARC+ and will join the ARC.
Skirion – Retired from ARC+.
Arriba – Departed Las Palmas one day late due to rigging problems.
Chimo – Taking on a small amount of water via the rudder bearings. Water ingress is under control.
Thaani – Have lost engine. Under sail and will take a tow into Mindelo.
Kipepeo – Broken forestay. Mast held by the baby stay and situation under control.
Moonshine – Lost forestay. Mast held by jury rig of 3x halyards. All well on board.
Radio transmissions also suggested that we were not alone in losing our biggest and best fishing lure, several yachts reported 'woppers' taking their gear with one saying that their line just screamed out right off the end of the reel !
Stephen redeemed himself however with a Dorado but caught on a shop bought lure, not his crisp packet concoction.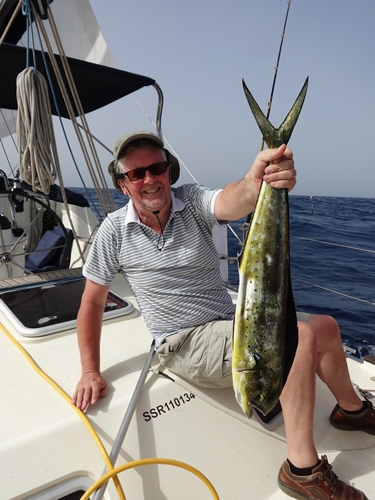 It provided a tasty meal for 4 and we all agreed that the baked fish, cooked to perfection by Stephen, was a triumph and that we will be ready for a repeat performance in a day or so.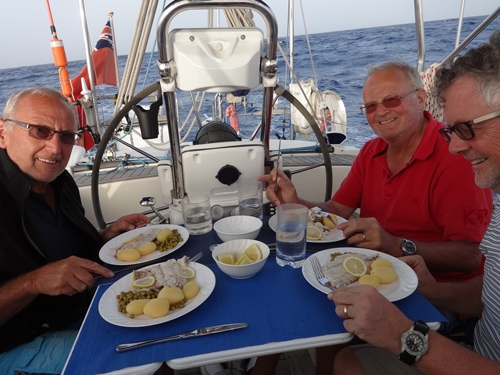 The temperatures continue to rise with the sea nearly two degrees warmer than in the Canaries. This did not explain the stifling heat in the cabin and it was discovered that somehow, the diesel Eberspacher heating system had been turned on inadvertently and hot air was streaming into each cabin – not helpful!
With the wind still showing the occasional gust over 20 knots and the daylight ebbing away, we decided to continue under twin poled out Yankees and save the 'big boy' Parasailor until dawn today, conditions permitting.
Stephen writes:-
Much to my surprise we managed to catch a decent sized Dorado which put up quite a fight but 'Team Hejira' just managed to get the better of him. My amateur filleting produced two fine fillets And after 20 minute on 200 degrees with butter and lemon wrapped in aluminium foil we had an enjoyable meal (eat your heart out Rick Stein!) finished off with a large tin of fruit salad, which turned out to be rather good which was a relief as we had bought 12 tins in Las Palmas. The saga of the water maker continues (see above) and the prospect of nearly 3 weeks with only salt water to wash ourselves in will no doubt inspire Barry to a solution.
Last night`s watch was very quiet with no boats near and the only event worth mentioning was an attack of a flying fish presumably trying to avenge his Dorado cousin. As he had mistimed his lunge at me he ended up flapping about on the deck so I threw him back into the Atlantic with full marks for effort.
Crew all intact and no whinging .
Bob writes:-
Last night's middle watch was the antithesis of the previous night's……bat-shit boring! Much lower wind speeds with commensurate sea state. As I write this, the Parasailor has been deployed and we are now flying along, relative to the wind speed anyway. Many congratulations to Isaac for the tenacity to catch the dorado, which was very good eating indeed! He, Isaac, is raring to have another go today to get an even bigger fish on the line and in view of his recipe success, is wondering which publishing house to contact for his book!
Barry says he is working up to a 'gloves off' expose and we should all 'be afraid'!