What a good decision it was to hire scooters for 24 hours. They were booked for 8.30 in the morning but torrential rain prompted a phone call and a delay in their collection until lunch time by which time the weather had brightened and we set off to explore the islands. Early caution gave way to 3 Barry Sheene alikes speeding down the Bermudan lanes. This is a BEAUTIFUL place! The lanes are bordered by hedges of Oleander and Hibiscus all in bloom, the properties are all well kept (some palatial) and the gardens are all manicured. There is a dated charm about the place with the exception of Hamilton town itself which is really quite cosmopolitan. The beaches are stunning and there is a plethora of bays and coves populated by moored boats. It is 'off the beaten track' but well worth the effort. This sentiment is clearly shared by the cruise operators as, when we reached the Naval Dockyards there was a monster ship moored there and it had disgorged throngs of 'cruisers' into what would have been an interesting, historical place to explore had we decided to dwell but for us the crowds rather diminished its appeal so we sped off into the distance.
Ollie writes:-
I've never ridden a motorbike, or a moped, or a scooter.
When we arrived to register for our two wheeled contraptions, the shop assistant asked if we'd 'done this before'.
"Oh yes. Absolutely." I lied.
It was a lie that became less believable when out in the yard; I couldn't get mine to start.
The shop assistant asked again, "You've done this before, right?"
"Yes of course. I'm just not certain of the start-up procedure on this particular model." – I can be quite a good liar when pressed.
Anyway, we then had to pass a driving test.
It consisted of two laps around the tiny car park. Which thankfully, I managed without embarrassment.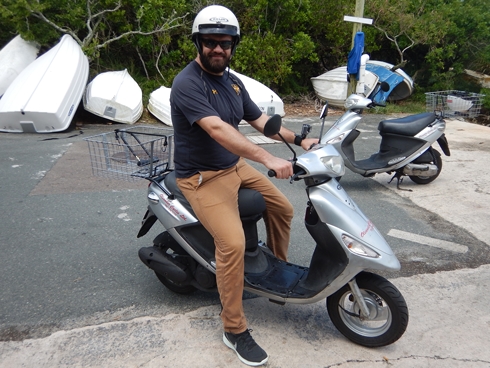 Once under way, I was hoping we could go at a leisurely pace.
You know, the kind of pace that allows you to just 'step off' the scooter if anything goes wrong.
It didn't happen.
Not only did the skipper start trying to re-create his moto-cross-racing youth.
But Barry had managed to choose himself a Sports model, with extra guts!
So I spent most of the afternoon eating their fumes and trying to catch up.
An effort that was hampered by the fact I'm three stone heavier than my commanding officers out in front.
I think the Skipper's done an excellent job of describing the island and our ride through it.
I can only re-iterate that Bermuda is absolutely gorgeous.
It has all the lush greenery of the tropics, but it's trimmed and tended meticulously.
On finishing our scooter excursion we had just enough time to wolf down a gin and tonic before heading to the clubhouse for the ARC prize giving dinner.
It wasn't the night of debauchery I'd envisioned.
But it was an excellent evening all the same.
Good food (Kentucky fried swordfish); plenty of wine and terrific company.
We were fortunate enough to be sat with William and his crew.
William is the captain of the yacht 'Slipper 1' – a floating dissension to the idea you have to be sober when filling-out naming forms.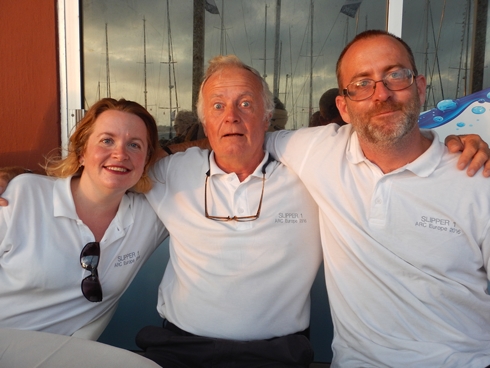 As you can imagine, both he and his crew are a laugh.
Halfway through the evening, the skipper was made-up to hear he'd won the Best Blog Prize once again.
That's twice in a row. Some people rather unsportingly asked; "Does anyone else on the ARC actually write one?"
I assured the skipper that it doesn't matter; the best blog is the best blog; whether it's by default or not.
I hope I can help him make it thrice in a row.
Depite my poor spelling, and tendency to write incomplete