Noting that Admiralty Bay, Bequia would be a popular stop on the way back north, we weighed anchor for the 20 mile passage to Canouan. We have all visited Canouan before when our daughter, Rebecca lived in the resort so we were keen to reminisce. The advice from the internet yachting forums is that the crime level is above average but we have been careful and will continue to do so. We chain the dinghy, motor and tank when we moor to a jetty, we lift it out of the water when back on board. We carry only enough cash and wear cheap watches when we go ashore. At night we insert security bars into the main hatches, floodlight the deck, remove all detachable items and insert and lock the washboards from inside. Let's hope this is enough!
Lynn writes:-
We left Admiralty Bay and enjoyed yet another smooth sail…beautiful scenery but wildlife was shy …no dolphins, no whales, no fish but loads of sunshine and sparkling sea.  It was meant to be an early start but Neville and I did not manage to get up at the planned time of 6:30…after all we only slept 11 hours!!!!  It is strange how a day spent relaxing and doing absolutely nothing can be so tiring! But we managed to leave in good time. We arrived in Canouan to re-discover this still totally unspoilt jewel. We anchored in the first little bay and swam to what was assumed a bar….well it is a bar but it was closed!!!!  After Neville and Nick stopped sobbing we had a stroll on this pristine beach and swam back to the boat for a drink…we took the time to appreciate the beauty.

We moved on to Tamarind Bay (Charleston Bay)…this is where the best Pina Colada is prepared and Paula had been waiting for a taste since our departure from St.Lucia! Well it is true, it is the best!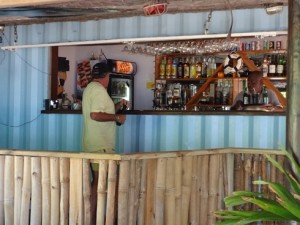 We also managed a drink in a small local bar …so basically today was swim and drink! Oh and the trials and tribulations of dinghy travel! In go the oars, petrol tank, keys, flip flops, wallet, chain, padlock, life jackets, torch and THEN you have to get in without falling out! Sounds simple???? NO! But always a giggle…and we managed every time….so far…
Lovely meal in the Taramind Bay Hotel…now back on board, Nick is asleep, Neville claims to be awake with eyes shut so best to say night night….
Paula writes:-
I have been so looking forward to re-visiting Canouan, especially as it makes the best ever Pina Coladas in the world!! And yes as you already know I had to have one as soon as I was allowed, needless to say it was delicious.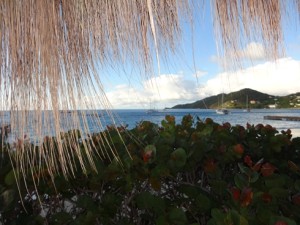 We have had another glorious day and are now sat on the yacht with the wind whistling around us. Again, Nick and Neville have had a stressful day bless, and are content to sleep in awkward positions in saloon (no snoring as yet)!
Lynn and I are sitting very quietly asking questions for her UK citizen test.  By the end of this holiday she will know everything about the UK and could possibly be a contender for Eggheads!
I need to finish now as missing asking any pertinent questions but will return in the next couple of  days to entertain you all with my witty thoughts!!!!!
Hope it's not too cold in the UK believe there is plenty of snow about. Wrap up warm and remember us as you do so, as its 26 degrees here and it's just coming up to 10.00pm.
Neville is asleep.
Nick