With my next crew joining me in Valletta I was keen to make contact but with Carl suffering from technology denial, he was not communicating with me in any meaningful way. I had given him the instructions for locating Hejira and recommended that he and his son, Tom, take a taxi from the Airport. Last year, Carl had insisted on taking a bus from the Airport to Barcelona and I had to try and find him as he ambled through the city. Tom despaired as his father insisted, once again, on using public transport which resulted in a two hour trip involving two busses, a long hot walk and a cost of 8 Euros. The taxi would have been air conditioned and cost 16 Euro to the door in 20 minutes… Hmmmm.
A trip into the centre of Valletta revealed a vibrant, pretty, fortified centre which was thronging with people, mostly tourists but which maintained some charm.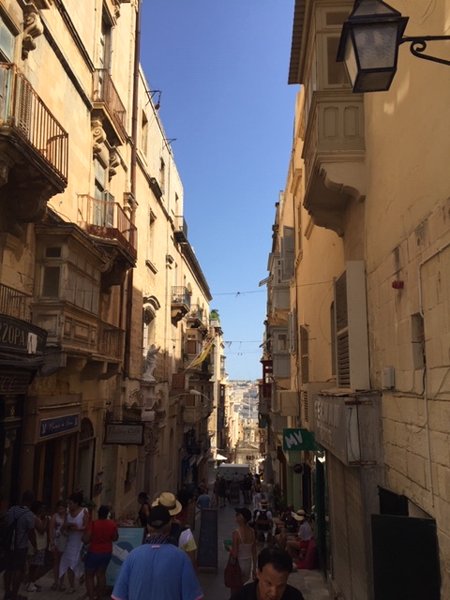 Having a gin and tonic before our ablutions on the aft deck, we were engaged in conversation by Leilane who was a 29 year old Brazilian girl on a budget travelling adventure, 'couch surfing' (it's a thing like Airbnb apparently) her way around the World. She explained that she had been travelling for several years offering her services for passage and subsistence. She said that she happily sleeps rough and eats from food banks and supermarket benevolence. She asked where we were headed and whether she could 'work her passage'. This was out of the blue and rocked us back so we explained we needed to have a chat amongst ourselves and that she should return in ten minutes when we had discussed our position. It was not surprising that Carl was all for the addition, Tom was more cautious so it was up to me to decide her fate. The problem was that the dynamic of our cruise was planned and established with all chores allocated and with Carl in full control of the galley. An interloper would upset the balance and evict Carl from his cabin to the pilot berth. We explained this to the girl and asked her how she would feel if she were jettisoned at some point if we felt it was not working, even if it was somewhere like Tunisia. The other complication was that she was a non EU citizen which would add another level of bureaucracy to the proceedings. She addressed all of our concerns, assured us that she didn't need a visa for Tunisia and confirmed that she would happily disembark whenever we felt it appropriate, (assuming land!) even in Tunisia. It seems that the 'couch surfing' app is a powerful facility for back packers. This was a very independent, confident and resourceful girl!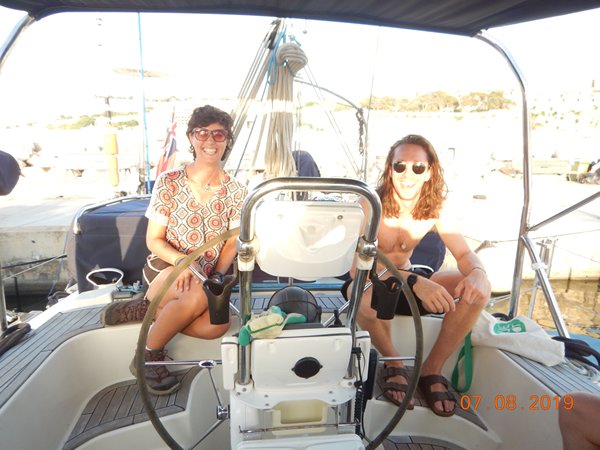 We parted with the understanding that, having discussed the pros and cons, she would Email (she doesn't have a phone) in the morning after we have all slept on the conundrum.
With Carl and Tom having been up since 3.30am, it seemed that the best arrangement for our evening was to adjourn early to the adjacent Black Pearl where I enjoyed a reprise of the ribs which were so good a couple of nights before.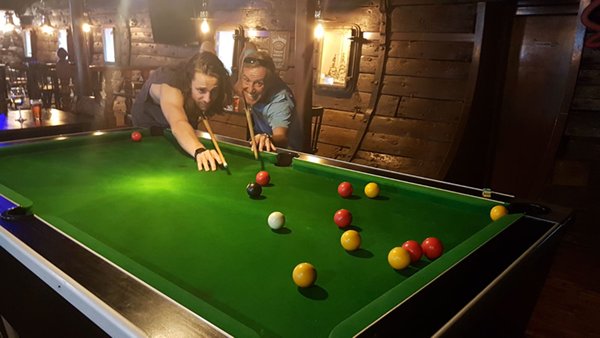 Carl writes:-
Ahoy there, Shipmates! Don't you just hate it when the other person is right? Well, imagine how much that is compounded when it happens to be Captain Mines! In the aforementioned taxi vs bus conundrum, for once, his advice was on the money, and for that I shall always resent him.
So, upon our eventual arrival we find the ol' sea dog safely ensconced in the Royal Yacht Club Bar, where he appears well at home and on unsurprisingly good-terms with all the bar staff, several patrons, waiting staff, concierge, cleaners, security guard, the bell-boy…er, exactly, how many days have you been here, Nick?
Reacquainting myself with Hejira is a very pleasant experience and she appears in surprisingly fine fettle – thankfully, Captain Bouncy's solo escapades have not yielded the scrapes and dings many had worried about! Nick's safety intro is strangely reminiscent of the earlier one delivered by a far more attractive EasyJet employee, just with the additional line of "in the event of an emergency, it's every man for himself!"
Valletta, the capital of Malta, proves to be charming and is a veritable melting-pot of Mediterranean cultures and sandstone styles, at one turn Arabian and the next Moorish. The West has had its influence too – Vodafone, Hagen Daas, Rolex, McDonalds and, incredibly, M&S. You can tell the town is a little on its uppers but it's all the better for that.
So, for everything that Nick had gotten right on the day, you just knew his luck was going to run-out at some point in time. And so it did as we dined at his favourite local eatery, The Black Pearl. WTF. A contrived 'fun' pub with all the fun taken out, serving a lovely draught beer that ran out before the first had been poured, eating a cardboard pizza, whilst sitting on plastic garden furniture on a lawn of fake astroturf. Thank heavens, finally a return to the form I can recall!
Tom writes:-
Having been a teacher for a few years, controlling unruly, testosterone-fuelled males is nothing new to me. However, the age reversal with which this is taking place most certainly is new! Be that as it may, no challenge is too great for someone that had to convince 13 year olds that Tudor fashion could be an interesting topic. Probably.
Swooping in like Joe Wicks with better hair, I'm determined to get things ship-shape over here (excuse the pun)! As the sun rose, the Hejira's first HIIT class took off with great zeal on the Valletta quayside. As the cool morning air passed over me I heard rapid movement behind me and turned around, expecting to see our gallant captain beginning his ascribed sprint training. Having claimed to have taught Ollie  (his  son) everything he knows about dynamic movement on the rugby field, I was expecting explosive and powerful motions akin to a more nimble James Haskell. And it's true, Nick outdid himself. With dancing feet, he scampered below deck, hurdling the storm doors in the process  – all the while muttering something about an emergency bit of cleaning that needed to be attended…immediately!
Never  fear readers, this personal trainer won't give up without a fight and as my workout drew to a close Nick (urgent cleaning errand presumably completed), was busy tucking into some granola with a thing called a blueberry on top. Small victories, baby steps, call it what you will – if I can convince this unruly lot that hops or grape in liquid form don't count towards your five-a-day then my job here is done… I think I've got my work cut out, should probably get to it! Over and out.