As it turned out, Leilane really wanted to go to Sicily and as that is not on our itinerary, we agreed that she would be better advised to find another yacht sailing in her preferred direction. We wish her all the best, what a brave and resourceful lady!
Needing to 'clear out' from immigration with the new crew list, we made our way to the police station to complete the formalities.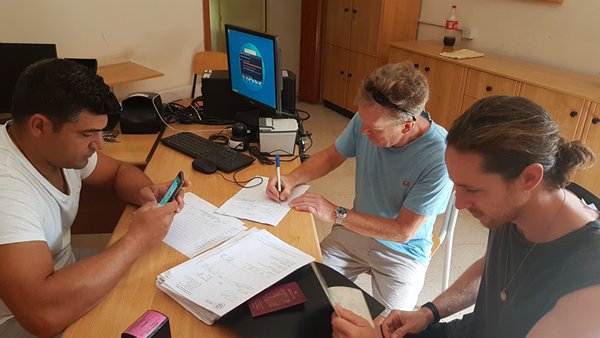 It transpired that with our destination being Tunisia, we had to clear customs as well which meant going into the city waterfront to the main customs office. It seemed prudent to split our duties so I made off to do the formalities while Carl and wee Tom tried to find the supermarket for the shopping. I am not sure who drew the short straw but I climbed so many steps as to put Tom's HIIT regime to shame.
Despite paying for the water from the tap on the dock, we were advised that it was not suitable for drinking. Was this just an 'arse cover' or was it bad? We have a filter on the drinking water tap and I dosed the tank with purifier liquid so we topped up as it was unlikely that we would be able to fill with good water in Tunisia.  Fingers crossed that we don't feature on the news in the next few days.
Whilst doing my laundry the other day, I fell into conversation with a charter skipper and I quizzed him as to the viability of the anchorages in the Malta archipelago. I told him that I had read that the pretty Blue Lagoon on Comino was overly popular and unviable as a result. He considered that when the tripper boats and day boats leave, it can be deserted so we focussed on arriving late and anchored in the ordinary 'Little Armier Bay' on the west coast of Malta for a swim until we thought it was timely to move onto Comino.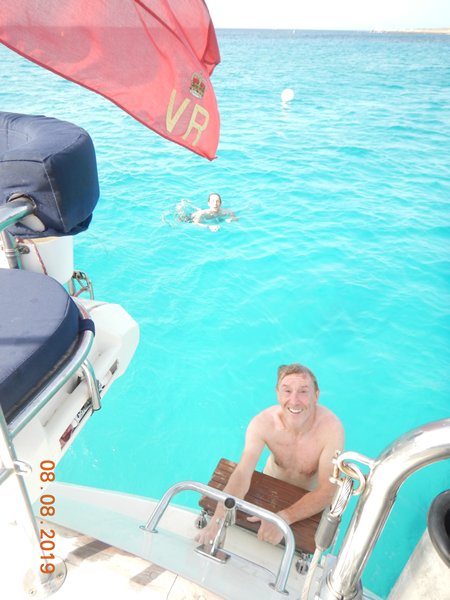 When we arrived at 6pm, it was still buzzin' but the many boats were moving on so we enjoyed watching the revellers depart churning up the bay as they left.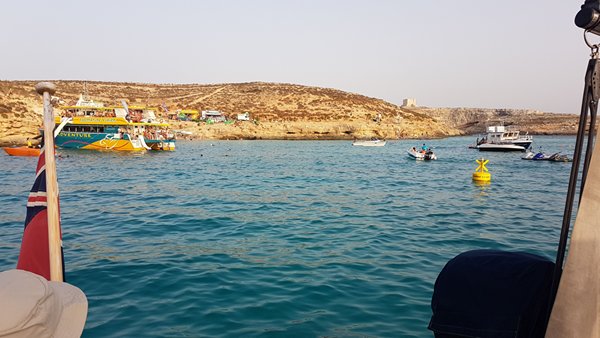 Carl cooked a fine chilli con carne which included chocolate which is apparently 'de-riguer'.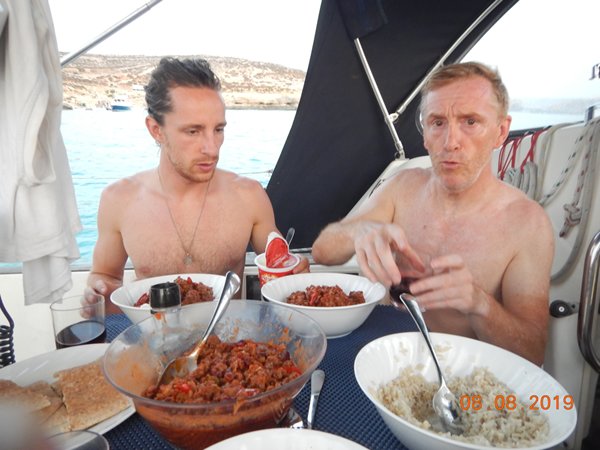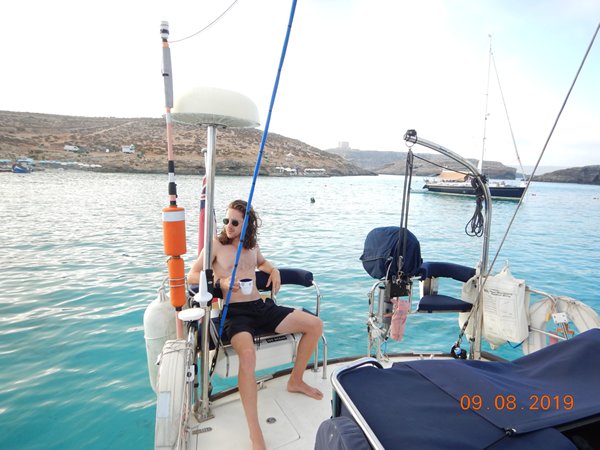 Comino lies between Malta and Gozo and our 135 mile passage to the isolated Italian island of Pantelleria necessitates going around Gozo past the main town of Mgarr. So we will leave before the bay fills up and sail overnight to target a lunch time arrival. I had never even heard of Pantelleria so we are looking forward to an island unspoiled by the holidaymaker blight.
Carl writes:-
Ahoy there, Shipmates! We enjoyed a novel experience on Hejira yesterday – sailing! But more of that later.
On arising, Nick didn't seem his usual loveable, jovial self. He was quiet, distracted, a little distraught, forlorn even.  And then he let the 'Leilane' bombshell out and everything fell into place. Ended before they'd even begun:  The heartbreak of Hejira. In these situations we did the only decent thing true friends can be expected to do: mercilessly take the p*ss out of Jilted John, reassure him that he'll never get over her, she's better-off without him and his life is not worth living.
As the galley-b*tch of the journey, it fell upon me to pop along to the waterside greengrocer and restock with fresh fruit and vittles.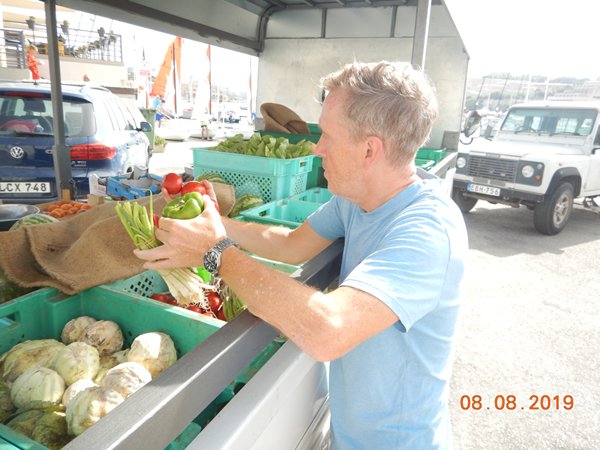 Fresh is a term that one stallholder, Patricko has yet to really understand. I suspect the scurvy scoundrels of The Bounty would've turned their noses up at the majority of produce on display, which included a whole basket of fresh snails.
Mind, Patricko, can certainly read an audience and sucked me in with the lure of 'the island's most fantastic natural red wine produced from his father's award-winning vineyard'. Deal done and it was only when said internationally-acclaimed pinot was produced, in a 'Famous Grouse' whisky bottle, that I realise I'd been had. Again.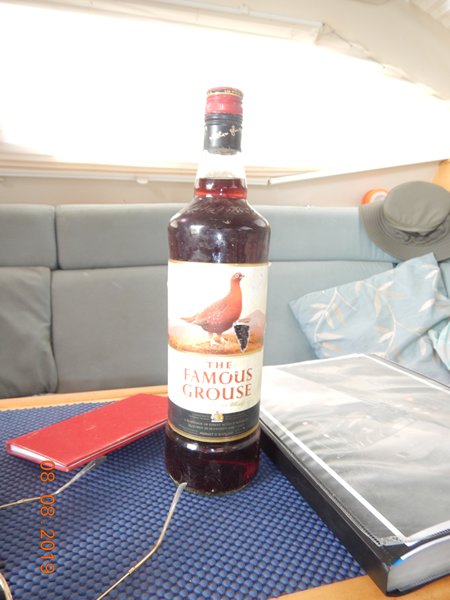 Larder stocked, customs satisfied and ablutions abluted, we hit the metaphorical road, Jack, and we ain't comin' back, no more, no more, no more. And then it happened. Twelve knots of wind, the big sail in the middle is hoisted, the triangular one at the pointy-end of the boat shortly follows (I never claimed I knew anything about this jolly-jape), and for the first time in several jaunts on Nick's pride & joy, the motor is turned off. No, really! I feel like an extra on Howards' Way. Great fun and almost makes all the sh*g & hassle worth it. Almost.
I had sworn Nick to silence wrt the secret 'family' chilli recipe so, with his earlier indiscretion of letting the chocolate-cat-o-nine-tails outta the bag, I now fully expect to make it into his will, and above Ollie & Becky. The other 'secret' ingredient is cumin, lots of it. Thankfully, my ravenous crew members appeared delighted with their sustenance and, as the sun-sets in party-town-central, an early night was enjoyed by all. Or it would've been if the earlier-rejected-and-dejected Nick hadn't suddenly rediscovered his teenage-mojo and proceeded to subject the entire harbour to his delightful  desert island discs of too-tooty (modern-jazz) ditties. Night-night, Smashy & Nicey.
PS The aforementioned libation proved to be soooo bad that Captain Nick could only stomach half a bottle during the whole meal. Who'd a thunked it? One down and only eleven more steps to go!
Wee Tom writes:-
Day two of the Hejira's workout plan was cardio. Nick set off on a solo marathon adventure round the bay that saw him return so wet that I assumed he'd upped the ante and morphed his outing into a biathlon. Amazingly this was not the case and the PTSD means that Nick is cutting up his bus pass as we speak!
Dad and I sauntered over the supermarket, feeling quite smug about our cushty posting. Alas it was not to be, as after going through his normal ritual of 'what's your name', 'your English is very good' and 'I don't follow football, I support Preston North End…boom, boom', punctuated by a few 'd'accords' and 'mercis' for good measure (go figure?), we were informed that we had spent enough get a free 6 litres of bottled water. One mile later through the sun-baked Maltese streets meant that any other personal training plans were swiftly knocked on the head!
Sticking to what I know and continuing on in the vein of a teacher, seeing our buoyant captain go from harbour to the high seas was a revelation. Like watching an unruly student go from maths to break time, he was suddenly in his element. Gone were the bureaucratic stresses and the customs officers agreeing gleefully that his passport picture resembled 'Saddam Hussein's uglier cousin' (their words, not ours – pictures to follow). Gone were the close berth encounters of Captain Bouncy and his frantic-fendering. With the wind in what's left of his flowing locks and the spray on his weather-beaten face (behave), it was down to business.
Keen to make a good impression and begin to earn my passage, I promptly staggered into a control panel and put my fat arse through a 5mm thick sheet of Perspex.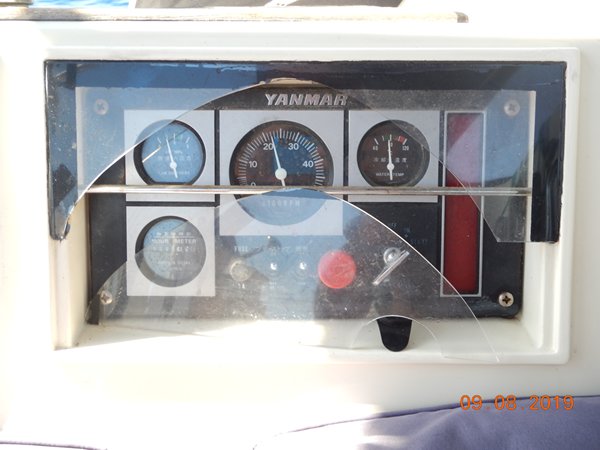 Great. Ever the gentleman, Nick said he would only present the bill back in Blighty! ATOM marine division, expect your instructions forthwith and Paula, don't bother with that spare dress you thought you might pack – Nick's going to be hijacking that hand luggage faster than he can scurry into the hold at the mention of 'HIIT'. Adios amigos!