There is only the one practical port of refuge with a marina to break up the passage from Lisbon to the Algarve Coast and that is the shipping port of Sines. Thankfully, within the main arms of the port, EU funding has built a leisure harbour with an under-used marina. We were to be the only yacht on the outer pontoon and, with the strengthening wind, we chose a berth which would mean that we would be 'blown off' and not rub our fenders through the night.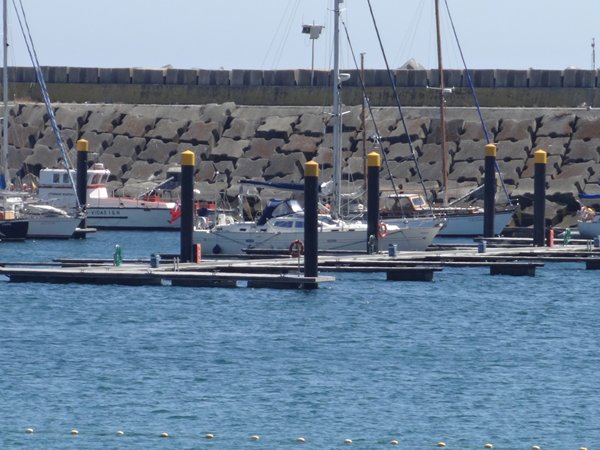 Berthing up to this point had been slick with the procedure understood and carried out with military precision. We had selected the inner row of pontoon fingers so that we faced into the wind (selfishly) to prevent the ripples slapping under the counter which reverberates directly under my berth, the only problem was that these fingers were shorter than the outer fingers and, as a result, somewhat less substantial.  There being just the two of us on board, there was extra pressure on Mike to 'do his job' seamlessly and with the shorter pontoon, it was necessary for him to step onto the pontoon finger from a position further forward at the shrouds. Unfortunately, when he stepped off with his warp onto the very end of the pontoon, the finger was so unstable, he became frozen to the spot, unable to move, adopting the pose of a surfer or spiderman, crouched with his arms outstretched to balance on the unstable pontoon, his legs pumping up and down as the finger oscillated from side to side, unable to even contemplate securing  the warp to the cleat. Where is a camera when you need it, it would certainly have been in contention for 'you've been framed', the look of terror was priceless as he tried to avoid an early salty bath. Fortunately with an empty marina and the judicial use of bow thruster and prop thrust, the situation was saved with damage only to Mike's dignity and his previously unblemished berthing record.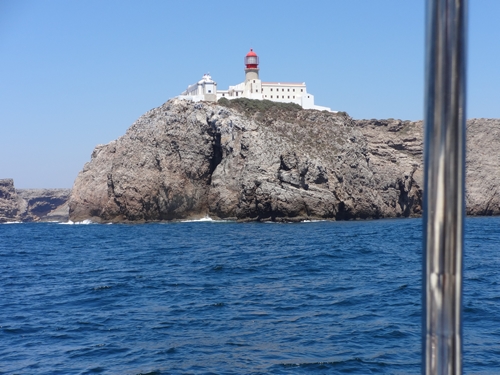 We made another early start for the 77 mile passage south, around Cape St. Vincent and then eastwards to Lagos in very little wind once again. Although we willed an improvement, every time we made sail, the wind died away and we had no option but to resort to engine power alone, wallowing languidly along in the big Atlantic swells.