A leisurely departure from Trogir and an un-taxing day of only 18 miles meant that I could justify a lunch stop at ANCHOR !
Offering Bob the advantage of a swim in the incredibly clear waters, my argument carried the day and we were the only yacht anchored in the pretty 'Uvala Donja Krusica' on Otok Salta.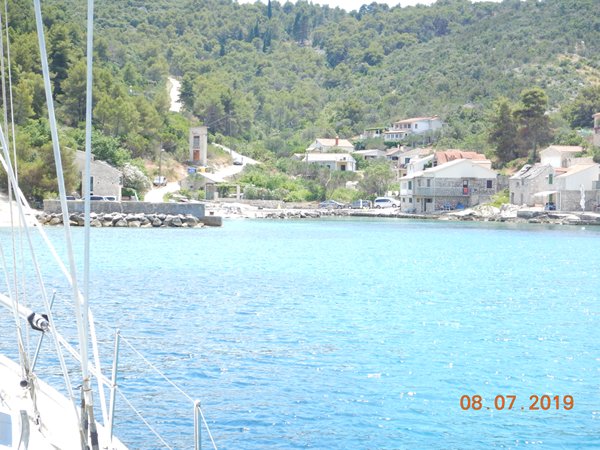 This gave me the first opportunity to take a swim but more importantly to take a look at my bottom. I was keen to see the fouling and how the notoriously vulnerable prop anode had fared since replacement in Nice.
My breathing apparatus (patent pending – not) utilises a Hozelock pond aerator pump, filter and modified snorkel and works incredibly well enabling me to descend at length under the yacht to a depth of 3 metres which covers the whole keel.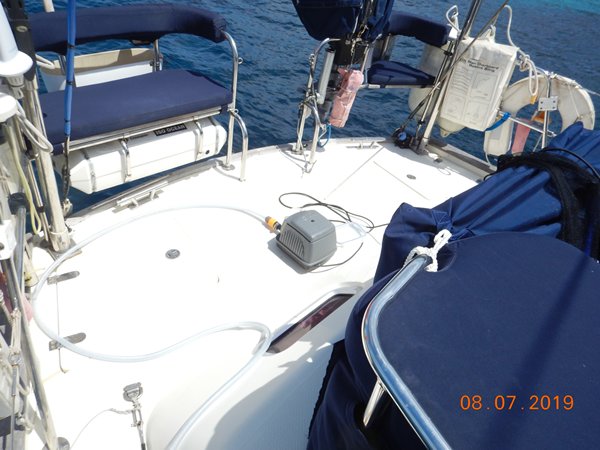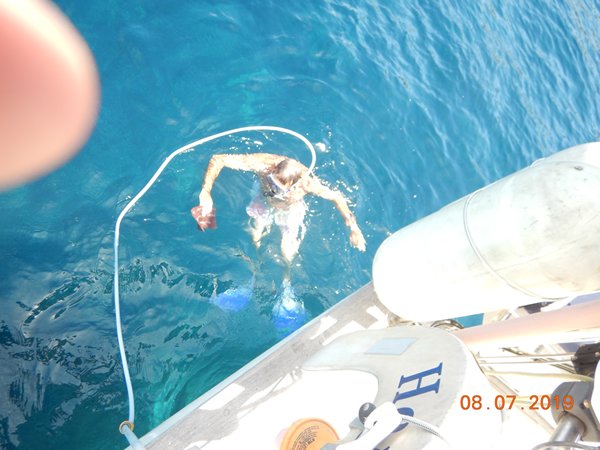 I was really pleased that the fouling was insignificant and the prop anode was intact. There were the odd pockets of barnacles but they succumbed to a scraper. The most disappointing aspect of my inspection was the discovery of a plastic bag jammed between the starboard rudder and skeg  – plastic again !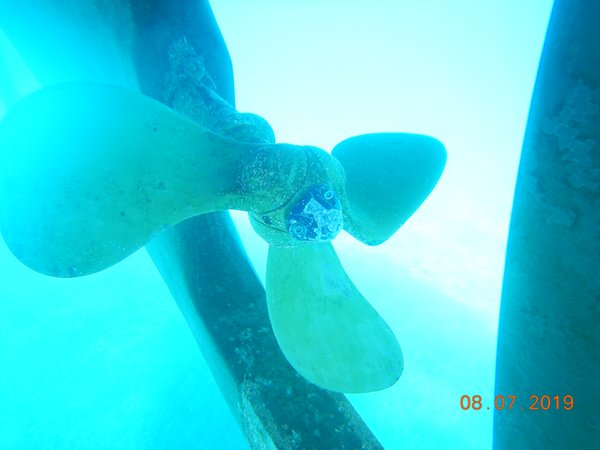 (For better underwater pictures of the equipment in use search for the blog 'Whale Washing')
With our passages towards Dubrovnik now planned out so we arrive in time to have one spare day for boat jobs and another for sightseeing; we have booked the intervening two marinas. This has entailed booking and paying online in advance including a hefty booking fee. We were unaware that this meant we were allocated a 'Mastercard VIP Berth'. In this case it was directly outside the marina office and bar/restaurant and opposite the Medieval Church and Old Village. Pole position you might say.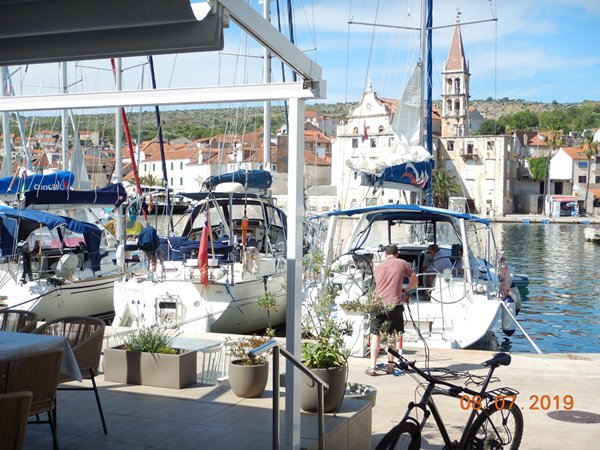 The experience got better as, as soon as we secured, a lovely waitress, Indira, offered us a tray full of shots of some local fire water.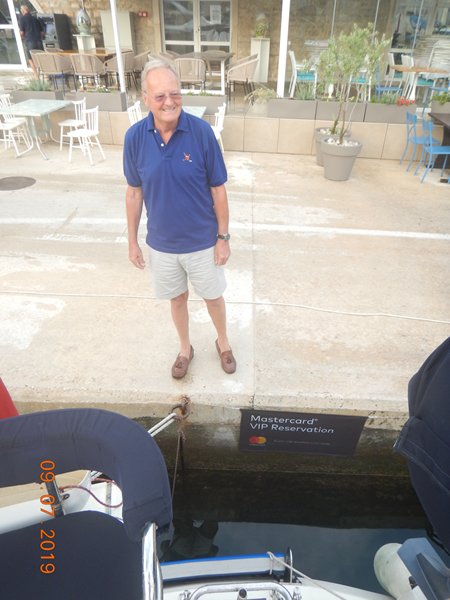 A turn into town was followed by a really excellent meal in the restaurant, not 5 metres from Hejira's transom. The 'special' main course comprised perfectly cooked fillet steak with truffle infused cream and gnocchi. I didn't have to cut the steak, merely part it. Indira clearly took a shine to Bob and we had the most interesting conversation……..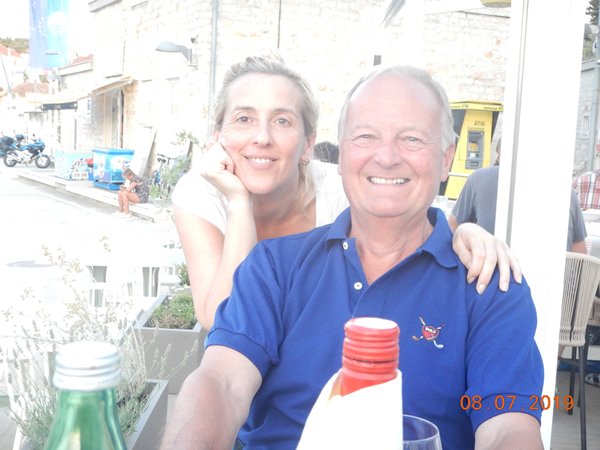 Bob writes:-
Yes, the master had got his way at last………..we anchored! Fortunately for only a short space of time and a swim ensured that 'the Bettys' were able to be sluiced a little!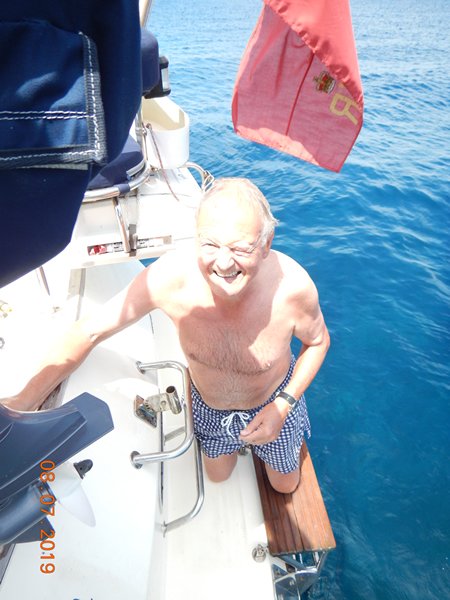 We saw dolphins yesterday, but only briefly as the Skipper's ultra-sound system to discourage marine growth on his bottom also clearly has the same effect on dolphins. He may rue that installation in years to come!
The oompah band of last night fortunately ran out of puff, so we were not kept awake by choruses of Teutonic blastings. The weather, on the other hand, contrived to invade our kip; it pissistently rained for a longish period, accompanied by lightning and brief but violent gusts of wind, of the adiabatic variety, not the Skipper!
Milna, where we are berthed this evening, is yet another characterful, small village. Narrow lanes at different levels provide access to a variety of dwellings, sadly some of which are in states of total disrepair. We were advised of a story about an Irishman who purchased a burned out block with a view to restoring it to its former grandeur only to find that he had been completely tucked up having paid 2m Euros to one member of the total ownership, thus being unable to develop the building since the other owners failed to give their consent as they hadn't seen a brass razooh! The original 'owner' has done a bunk and has never been seen apparently!
Finally, a small interlude that is likely to resonate with all parents. During the course of yesterday's dirty beer, we were engaged in conversation by a family of three from Blackpool. Mother, father and son had taken a last minute holiday to the island, courtesy of Jet2. They were enjoying a week long break whilst father (ex-military) was on leave from Afghanistan. Small boy reminded me of Just William, about 10 years of age, quite robust and, after a while of sizing us up, bold enough to come and sit at our table and take us on. After a few pleasantries, he suddenly looked at Nick and said, 'You look a bit dirty and your breath smells!', this from a distance of 2m! Mother mortified! It must have happened to us all at some time?