Entering Otranto harbour , we were told by universal sign language to 'sling our hook' so that is exactly what we did. The harbour wall was uninviting in any case and there was plenty of room to 'sling our hook' in the bay. Lifting our keel, we found a good spot and anchored in sand at a depth of 3.7m. As this was close to where we could land in the dinghy, we chose to inflate the dinghy and simply row ashore.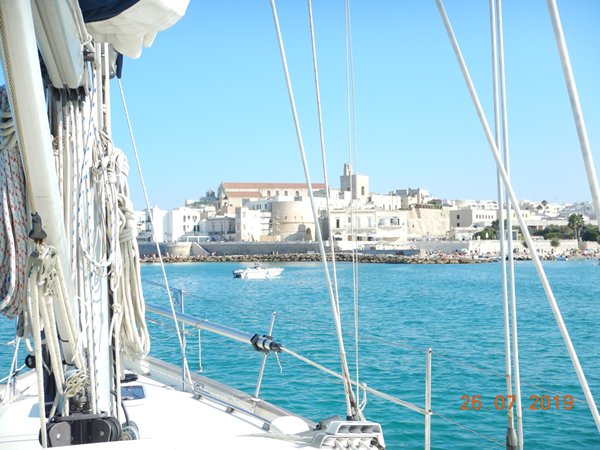 Otranto is a charming and busy town with seemingly only Italian visitors and none of the 'tat' normally associated with popular seaside locations.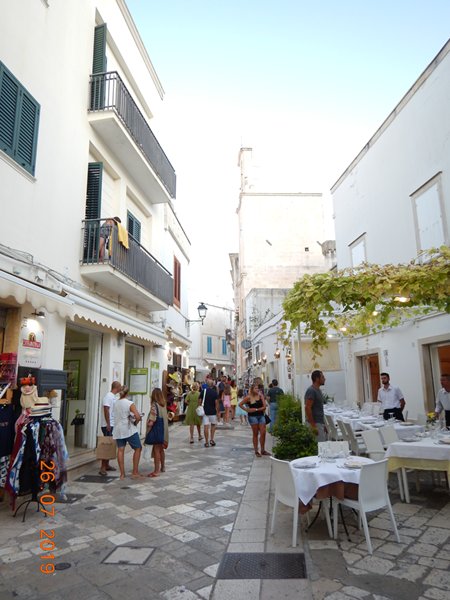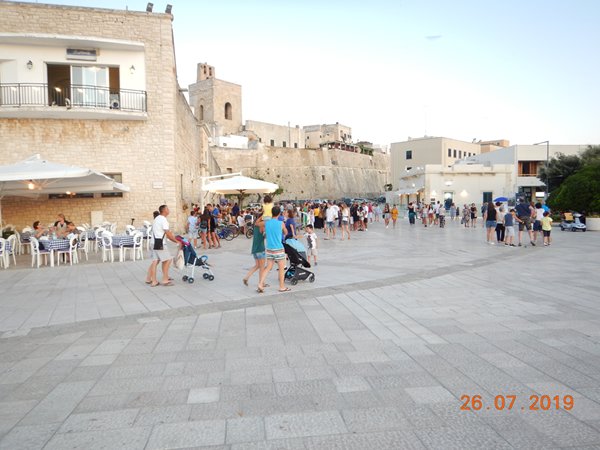 We explored within the walls and had a very welcome 'dirty beer' and then couldn't resist a happy hour gin and tonic on a terrace overlooking the harbour with a very adequate seafood plate included.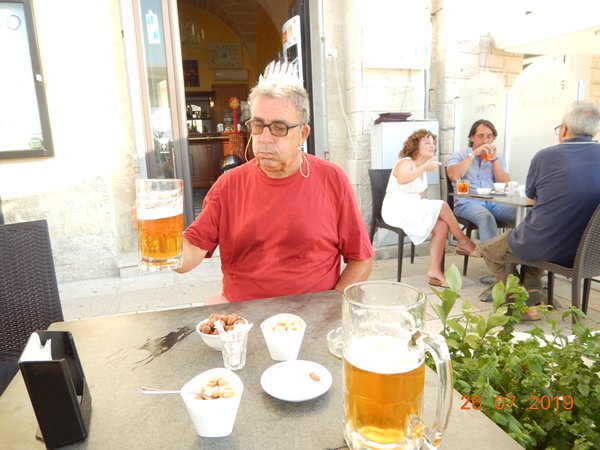 Having found a supermarket for meat and cheese, we rowed back to the yacht where Dave presented Hejira with a set of shot 'vessels' which were ideal for the fig (thanks Bob) brandy. Dave (or more likely his wife Caroline) must have read the blog entry showing Bob and I drinking shots from egg cups.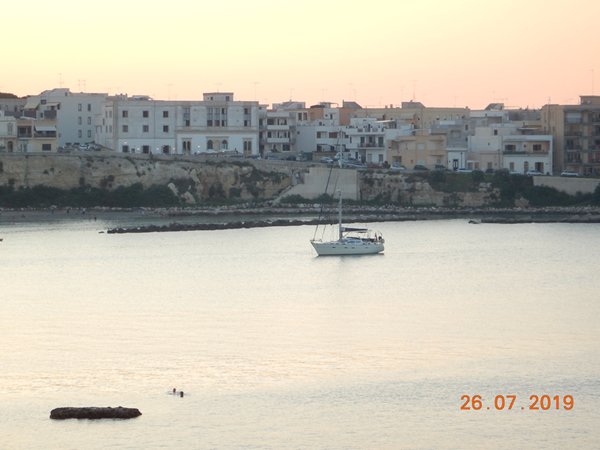 Lifting the dinghy back on board we rigged it inverted to act as a wind scoop for the fore cabin. This must have done the job well as we enjoyed a peaceful and cool night; I even had to pull the duvet cover over me!
Now that I am not returning home for a month and with the prospect of more nights at anchor, it is a good time to flush and run the watermaker. This was 'pickled' with preservative a year ago and it should be refreshed at least once a year. In warmer climates, once it is operational, it should be run every day to ensure that the membrane doesn't deteriorate. I failed to do this in the Caribbean and had to replace the expensive and delicate membrane so some discipline will be required.
With light winds on the starboard bow, our 65 mile crossing from Italy to Corfu is again engine assisted to ensure we arrive at a sensible hour. The Italian courtesy flag has been replaced with the Greek flag for about a week while we cruise the Ionian Islands.
Dave Wright Writes:-
Otranto was indeed charming – it appeared that locals from the area descended on Otranto on a Friday night which meant it was busy but not with nasty foreign types (well apart from us I suppose).
I was pleased that Nick was pleased with the shot glasses and I am happy to report that they seem to work very well and came through their shake down testing with Fig Brandy with flying colours. Many thanks to Bob ("Old Bob") for supplying the Fig Brandy which was delicious.