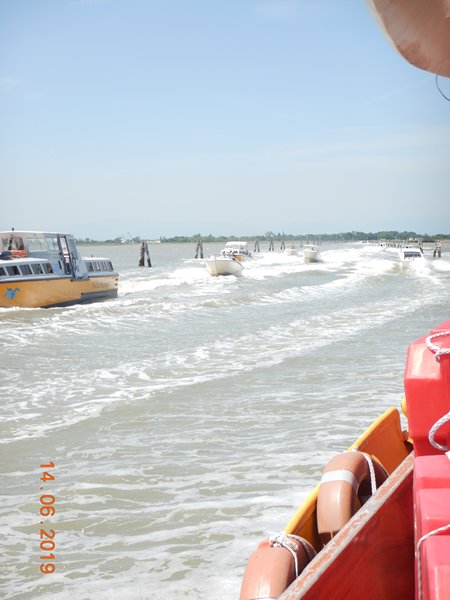 Venice and the lagoon is a heady mix of contrasts and surprises – it is totally unique and it's impossible not to be enthralled. Maelstrom would be the right word for the crazy waterway to the Airport where the water taxis seemingly race, disregarding all collision regulations and certainly the niceties of etiquette as they vie to win the next available berthing spot or paying customer.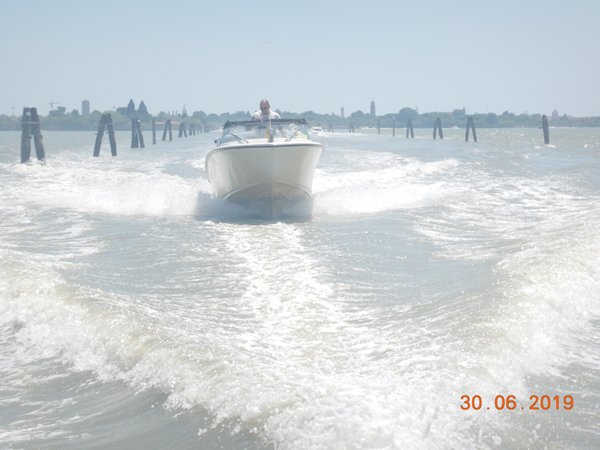 Paula and I flew back to Venice for a few days together before the Croatia phase of my summer adventures. It happened to be when Europe was in the grip of a heatwave and the temperature in Venice was over 40 degrees – it was stifling. Once the on board AC systems had got to grips with the situation, the interior of Hejira was a very welcome sanctuary as venturing outside was definitely uncomfortable and inadvisable. We felt for the charter boats moored nearby overnight with nine people crammed into a 44 foot sweat box with none of our home comforts. Our new ice making machine, cunningly accommodated into a locker proved its worth and so far, it was domestic 'brownie points' all round. If I appear smug, well I am – at this stage !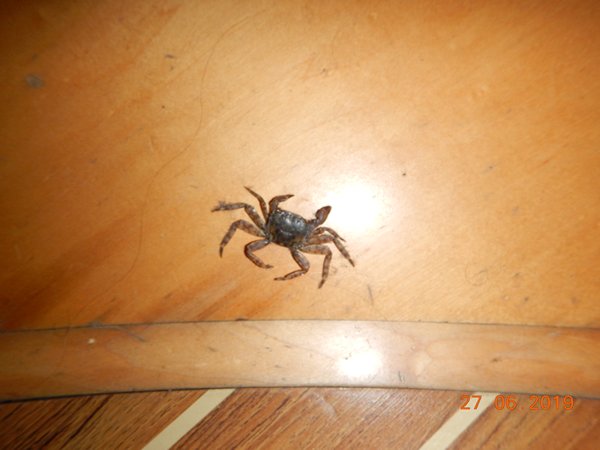 What was extremely curious and defies all explanation was the discovery on arrival of a small, desiccated crab on the floor of the master cabin.
When closed down, Hejira is mosquito proof so how on earth did a crab find its way into the yacht? Had it crawled across on a mooring warp it would not have been able to get inside. Sink drains exit above the water line, have a baffle at the sink and it was too large for the drain anyway. Bilge pumps again exit above the water line and there would be the pump to negotiate. The only explanation must be the toilet waste and the crab must somehow have crawled through the whale pump and out of the pan but even this seems very unlikely. The result is, of course that Paula is now reluctant to sit on the pan!
My crew for this next leg is my old sailing companion, Bob Haywood and he travelled out to Venice with his wife Alison to stay in a very swanky hotel (with inadequate Air Conditioning apparently) in the heart of the City on the Grand Canal. The last time Bob had set foot on Hejira was when we left her in Marigot Bay on St. Lucia in 2015 having been one of the trans-Atlantic crew. He suggested we rendezvous in the famous Café Florian in St. Mark's Square which we duly did. I have since learned that it is Italy's oldest coffee house having been in continuous operation since 1720 – except when the square is flooded presumably. They were sat at a table on the periphery of the outside seating area and there was a small ensemble playing to the café patrons. Unfortunately, whatever music was being played was completely drowned out by the building works and loud power tools in the shop refitting adjacent to our table. Having paid a mere 3 Euros for an Aperol spritz and 4 Euros for a large beer the night before in our Marina bar on Certosa Island, imagine my indignation at receiving a bill for 40 Euros for one small beer and an Aperol spritz! The drinks were 14 Euros each with a further supplement of 12 euros for the inaudible music! Now I don't think I am a miser (that may be challenged) but this really did 'piss me off'!
Venice is such a compelling place and for the adventurous, just walking aimlessly around is a  real delight with a new wonder around every corner.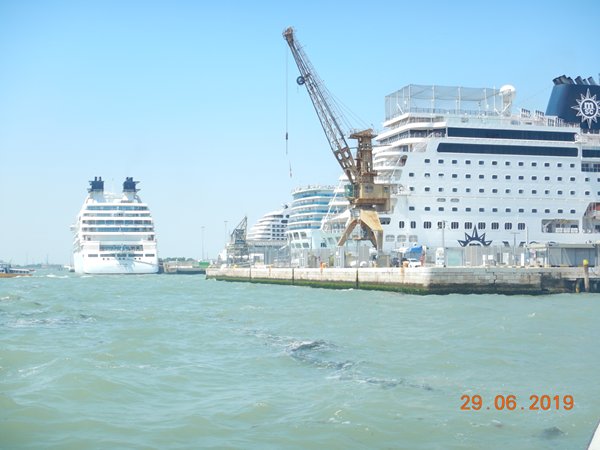 The presence of giant cruise ships in the Lagoon has become a very controversial subject with local residents massing in demonstrations against them. The scale of these monsters when viewed against the beautiful Venice backdrop is quite obscene and one can only have sympathy with the residents point of view.
We had bought a multiple day Vaporetto pass which is such a liberation and allows unlimited ferry trips over the complicated array of routes. Familiarity or a good route map would have been useful on our late return after a meal with Bob and Alison as the connection formula which worked so well on the way to our rendezvous discontinued at 8pm and we had to bribe an Airport ferry to drop us back on our Island. We would have been OK had we been at a different terminal and this subsequent knowledge did help us return, stress free, the following evening.
Having Paula with me for a few days in such a charismatic and romantic place was a real treat. The formula of having a very comfortable travelling holiday home which we could enjoy in various destinations around the World really proved itself in Venice.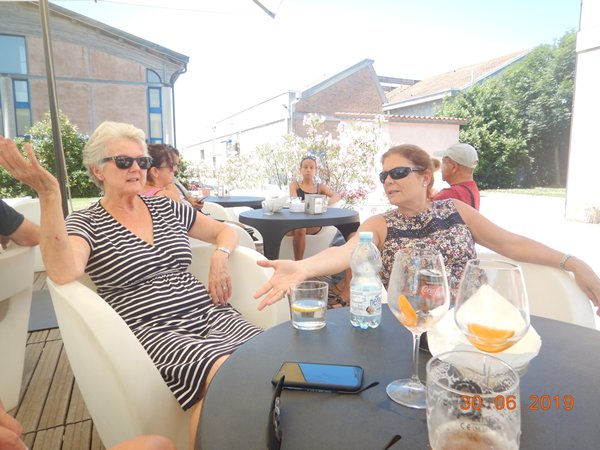 Paula and Alison flew home to leave me and Bob to embark on the next stage of our adventure.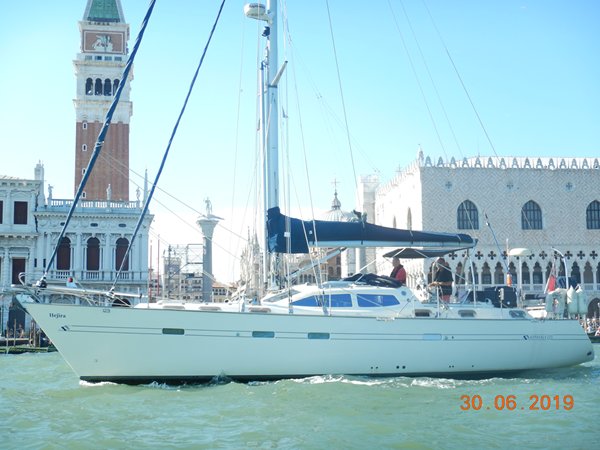 It is quite true that I have a fairly loose but compelling sailing 'Bucket List'. Many of the more easily attainable sailing 'milestones' have been ticked off. By this I mean sailing around the UK, across the Atlantic and back via Bermuda and the Azores, the Corryvreckan, Jack Sound, Dorus Moor, the Swellies, up the Thames to Tower Bridge, Biscay, the Morbihan and many others. There have, however been some 'stand out' target destinations and Venice was one of them. My ambition was to have a photograph of Hejira with the St. Mark's Square landmarks in the background. This turned out to be more difficult than anticipated and even when the scheme had been hatched and agreed, there were unexpected challenges to achieve the target. In the end, the transfer of Euro notes to one of the Marina staff did the trick and the only blight on the achievement was a wildly gesticulating taxi driver whose body language suggested we should not have been there.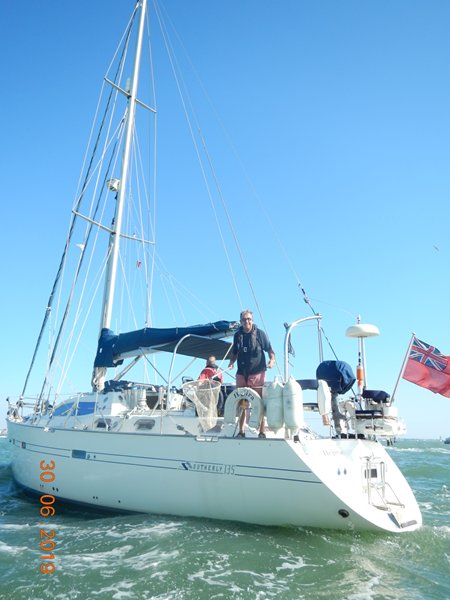 With the pictures taken and my camera retrieved by way of a fishing landing net, Bob and I were clear to exit the Lagoon and head towards Croatia.
It is necessary to enter Croatia at a port where the various 'clearing in' formalities can be completed. This includes the purchase of a 'cruising permit' from the authorities. Rovinj seemed to be the most appropriate point of entry and at less than 60 miles, it was a comfortable overnight motor on a flat and windless sea.
Bob writes:-
It has been 3 years, 6 months, 2 weeks, 4 days, 6 hours and 22 minutes, approximately, since I was last 'encouraged' by the master's stentorian tones to contribute to the blog.
It was very pleasant to be re-united with Hejira after that length of time. She has changed little, some improvements and small modifications on the surface to be sure, but the installation of new tanks was clearly a mammoth task. I did notice, however, like most of us, she has put on weight as she has acquired more years. I sensed this as there is less freeboard than before and when challenged on this, Nick did have to confess that a new waterline strip had had to be added, 30mm higher than the last one! This is not surprising to anybody who has crewed Hejira as Nick has provided her with so many systems and goodies, spare parts, back-up on back-up as it has become known, that there must be a good chance that if you came across a bare hull with rigging, you could most probably find enough kit on Hejira to set up a new sailing vessel!
As we approach Rovinj, I can hear much muttering from the Master concerning the cost of the various possible marinas. I mention this only to provide a counter point to his previous assertion contained within his comments about Café Florian!