The sail past the south of Elba continued to the north of Giglio and proved to be a really spirited affair.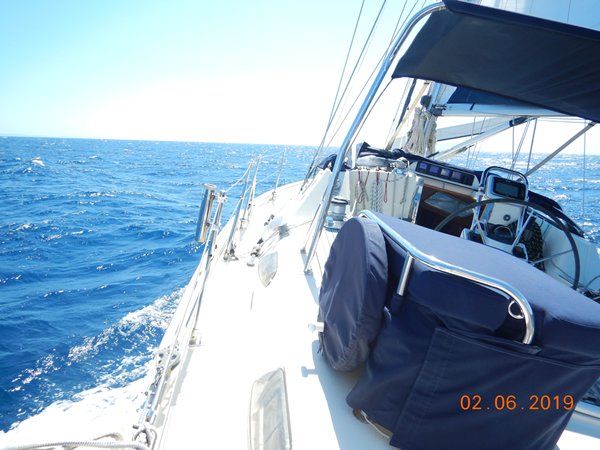 Carrying full main and jib, we (me and Hejira) were caught in what must have been an 'Island Acceleration Zone' rather like those in the Canaries as the wind spontaneously built to 30kts, way above the forecast wind strength and I had to hand steer as the auto was responding too sluggishly on our very broad reach, and we were in danger of a crash gybe. Thankfully, the chaos didn't last for long and order was soon restored.
The day under sail continued and it proved to be the best and longest period of sailing since entering the Med last summer. A worrying sequence of events then began to unfold, first the panel which controls the charging of the solar panels began to alarm, then the instruments started losing AIS and GPS signals then the auto pilot dropped out under 'low voltage'. This had never happened before and the huge domestic battery bank of over 600AH should (and has in the past) run all the systems for days on end and, indeed was showing good voltage and 85% capacity. Something was seriously wrong. I ran the generator for a period which brought all the systems back on line and the battery bank to over 90% but the solar panel was still showing a low voltage. This scenario was very worrying and I tried all the basic checks and reboots but there was no sign of an explanation or solution. Could I realistically continue with a probably deteriorating problem or should I put in and try to get it fixed? Clearly the prudent decision was to put in as it would have been irresponsible to carry on with an issue of this potential gravity.
When I made the decision to put into 'Porto Turistico di Roma', my instruments suggested I would arrive at 3am. Failing to raise the marina by phone I decided that, rather than enter in the dark and 'blag' the nearest available berth only to inevitably have to move later, I would drop the sails and slow right down to arrive in office hours. This meant another night at sea and after the sleepless previous night in the shipping lanes, I was tired! I slept through the alarm twice, then forgot to reset it so, the reality is that I did get some sleep but it does demonstrate that extended single handed sailing has some issues if a proper watch is to be kept.
I have used the time to tighten all of the power cable connections and although none were loose exactly, some took some 'pinching up' and the bow thruster (very power hungry) now seems to have more 'ooomph' – or is that just wishful thinking. I guess I am going to have to take advice and try to simulate the same circumstances that revealed the problem.
I last visited Porto Turistico di Roma in 2004 in my previous yacht. That visit was particularly memorable for my being pick-pocketed in the city centre only for my daughter, Rebecca, to chase (spontaneous and definitely imprudently) and confront the culprits and retrieve my wallet – what a girl! The marina was too new for my pilot book and the it didn't even register as being 'under construction' or even planned. I am still using the same pilot book and feeling slightly embarrassed so I am considering replacing it with a more up to date publication. Consequently, I didn't know what VHF frequency the marina was operating on so I just turned up in the entrance to be met by a rib with an excitable Italian shouting at me unintelligibly and pointing to his hand held radio. Many of the British feel an indignation if 'foreigners' don't speak English, I have, hopefully, a more enlightened attitude and have tried to get to grips with other European languages with varying success. French is my most accomplished (probably not the right word) followed by Spanish which I can't help interspersing with French when in Spain and my Italian is pretty poor so I had no chance with the rib driver's gabble. Holding up fingers however is fairly international and I did finally find Channel 74 to communicate. Thankfully, his more cosmopolitan colleague had a better grasp of English.
Taking the opportunity to refuel while a berth was being allocated, I was pleased to note a consumption of only 2 litres an hour. I had maintained a conservative 2000 revs and this was right on the consumption  (yawn) shown on my Yanmar (engine) graph. Mind you at nearly 2 Euros a litre, I am pleased I hadn't 'gunned it'.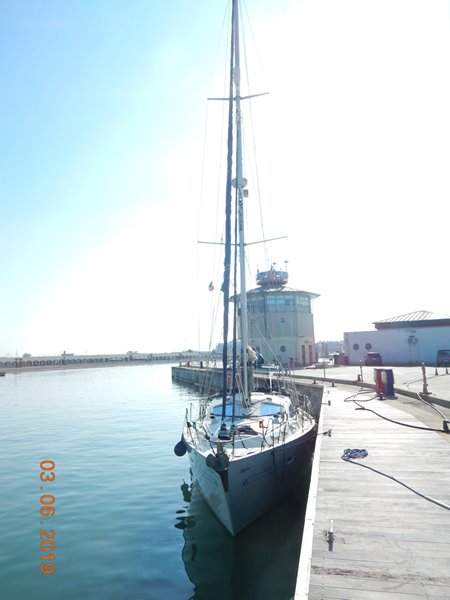 Having spoken to two UK based specialists and a very helpful Alessandro here, the consolidated advice is to first conduct a 'drop test' on the batteries. This does not involve holding them up and dropping them onto the dock to see if they smash but applying a very heavy load to check their capacity.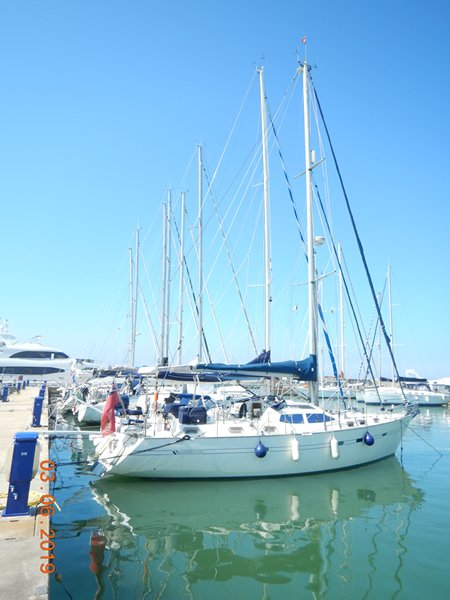 This is scheduled for tomorrow morning with Alessandro's team and I still have a hope that this is the problem and that replacement batteries can be sourced quickly so I can be on my way again. Realistically however I think that I am 'clutching at straws' and I may be returning home from here – hopefully with a plan that sorts out the problem. I had always intended to return home for a couple of weeks to help look after my new, first, granddaughter Darcey while her parents take a welcome holiday. They live in Dublin and we jump at the chance to be together, I am smitten with the baby! A saving grace is that there are good flights from Heathrow to Leonardo Da Vinci Airport which I can hear from the berth. The other plus is that a month's mooring here is nearly half of the cost in Baie des Anges, our home berth near Nice. Having said that, they are all expensive with the pound currently on its knees.
So, hindsight confirms the prudence of not booking any Venice flights until I was confident I would get there ! It may be that Rome becomes the hub for my summer adventures and it will all be more relaxed as a result. Croatia may have to wait – it will still be there.
Now it's time for a kip !