We had arranged with the Dutch yacht rafted outside of us that we would be looking to depart soon after 6am and they agreed to co-operate by leaving to clear the way. They were an old couple in an old but solid ketch and they had been around the world twice together which prompted some wistful fantasising. Having extricated ourselves from the melee of yachts all anxious to leave, we motored out just as 'Blue Mist', the tardy American ARC Rally yacht was arriving.
Our final day in Faial was spent clearing out and shopping. We hung a suitably inscribed RVYC ensign in Peter Café Sport and they gave us a burgee in exchange.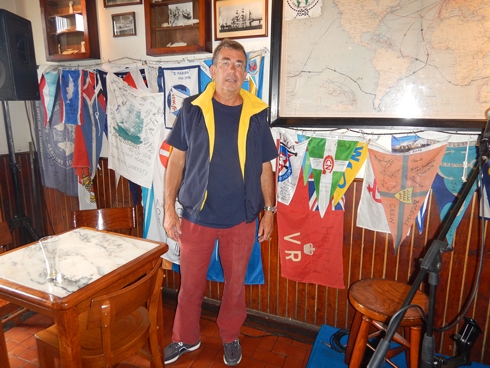 We wanted to enjoy a memorable final meal in Horta and took a recommendation which turned out to be a real treat. We majored on local specialities and started with grilled limpets and followed up with octopus risotto with algae, all washed down with wine from Pico. The meal was inexpensive and this has been a feature of our experience so far. A glass of wine, pint of beer and generous gin and tonic cost just 7.90 Euros in Peter Café Sport.
Our 70 mile passage to Angra do Heroismo on the island of Terceira will take us between the islands of Pico and Sao Jorge which should afford some protection from the large swells rolling in following the Atlantic gales.