The improved weather revealed the delights of the British Virgin Islands with the blue skies, steady wind and varied scenery between the islands. There was a huge density of yachts but nothing like the Solent on a summer weekend. We almost regretted bringing our arrival into Nanny Cay forward with the improved weather and, when we arrived, we definitely regretted our decision as the allocated berth had not been vacated and we were directed to a (very) short interim pontoon for the night. That said, we did at least fuel, check in with the ARC and pick up the diesel cans so, many thanks to Suzie for organising that.
We have now transferred to our allocated berth and filled all our supplementary fuel cans en-route. Our preparations have continued but at a rather sedate pace as it is sweltering in the Marina.
Jobs have included fixing the diesel generator which had somehow taken air into the fuel lines and needed 'bleeding'. Mounting the wind generator, modifying and fixing the Watt and Sea hydrogenerator and securing all the cans on the aft deck, strapped to the new bars which is ideal as they are completely out of the way.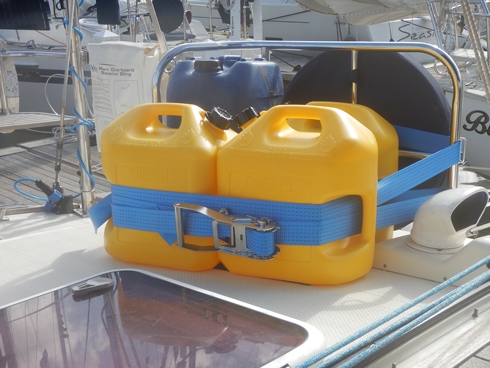 We met up with the delightful Suzie and we had a very enjoyable evening of 'yarning'. We are so grateful for her securing the diesel cans with a deposit as they are now completely sold out!
Nick