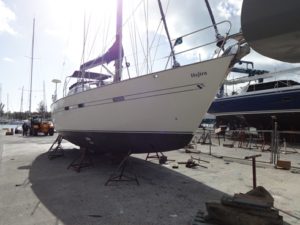 Having returned to the UK early from my Caribbean cruise to attend the England Counties rugby game in Scotland, I had 'cashed in' son Oliver's flights to Bermuda and back from the Azores as his selection would have meant he was touring with the team to Canada during the period when he was to have crewed. The refund was a paltry amount and I regret doing it as, in the event, he has suffered a prolapsed disk and had to withdraw from the tour. So, it was more business for BA as I had to buy all his tickets for a second time ! There is some upside in that once Ollie arrives in Bermuda on the 14th of May, he will act as my blogging foil and lift the quality of the writing by a few thousand %!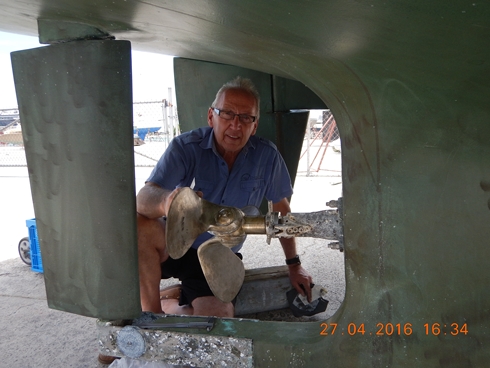 Barry having arrived in Antigua the day after me, helped with the necessary jobs before re-launching. These involved to addition of another through hull for a galley sink sea water tap which should help to conserve fresh water on our return passage. We also took the opportunity to clean and grease the prop and we did our bit for the local economy by employing 'Bob Marley' and his lad to clean and polish the deck and topsides.
We liberally coated the props and through hull outlets with Udder Cream as it is supposed to (I am not convinced) reduce fouling.
While back in the UK, I had the Karver furler (used on the second jib flown from the bowsprit) repaired but it would appear that, although supplied for the job, it is undersized and I should have had the KF4 rather than the KF2. I will fit the repaired unit to the lightweight Gennaker and refrain from using the second jib on the return leg which should not be an issue as there is unlikely to be any sustained heavy downwind sailing and we have other options in any case. If I embark on another trade-wind adventure, I will probably invest in the larger furler which will also mean fitting larger thimbles on the torsion luff of the second jib. I seem to make a habit of purchasing things twice….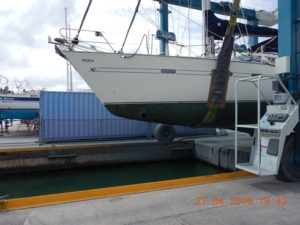 Unsure of what victualing opportunities might be available and cautious about the prices and convenience of victualing in Bermuda where we are likely to be at anchor, we have exploited the convenience of the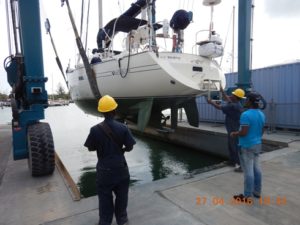 sizeable and very adjacent supermarket in Jolly Harbour to replenish our stocks.
The 'clearing out' process from Antigua encountered the usual shuffling backwards and forwards between the three doors labelled 'Customs', 'Immigration' and 'Port Authority' but after multiple re-visits (a problem with the system we were told)we finally had clearance to leave with our sights set on Port Zante, Bassetere on St. Kitts about 60 miles away. We should arrive on Saturday afternoon and I will update the blog when we have something noteworthy to say.
Nick