After a rather downbeat missive yesterday, the new day brought a more positive outlook with sunshine, and no sign of squalls after some early scares. A full main (with preventer) and poled out Yankee proved to be an adequate sailplan and the auto steered to a steady wind angle with aplomb.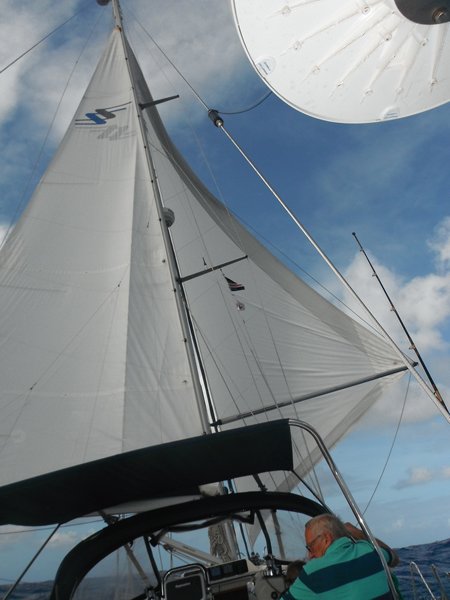 A notable milestone was reached passing the '1000 miles to go' barrier at noon. We searched the stores for some champagne but could only find a cheap box of Don Simon white wine.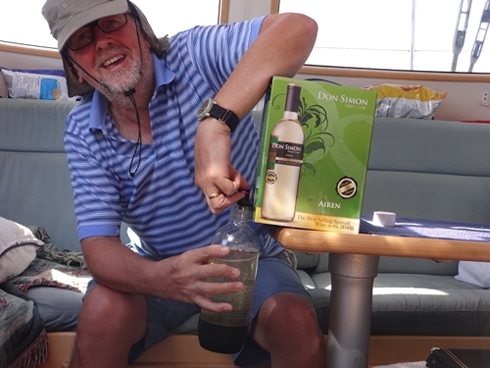 Ingenuity abounded as we used our 'Soda Stream' to transform it into a very much improved and acceptable sparkling wine.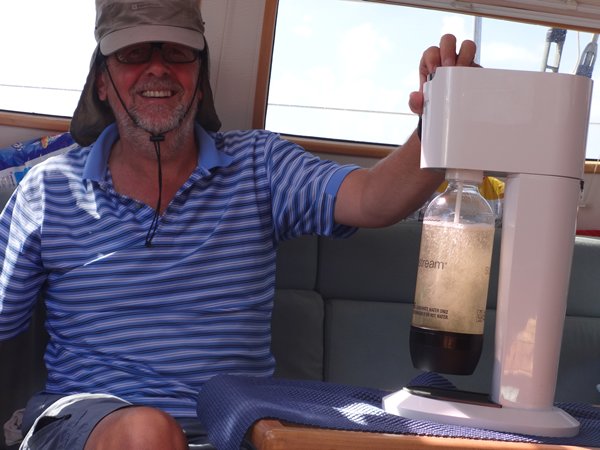 The Soda Stream has been something of a revelation enabling us to make diet coke and slimline tonic in vast quantities so the storage and disposal of plastic bottles has been completely unnecessary.
Stephen spent an inordinate amount of time in the preparation of our evening meal, partly apparently because the Mindelo chicken needed surgery to extract any meat but the effort was well worth it with the risotto, by general consensus, taking the accolade of 'best meal so far'! I suggested that the creator of the 'best meal on passage ' should reprise it when our wives arrive in Rodney Bay so I expect the standards to plummet from now on.
The 'Bimbo' bread bought in Spain seemed to last very well and it was claimed in our 'provisioning' seminar in Las Palmas that it was usable after more than a month. We tried to find it in Mindelo (it toasts very well) but could only find a local sliced loaf. Unfortunately it clearly does not contain the same cocktail of chemicals and preservatives as Bimbo as we have had to throw it all away so Barry has volunteered to do some baking today.
As we approached the commencement of our watch cycle, the usual checks showed that the Watt & Sea hydrogenerator had stopped charging and, indeed the whirring noise in my cabin had disappeared. We decided to trouble shoot in the morning once it gets light, could it be that a shark has taken the propeller? We had run the generator during the day as the batteries had taken a bit of a caning using the radar continually to monitor squalls so maybe this has something to do with it – let's hope it's not terminal!
Our improved speed over the last 24 hours has logged 148nm.
Stephen writes:-
The squalls seem to have given us some respite for the moment and an harmonious day was enjoyed by all. It was noted that even the master`s mouth was seen to twitch into smile once in a while. In the daily fishing competition the North Atlantic had a 1-0 victory again and yet again took the lure trace and swivel. We are now out of swivels so will have to improvise (I have every faith that Barry will come up with a solution) .The 1000 mile celebration was enhanced by Chateau Hejira 2015 and I suggest that you put you orders in early to avoid disappointment (see above). I believe I saw a Black Browed Albatross (Thalassarche melanophris) but I admit it was a partial sighting so must remain provisional. The night`s watch saw Hejira sprinting along and outpacing a squall on the portside. The moon illuminating our way graciously and was still high in the sky when I roused the Master with an impromptu Gregorian Chant which raised him from his plush and voluminous quarters in semi-clothed magnificence.
Crew in great shape.
Bob writes:-
It was an excellent night watch with the boat speeding along under the influence of up to 25 knots of breeze.
There were two other notable facets of the night.
The first was that the skipper was in his usual position at the chart table when the night watch turned out, early, at 23:30, with the redoubtable Silver Fox caring for the boat on deck. These nocturnal ramblings of the skipper continued throughout the night watch with a further 2 visits, completely un-announced and absolutely unprecedented!
The second was that the yacht had seemingly found a new turn of speed! We had been bemoaning the rather sluggish responses to wind and changes of sail plan and wondering what had happened, but yesterday, under full main and poled out jib, she positively flew along. We conjectured that we had lost a load of weed from the keel and rudders, but whatever had been the cause of our previous poor performance had radically changed for the better. Hejira now seems to have assumed a much more jaunty air, full of purpose.
And so, it seems, has the skipper!
The crew has devoted much thought to this change of demeanour. It could be that the skipper, like the yacht, has lost unwanted weight. It could be that the crew is at last showing some signs of understanding of his bellowed commands. It could be many things, but we believe that it is most probably because he has faced nature in the raw, he has stood toe to toe with the worst that can be thrown at him and has recognised that he can honestly call himself Master and Commander of a yacht with a slightly bent bowsprit and that he can do this with the greatest impediment known to man, a night with less than 8 complete hours of deep sleep!
Barry is indisposed, not indisbag