Big thanks to Bob and Dave who worked their fingers to the bone in our massive clean in preparation for the arrival of Paula.
We had moved up  river from Falmouth to a mid river visitor pontoon at Malpas, just short of Truro which should have been an easy location for our rendezvous at the Heron Inn. We had provisioned in Truro the day before and the crew had even persuaded me to buy some flowers – well, I had been away 7 weeks !  In the event, Paula was earlier than expected, we were still cleaning and she drove up and down the tiny lane looking for a parking space with no success and no signal on the phone – best laid plans !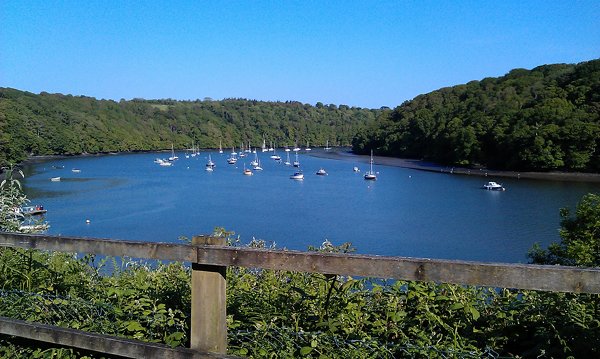 While in Malpas, we were joined by John Morris (John had crewed on the Padstow to Milford leg) and his extended family on their Legend 41. We enjoyed some light sailing together to Fowey then on to Queen Anne's Battery in Plymouth which was an ideal introduction for Paula.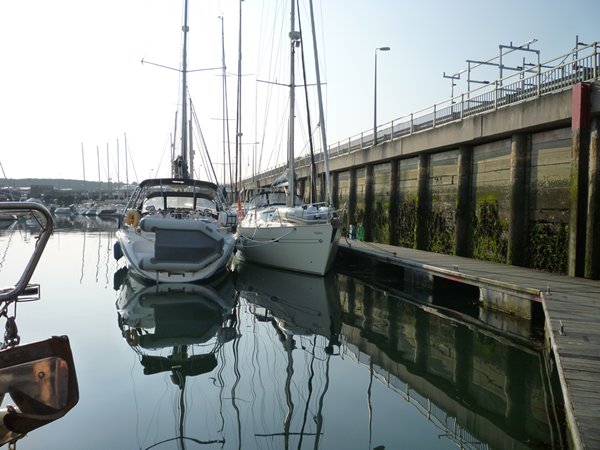 John headed East and we motored up the delightful river Lynher to a beautiful spot called 'Dandy Hole'. Taking the dinghy further up river to St. Germans, we had an interesting walk under the viaduct and through woodland in bright sunshine to quench our thirst at the Eliot Arms in the village. Returning to Hejira we were entertained by a seal and her pup on the exposed mud bank. Dandy Hole was a memorable anchorage and with only a couple of other boats in sight, it was a really quiet and charismatic night.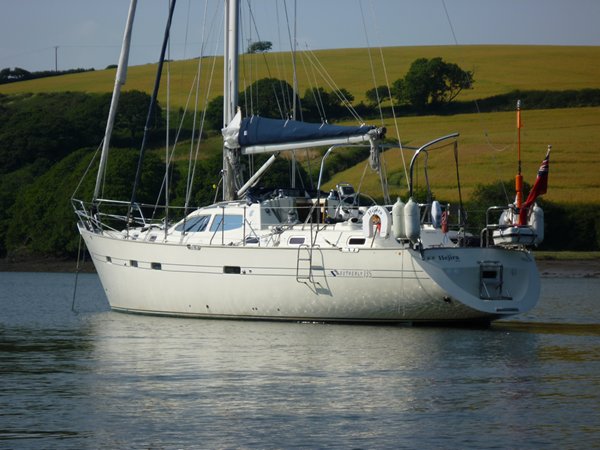 This is where the wind threatened to pick up with strong winds forecast, unhelpfully from the East. It was time to make the 27 mile passage straight to Salcombe and not linger in the Rivers Yealm or Avon as originally planned.
So we have been here in Salcombe, rafted on a mooring buoy off the Town since Friday, with the F7 wind whistling through, kicking up quite a chop.
The 'chop' made our dinghy trip up river to Kingsbridge a damp affair but the sun has shone throughout keeping the spirits elevated.
With the outboard davit 'unplugged', it was replaced by the wind generator  for the first time. This has been happily whirring away producing enough 'juice' to power the fridge and freezer. Another winter addition which is proving it's worth !
Salcombe is a hive of activity and seems rammed full of people, on and off the water now the family holiday season is under way. The water activity is providing lots of interest and entertainment. We had front row seats for a Dutch yacht trying to pick up a mooring buoy with the husband at the bow increasingly berating his wife on the helm each time they missed their approach – there but for the grace ………………………
The wind is due to diminish tomorrow (Monday) and become a gentle breeze from the SW. We intend to make passage to Dartmouth then on to Brixham and Torquay where I will leave Hejira on Thursday evening while I return home to an overgrown garden and holidays in Canouan (an island in the Caribbean) and Italy.
I can then look forward to a gentle 5 day cruise back to Hayling over the week of the August Bank Holiday to be back for Esher's first rugby game to watch our son Ollie on the Saturday.